2010-2011 Imperial Riding Cup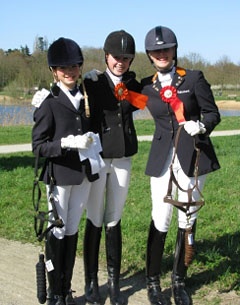 Dutch FEI pony rider Sanne Vos is on a roll winning her fourth Imperial Riding Cup Qualifier of the season. Aboard Tim Coomans and Coby van Baalen's Westfalian riding pony Champ of Class (by Champion de Luxe), Vos dominated the qualifier in Assen on Saturday 8 April 2011, scoring 71.85% to grab the trophy.
Thirty-eight combinations gathered at Sunrise Stables in Assen to compete in this prestigious pony show circuit, which also counts as observation trial and selecion event for the Dutch pony team.
2010 Dutch pony team member Dana van Lierop returned to the pony show ring aboard Lavinia Arl's Day of Diva (by Don't Worry). The palomino mare, which sold for 65,000 euro at the 208 CHIO Sales to the U.S.A., has returned to Europe under new ownership last year. Van Lierop is currently training and competing the pony and scored 69.91% in Assen to place second. Febe van Zwambagt and her refined black pony Prince Z (by Make my Day) slotted in third with 69.77%.
Dutch pony team trainer and chef d'equipe Tineke Bartels was pleased with the results in Assen. "It's fun to see that the top four of this competition has already been performing well before. I'm very happy with the continuity of the riders' performances."
The final Imperial Riding Cup qualifier will be in Kootwijk on 28 May 2011. The best 16 combinations in the ranking will ride in the Finals held at Outdoor Gelderland in the summer.
Photo © KNHS
Results - 2011 Imperial Riding Cup Qualifier in Assen
1. Sanne Vos - Champ of Class - 71,85%
2. Dana van Lierop - Day of Diva - 69,91%
3. Febe van Zwambagt - Prince Z -  69,77%
4. Michelle de Jonge - Hagelkruis Valentijn - 68,33%
5. Samantha van der Lof -  Elin's Nonsisdador - 66,81%
6. Lotte Meulendijks - Armani - 66,67%
7. Bo Oudhof - Bodenthal's Kosima - 66,57%
8. Sanne Gilbers -  Geronimo B - 66,53%
9. Kirsten Dirks - Silver Shadow - 65,83%
10. Lara Roozemond - Kooihuster Keimpe - 64,72%
11. Demy Kurstjens - Ciske van de Beekerheide - 64,63%
12. Lara Roozemond - No Angel-  64,21%
13. Demy Kurstjens - Anjershof's Memorie - 63,98%
13. Dana van Lierop - Truly Yours - 63,98%
15. Melody Vroom - Balthasar's Hero - 63,94%
16. Mandy van den Hoek - Sir Donnerwind - 63,75%
17. Marieke Versluis - G G Hot Shot - 63,70%
18. Rosalie Bos - Benthli -  63,52%
19. Karlijn Geelkerken - Molenhorn's Rico -  63,15%
20. Marjan Hooge - Diamonds Are Forever - 62,92%
21. Melody Vroom - Da Vinci - 62,64%
22. Marit Leegte - Molenhorn's Casanova - 62,41%
23. Jeanine Nekeman - Mister Danny De Vito - 62,27%
24. Zoe de Booy -  Ronaldo - 62,13%
24. Shanna Lust - Anjershof's Pablo - 62,13%
26. Kim de Jonge - Sandokan - 62,04%
27. Marjan Hooge - Mr. Matcho - 61,94%
28. Jasmien de Koeyer - Bjirmen's Wytse - 61,62%
29. Anouck Nuyen - Turfhorst Past & Present - 61,34%
30. Britt van der Panne - Ravel - 61,02%
30. Shanna Lust - Stukhuster Orlando - 61,02%
30. Annelie Hoekstra - Popstar -  61,02%
33. Patricia Bielefeld - Tunja's Eduard - 60,05%
34. Naomi Veenhuizen - Don't Worry - 59,95%
35. Lisa de Bruin - Zazoo - 59,86%
36. Michelle Berends - Hemmingway - 59,21%
37. Menthe Talsma - Charfira M -  57,69%
38. Suzanne Glas -  India - 57,59%
Related Links
Sanne Vos Aces 2011 Imperial Riding Cup Qualifier in Nieuw en St Joosland
Sanne Vos and Champ of Class Win Third 2011 Imperial Riding Cup Qualifier in Uden
New Talent Rises to the Top at 2011 Emmeloord Imperial Riding Cup Qualifier
Vos Wins First Qualifier of 2010-2011 Imperial Riding Cup in Weert