Verden Auction News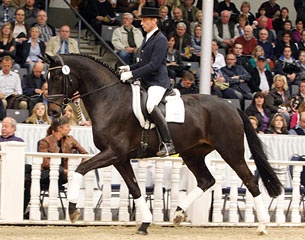 It must have been an unusual weekend at the 2011 Hanoverian Spring Elite Auction as it hasn't been in almost a decade that the price highlight did not sell for more than 100,000 euro at an elite auction in Verden, Germany.
The auction catalogue number 1, the 4-year old dark bay Di Versace (by Don Frederico x Lafontaine x Argentan), sold for 90,000 euro to Dr. Uwe Schulten-Baumer. 
Eighty-two dressage and show jumping youngsters as well as 52 selected elite foals were up for auction in Verden on 8 - 9 April 2011. The 4-year old bay Lily Lordanos (by Lordanos x Goldfever) was the best selling show jumping. She moved to Frace for 52,000 euro.
The second most expensive horse was the 5-year old liver chestnut mare Starlight (by Samarant x Don Gregory x Lungau). A Bavarian buyer paid 83,000 euro for her.  The jumper Skype Me (by Stakkato x Embassy x Lincolm L) found a new owner in Russia for 50,000 euro. The French owned 6-year old stallion Sunny de Hus (by San Remo x Lauries Crusador xx x Nurmi) sold for 45,000 euro to Switzerland.
The most expensive foal of the auction was the dark bay colt Cassidy Boy (by Christ x Don Bosco x Grand Cru), which sold to Sweden for a knock down price of 45,000 euro.
At this spring elite auction the average price for a young sport horse was 21,012 euro and 7,042 euro for a foal.
Photo © Tammo Ernst