Swedish Dressage News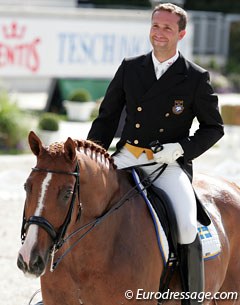 Three new members have been elected on the Dressage Committee of the Swedish Equestrian Federation. Kristian von Krusenstierna, Peter Härnstam and Annica Johnsson are reinforcing the committee with new visions and ambitions.
Annica Johnsson praises the general atmosphere in the Swedish dressage committee as "relaxed and unpretentious".  Based in middle Sweden, Johnsson represents the riders from the North, who are more challenged by long-distance traveling to shows. "My task is to establish contacts with all parts of the country and see how we can best support dressage throughout the country."
Peter Härnstam, a former board member of the Swedish Dressage Trainers Club, wants to focus on training." We must set higher standards and get the riders to understand that they must spend time on their training," he explained. With quality as keyword, Peter wants to improve the level of training from the grassroots to Grand Prix. "Some want to be top riders, others have no such high goals and aspirations with their riding," said Peter. "Either way, we need coaches that dare to make demands, that are clear in their training role and offer quality in everything they do. Even if you are a recreational rider you'd like to have quality in your spare time!" Harnstram wants to work on the education of official trainers so a wider base of riders can get professional guidance.
Kristian von Krusenstierna is a welcome addition to the committee as a representative of the dressage riders. Besides training horses to Grand Prix level, Kristian also teaches many students and can implement a broad range of experience. He likes to make competitions less expensive for the riders while raising the quality of the show conditions.
On a personal note Von Krusenstierna recently trailered his two Grand Prix horses Biggles and April4Cible to Edward Gal in The Netherlands to train with the best rider of the world. His goal is to qualify Biggles (by Briar) for the 2011 European Championships and 2012 Olympic Games. "The goal is to place amongst the thirty best in the world. I think this a reasonable aim," he said.
Photos © Astrid Appels/Eurodressage
Related Links
Kyra Kyrklund and Jan Jönsson Appointed Professors of Equitation in Sweden
Kittel, Telde, Hofmann Honoured at 2010 Swedish Riders' Gala