Swedish Dressage News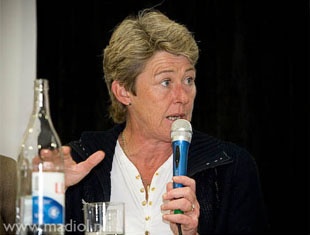 Former Dressage World Cup Champion Kyra Kyrklund and eventing Olympic medalist Jan Jönsson will be adjunct professors of equitation at the Swedish University of Agricultural Sciences (SLU) with headquarters in Uppsala.. It has been made possible by support of the Swedish Horse Council Foundation (HNS).
The University runs a three year equine studies program, with courses at the National Stud at Flyinge, The National Equestrian Centre at Strömsholm and at Wången, a centre for harness racing in northern Sweden.
Kyra Kyrklund was previously chief dressage trainer at Flyinge, before moving to the UK in 1998. She will be professor of equitation (dressage) and Jan Jönsson professor of equitation (training of young horses, coaching and leadership). Both appointments are part-time.
The Equine studies program at SLU was extended from two to a three year Bachelor program in 2010. The expansion brought on suggestions to appoint two trainers of high international renown.
"The recruitment of Kyra Kyrklund and Jan Jönsson to the University is a fantastic opportunity to boost equestrian sport in Sweden", Professor Jan Philipsson says.
Philipsson is a professor of Genetics at the Swedish University of Agricultural Sciences and a leading profile in Swedish Warmblood breeding.
"The appointments also ensure a continued high level of the Equine Science program", he adds.
Kyra Kyrklund and Jan Jönsson will coach and support the Equine studies program teachers in equitation at Flyinge and Strömsholm. They will also hold clinics for teachers and students plus initiate and participate in scientific research involving equitation and riding at SLU.
CHAMPIONS
Kyra Kyrklund is one of the most successful dressage riders and trainers in the world, and president of the International Dressage Riders Club. With Matador she was a silver medalist in the 1990 World Equestrian Games and was World Cup Champion with the same horse in 1991. Master, Amiral, Edinburg and Max are other horses she has produced to international championship level.
Kyra Kyrklund still competes but today concentrates on coaching at international level. Among current and former students are Jan Brink, Imke Schellekens-Bartels, Emma Hindle and Princess Nathalie zu-Sayn-Wittgenstein-Berleburg.
Jan Jönsson won the Olympic Bronze in three-day-eventing in the 1972 Olympics on the horse Sarajevo. He is a five-time Swedish Champion, and received a Lifetime Achievement Award at the 2009 Swedish Equestrian Awards Gala. 
Like Kyra he is coaching at a high level, and was for many years chef d'equipe to Sweden's eventing team. He lives in Flyinge and has had a role in the Equine studies program since it started in 1994.
To appoint prominent sportsmen or sport coaches as professors has only occurred a few times previously in Sweden, in tennis and handball among other sports.
Photo © Mirjam Madiol
Related Links
Kyrklund to Boost Swedish Dressage with Her Expertise
Kyra Kyrklund, New IDRC President
Kyra Kyrklund to Stay in England Afterall