2011 Danish Warmblood Stallion Licensing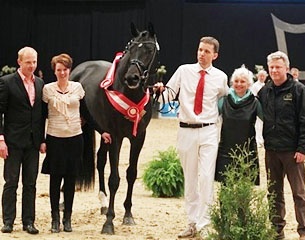 Spokesman of the licensing committee Poul Graugaard praised the collection of colts in Herning as the best he has seen during the entire season throughout Europe. Particularly, the dressage stallions stood out in a league of their own
at the 2011 Danish Warmblood Stallion Licensing in Herning, 10 - 13 March 2011.
Among the 24 approved colts the judges selected eight stallions for the premium ring Sunday: three jumper stallions and five dressage stallions. The jumpers included two German bred ones and one Danish bred, whereas one dressage colt was Dutch and four were Danish.
 
From Auction foal to Champion
The stallion station Højagergård had immense success at the stallion licensing presenting three colts of which two got approved, one of which became premium colt and the other champion.
Champion dressage colt ERA Dancing Hit and premium dressage colt Tailormade Attention were among the top priced foals at the Danish Warmblood Elite Foal Action in 2008 and both proved to be wise investments.
ERA Dancing Hit stood out as a highly modern colt with three excellent gaits, very correct legs and a good character. His sire UNO Don Diego is out of the same dam as the World Champion dressage mare UNO Donna Unique.
As champion among the jumping colts the judges selected Cavall Ask, which stood out with his attractive type as well as his display of superb jumping skills and functionality in every aspect. Cavall Ask was a premium colt in Oldenburg and was sold at auction to Stutteri Ask.
The 24 approved colts have to pass a 10-day observation test at Vilhelmsborg where they are tested for their temperament and behaviour. The 10-days test begins Monday 14th March and once the colts have passed the test the can commence their first breeding season.
 
Premium colts – jumping:
 
Champion
Cavall Ask by Calido I/C-Indoctro
Breeder: Hubert Hermeling, Tyskland
Owner: Stutteri Ask, 5390 Martofte
                                                   
Premium
Chandler by Casall/Carolus I
Breeder: Waldemar Beuck, Tyskland
Owner: Hingstestation Højagergård, 8870 Langå
             
Premium
Mønsteds Hardcore by Heartbeat /Come Fast XX
Breeder: Ina Mønsted Pedersen, 6740 Bramming
Owner: Ina Mønsted Pedersen, 6740 Bramming
                                                   
Premium colts – dressage:
 
Champion
ERA Dancing Hit by UNO Don Diego/Sandro Hit
Breeder: Stutteri ERA I/S, 9500 Hobro
Owner: Hingstestation Højagergaard ApS, 8870 Langå
                                                   
Premium
Tailormade Attention by Abanos/ Bøgelys Camaro
Breeder: Lone Christiansen, 6760 Ribe
Owner: Tailormade Horses ApS, 7900 Nykøbing M
 
Premium
Freezbee?Pari by Firenze/Akinos
Breeder: Ruth & Jørgen Søgård, 7755 Bedsted Thy
Owner: Priess Horses A/S, 7900 Nykøbing Mors
                                                   
Premium
Zonik by Blue Zack/Blue Hors Romanov
Breeder: Linette Jæger, 7490 Aulum
Owner: Helgstrand Dressage, 9310 Vodskov
                                                   
Premium
Blue Hors Don Olymbrio L by Jazz/Olympic Ferro
Breeder: J. Lamers, Holland
Owner: Blue Hors ApS Dressage, 7183 Randbøl
Back to the 2011 Danish Warmblood Stallion Licensing index