Danish Dressage News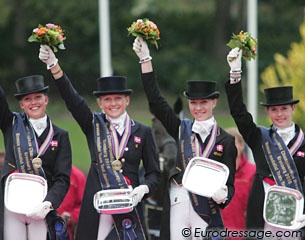 Danish selectors Kimi Nielsen and Jon Pedersen have nominated nine junior riders and eleven young riders to a long list from which riders will be picked for CDI competitions and eventually for team selection for the 2011 European JR/YR Championships
to be held in Broholm, Denmark, in July.
Based on performances at the first Ecco Cup JR/YR qualifier in Sundeved, Nielsen and Pedersen were able to select a group of talented riders. "The competition was a barometer for Jon and I to see the riders' and horses' potential," Nielsen commented, adding that, "we have made a provisional long list of junior and young riders ."
Danish Junior Rider Long List
Charlotte Aarestrup Bruun
Nanna Bronée Madsen
Malou Nakszynski Trabjerg
Nanna Skodborg Merrald
Anne Tange
Isabella Holtze
Kathrine Sumborg Christensen
Sabrina Barnekow
Cecilie Lyndrup
Danish Young Rider Long List
Simone Ahlers Pedersen
Cecilie Stengelshøj Madsen
Cathrine Dufour
Carina Nevermann Torup
Rikke Bøllingtoft 
Camilla Orloff
Nanna Skodborg Merrald
Cecilie Stengelshøj Madsen
Karina Holt Andersen
Marie Louise Larsen
Louise Zinglersen
Two training seminars have been scheduled to take place for the junior and young riders. The first one will be in preparation for the Nordic Baltic Championship in Middelfart on 27 June 2011. The second one will be at the same location on 10 July 2011 to ready the riders for the European Championships.
Related Links