2011 Palm Beach Dressage Derby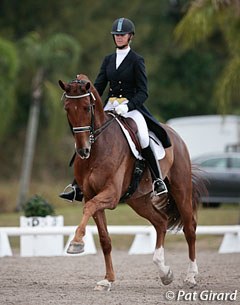 Heather Blitz and her 8-year old Danish Warmblood gelding Paragon (by Don Schufro x Pari Lord) secured their fifth win from five starts during the Florida season this year when the pair captured the Intermediare 1 with a score of 76.754% from a field of 43. They also topped the field in the Prix St Georges on Friday with a score of 76.0%, winning the High Score Award on both days of the Palm Beach Dressage Derby at White Fences in Wellington.
Heather was ecstatic about both rides and commented that, "every month he's a new horse. The rate at which he progresses is so impressive and really exciting. He only began showing a year ago and at that time he relied on his raw talent and generosity. Now he's performing really solid and trained work. It's an outstanding rate of progress."
The Intermediare 1 earned four 10's from the judges who are recognizing that his consistency honestly deserves top marks. All three judges agreed that his extended canter, which has only 10 strides to cross the arena, was worthy of 10's and his two tempis also scored a 10.
Reviewing this weekend's performances Heather continued, "the half passes were totally unlocked and have become really free now. His halts, which can be the hardest thing for him, are way better. There is an obvious development in his maturity each time he performs and he's also getting fitting and stronger, which can be seen in his athleticism and how easy it is for him."
"He is unquestionably the best horse I've ever ridden and already way beyond my wildest dreams. He has so many fans and supporters watching him now that it feels like the country is behind him to become a team horse. We just need the support to reach this goal because, like everyone else who has seen him, I'm really excited that the US has a horse like him available to represent the country."
Blitz decided not to compete her chestnut in the Intermediaire I Kur but she  will be back in the show ring next weekend at the Jim Brandon Arena for the small tour during the World Dressage Masters show, March 11-14th.
Photo © Pat Girard
Related Links
Scores 2011 CDI-W Palm Beach Dressage Derby
Heather Blitz and Paragon Score Double Victory at 2011 Gold Coast Opener CDI-W