2011 CDN Vestfold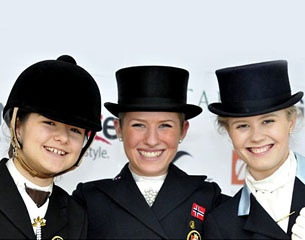 Norwegian youth riders got the opportunity to showcase their current training level in the national FEI youth riders classes at the 2011 Arctic Equestrian Games held in Vestfold, Norway, 22 - 24 February 2011. Karolina Kumle, Astrid Westberg Rikheim and Pernille Markusson reigned supreme in the pony, junior and young riders division grabbing the trophies.
Fourteen-year old Karoline Kumle won all three pony classes aboard the 12-year old dark bay German Reitpony gelding Dumbldore B (by Dornik B). She won the first two rounds with scores in the high sixties and produced a hattrick by winning the kur with 70.850. Riding to music of the animated motion picture Madagascar, Kumle wielded the axe of power and kept all pony competition far behind her.
"I am very happy," Kumle commented after her third victory. "My pony went very well and I felt like I was really with the music. We were a little ahead ahead in the program and made a mistake, but my pony was a bit tense today. There were many camera, many people around. But you see, he's very good in the kur and goes for it."
Seventeen-year old junior rider Astrid Westberg Rikheim, who was the former owner and rider of pony Dumbldore, has successfully moved up one level and was untouchable in the junior division. Aboard Stall-K's Åtoftens Donovan (by Don Schufro x Midt West Ibi Light) Rikheim aced all three classes in her age category and won the kur with 68.650%.
"I'm very pleased," said Westberg Rikheim. "It was fun to ride the freestyle. It was the first time this horse did a kur with me, as he's got little show experience. So I'm happy that everything went so well. He was rideable and listened to me. We were well on the music and I think we showed many nice things despite a few small mistakes. The past few days we had to compete early int he morning and there wasn't much of an audience. Today there quite a few visitors in the stands and that was fun."
The 18-year old Pernille Markussen made her debut at young riders' level and did it with style. Aboard the 14-year old bay gelding Supertramp (by Elitaer) she won the individual test and kur to music, while Tiril Cathrine Ånerud, Tiril Cathrine  and Dacapo conquered the team championship test. Markussen rode a kur to music by Lady Gaga and Peter Bjorn and John.
"Today it went really well," Markussen commented. "My horse was a bit tired though after a few heavy days. There's a lot going on. This was our first show this year, the kick-off of the season, so it all went quite well. It's fun to ride with such a joyous crowd. This is probably the last time I ride this kur because it's a junior rider's kur to fit a young rider's program. I will make a new freestyle for the Young Riders' season."
Photo courtesy: Arctic Equestrian Games/Mette Sattrup of Feltritt.com

Related Links
Scores 2011 CDI Vestfold
Norwegian Teams Selected for the 2010 Nordic Baltic Championships