American Dressage News
The Board of Directors of The Dressage Foundation announced that Shawna Harding of Aiken, SC, is a recipient of the 2011 "Carol Lavell Advanced Dressage Prize" in the amount of $25,000. The purpose of the Prize, established at The Dressage Foundation
, is to provide financial assistance for coaching and training to a talented, committed, qualified rider whose plan is to reach and excel at the elite, international standards of high performance Dressage. Harding plans to use the funds to take two horses, Come On III and Rigo, to Europe for training. 
The $25,000 Prize will be awarded to Shawna Harding during a special feature presentation at the Palm Beach Dressage Derby on March 6, 2011. Carol Lavell, founder of the Prize Fund will present the Prize to Harding. The $25,000 Carol Lavell Advanced Dressage Prize was established in special remembrance of Carol's mother, May Cadwgan, and in honor of her father, Gordon Cadwgan.
"I would like to thank Carol Lavell and The Dressage Foundation for selecting me for the prestigious Advanced Dressage Prize," said Shawna Harding. "This Prize will help fund the substantial amount of money it takes to travel to Europe and pay for training and International competitions, which are necessary to get the exposure and experience to excel further in my riding and in the sport."
Shawna continued, "Without the help of the Foundation this would not be a possibility. This is a very cost intensive sport and riders like myself, who are not financially blessed by birth or don't have owners/sponsors that can back them, are limited to how much they can achieve and accomplish on their own. I am honored and very touched by this great acknowledgement from my peers and will do my best to make them and the USA proud."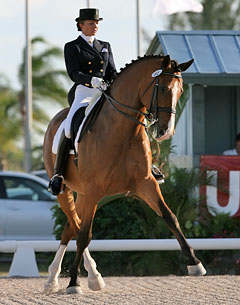 Donor support designated for the annual "Carol Lavell Advanced Dressage Prize" has been exceptionally strong. Effective in 2011, and extending into future years, The Dressage Foundation's Board of Directors has authorized the distinguished volunteer Selection Committee to award up to two annual $25,000 Prizes, to suitable, worthy applicants who meet the Prize criteria, and whose applications are received on or before the December 13 deadline each year. This is a strong High Performance funding commitment by The Dressage Foundation that will stretch far out into future years.
Carol Lavell said, "I established this Fund at The Dressage Foundation as my way of 'giving back' to the sport that has been so good to me. I know that, for most riders, obtaining financial support becomes the ultimate hurdle. I'm so grateful to my family and loyal friends whose charitable gifts have helped me establish this Fund, and in a dollar amount that will be able to award these $25,000 Annual Prizes for many years into the future."
For more information about the Carol Lavell Advanced Dressage Prize or The Dressage Foundation, please contact Jenny Johnson at (402) 434-8585 or visit www.dressagefoundation.org.
Photos © Sharon Packer - Sue Stickle
Related Links
Shawna Harding and Rigo Win 2010 U.S. Developing Horse Championship
Haddad and Harding Repeat Their Victory at 2010 Dressage at Devon