American Dressage News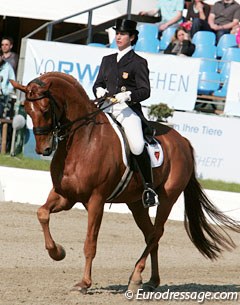 Catherine Haddad's rising 17-year old Grand Prix horse Maximus has been officially retired from competition. The long legged Danish warmblood gelding did his last big competition in Dortmund, Germany, in March 2010 and has slowly flowed into a quieter life in which "our work together (...) becomes more playful than demanding," as Haddad put it.
Maximus is born in 1994 and is by May Sherif out of Pipi DS (by Hojvangs Lukas). In his last competition year of 2009 he was listed 78th on the WBFSH Dressage Ranking List.
Haddad discovered Maximus at Daniel Ramseier's stable in Switzerland in 2003 and bought the PSG level trained gelding, who was then named Junker. A private sponsorship established late 2003 by Mrs. Janet Schneider of Casper, Wyoming, enabled Haddad to campaign Maximus JSS internationally. After Janet's untimely death in 2005, her children Robert, Richard and Susan continued to sponsor the duo.
"Our magnificent partnership was not a waltz through the rose garden from the very beginning. We got off to a rocky start," Haddad admitted in her column on Chronicle of the Horse. "After I bought Maximus, I started hearing stories from other people who had ridden, trained and tried him before he came to me. The list of attempts was long, and words like "buck, rear and terrorist" were frequently used. I found these buttons myself, particularly in piaffe where the tiniest amount of pressure resulted in an impressive display of high school maneuvers that were awe inspiring in their strength and longevity. Simply put, Rita, he reared like a nasty bugger and could stay nearly vertical on his hind legs long enough to take pictures of the distant horizon."
The pair trained with Rudolf Zeilinger for many years and he solved the training issue swiftly. "Rudolf was able to fix this little problem in under 10 seconds when I asked him to get on Maximus the first time," Haddad confessed. "Maximus reared, Rudi leaned back, kept his contact and squeezed him forward with leg and pressure from his back. Maximus landed in piaffe, got a pat on the neck, and never looked back. It was done."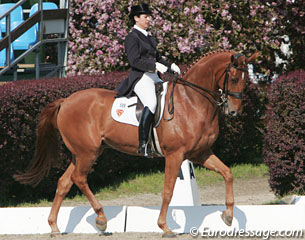 Through patient and consistent training Haddad and Maximus became a true combination and competed extensively between 2005 and 2009. They made their international Grand Prix show debut in 2004 and were long listed for the U.S. dressage team. They were the alternates on the U.S. team for the 2006 World Equestrian Games in Aachen and placed 7th at the 2007 World Cup Finals in Las Vegas.
In 2009 and 2010 Catherine's younger Grand Prix horses Cadillac (by Solos Carex) and Winyamaro (by Walt Disney I) gradually claimed more of her attention. "They started to overshadow his accomplishments with their youth, talent and vitality," she said. Haddad and Winyamaro spent the summer in the U.S. as alternates for the 2010 U.S. WEG dressage Team. "When I returned to Germany last fall, I was already thinking about retiring Maximus from competition and at the beginning of this year I decided to do so," she explained.
Reflecting on the meaning of Maximus to her career, Catherine replied, "he opened doors for me. He showed me the way."
Read the full article on Maximus' retirement at the Chronicle of the Horse
Photos © Astrid Appels
Related Links
Eurodressage Photo Database: Maximus
Haddad to Represent the U.S.A at the 2009 CDIO Aachen
Catherine Haddad Signs with Schockemoehle Sports
Photo Report: Haddad and Maximus at the 2007 CDIO Aachen
Scores 2010 CDI Dortmund