German Dressage News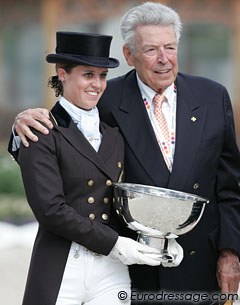 Klaus Rheinberger, a great sponsor of the German dressage sport, has passed away on Tuesday 15 February 2011 at age 82. He was the widower of Liselott Schindling-Rheinberger, who under the name of Liselotte Linsenhoff won Olympic gold with the Swedish stallion Piaff.
German equestrian magazine ST. GEORG reported that Rheinberger was a successful dressage rider in his own right in the 1950s and 1960s. He became a major supporter of German Dressage by sponsoring, for instance, the Piaff Forderpreis for under 25 Grand Prix riders and the Otto-Lörke Prize for the most talented young Grand Prix horse of the year in Germany younger than 10.
Rheinberger also headed the foundation which his wife Liselotte Schindling founded in 1997. The foundation provides financial support for rising stars as well as top athletes and German teams that compete at the World and European Championships as well as Olympic Games.
Each time the German Olympic Equestrian Committee (DOKR) wanted to secure a horse for a certain rider, Rheinberger stepped in. In 2000 Klaus earned the most presitigious award from the German Equestrian Federation: The Golden Rider's Cross.
"The German dressage sport and DOKR owe major gratitude and thanks to Klaus Rheinberger," said FN president Breido Graf zu Rantzau. "We've lost a great sponsor."
Source: ST. GEORG
Related Links
Eurodressage Photo Database: Klaus Rheinberger
Belgian Sensation Continued: De Deken Stays Ahead in Aachen Under 25 Competition
Ellen Schulten-Baumer Wins First Ever Piaff Forderpreis at 2001 CDI Stuttgart
Isabell Werth's El Santo NRW Wins 2010 Otto Lorke Prize
Sprehe Aces 2011 Piaff Forderpreis Selection Trial