American Dressage News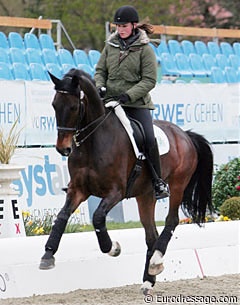 The Executive Committee of the United States Equestrian Federation (USEF) will meet to consider Extraordinary Rule Changes to clearly define the implementation of the Federation's new helmet rule to breed competitions that offer dressage classes.
The committee will meet later this month to discuss the changes, which will clarify the rule in the Andalusian, Arabian, Friesian and Morgan divisions of USEF Licensed Competitions.

To review the latest memo regarding the use of protective headgear for dressage, click here.
The United States Equestrian Federation posted its new headgear rules for dressage at the end of January 2011. Effective March 1, 2011, the following rules will apply to Dressage Competitions and Regular Competitions holding Dressage classes.
"If the technology is available to reduce head injuries, the time to use it is now," said USEF President David O'Connor. "I am very proud of our organization for taking this very important step. It is a huge direction of change."
Briefly, the first rule change requires anyone on a horse to wear a ASTM/SEI-approved helmet at all times while mounted on competition grounds at U.S. nationally rated eventing competitions. The rule change is effective immediately.
"The attention to safety in eventing has led to a 40 percent decrease in rider injuries between 2007 and 2011," said Malcolm Hook, USEF Eventing Safety Officer and chair of the USEF Eventing Technical Committee. "The Eventing Technical Committee could see no reason to delay implementation of a probably inevitable and statistically justifiable rule change in an effort to continue this encouraging trend."
Sara Ike, USEF managing director of eventing, said that while eventing riders long have been moving toward expanding helmet use rules, it wasn't until early 2010, after Olympic dressage rider Courtney King Dye was seriously injured in a riding accident that the dressage world began to seriously consider stricter helmet use. "Dressage riders called the Courtney King accident their '9-11,' " Ike said.

King Dye, who remained in a coma for a month following her accident, was not wearing a helmet at the time of the accident and currently is undergoing rehabilitation.
Related Links
U.S. Protective Headgear Rules for Dressage
Riders4Helmets Safety Symposium Huge Success in Educating Equestrians on Benefits of Helmet Wearing