2010-2011 KNHS/KWPN Stallion Competition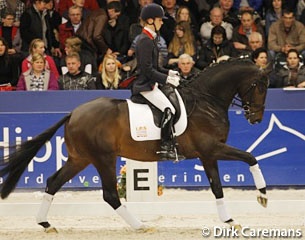 KWPN licensed stallions Bon Bravour, Amazing Star and Zhivago became the grand champions of the 2011 KWPN Stallion Competition winning the big finals held on Friday afternoon at the 2011 KWPN Stallion Licensing in 's Hertogenbosch, The Netherlands, on 5 February 2011.
Bon Bravour (by Painted Black x Chronos) entered the show ring a bit unsettled for the L-level finals. His Belgian rider Tom Franckx did his best to make the dark bay stallion relax. The bay colt scored 9s for walk and trot and 7.5 for canter. With a total of 79 he secured the overall victory in the 2011 KWPN Stallion Competition but he was not the day winner. The victory in the class went to Judith Ribbels on Breezer (by Johnson x Siltan), who excelled in canter (score 9) and totalled 82,5 points. Emmelie Scholtens and Briljant (by Uphill x Darlington) placed third. The horse lacked some suppleness but got 8.5 for the ground covering walk and 8 for canter. He scoed 77 points in total which made him finished as reserve champion in the Stallion Competition.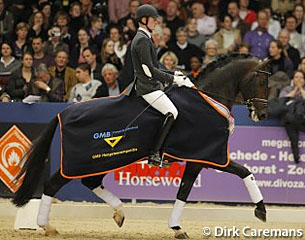 At M-level Dutch rider Theo Hanzon took a doule, winning the competition finals with Amazing Star (by Flemmingh x Ferro) and the day victory with Andretti. The former scored 8 for trot and 9 for canter, but could have been a bit more collected. His total of 85 points put him second behind Andretti (by Special D x Sandro Hit) who got high scores for general impression (9) and his uphill canter (9.5). The black stallion totalled 86,5 points. Emmelie Scholtens and the unsteady Apache (by UB40 x Krack C) was a bit tense which showed in walk (7.5). His trot was outstanding though (9.5) and with an 8.5 score for general impression, Apache ranked third with 83.5 points. The dark bay stallion was the reserve champion of the 2010-2011 KWPN Stallion competition.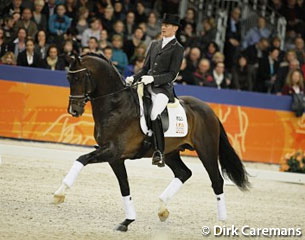 Hanzon and the KWPN reserve licensing champion Zhivago (by Krack C x Jazz) were untouchable at Z-level. The refined bay stallion showed a good self carriage and was steady in the contact. He got 9s for walk, conformation and general impression and 9.5 for canter. The pair won the class as well as the entire competition. Laurens van Lieren and the bay Wonderboy (by Ramon x Nimmerdor) stood out with his rideability and willingness to work. The stallion should have been more engaged from behind and balances, but he ranked second nonetheless. Dineke Verhoge and Zucchero (by Depardieu) placed third with 73 points and Parno Pullens on Zardando (by Tango) was fourth with 66 points.
Photos © Dirk Caremans - Check out a huge amount of photos of the KWPN Stallion Licensing in Caremans' database
Related Links
Bon Bravour, Andretti and Zhivago Win Final Leg of 2010-2011 KWPN Stallion Competition
Briljant, Apache, Wonderboy Win Third Leg 2010 KWPN Stallion Competition in Zuidbroek
Bon Bravour, Astrix and Zhivago Win Again at Second Leg of 2010-2011 KWPN Stallion Competition
Bon Bravour, Astrix and Zhivago Win First Leg of 2010-2011 KWPN Stallion Competition