Australian Dressage News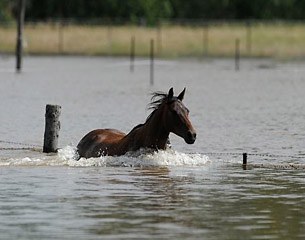 Prominent Australian equestrian journalists and competitors Hamish Cargill and David Cameron have teamed with videographer and editor Peter Haynes. Today they have released an internet video called 'The Queensland floods 2011 - an equestrian perspective.'
This is a video report on the effect of the recent Queensland floods on the equestrian community in the areas around Brisbane, Ipswich, Toowoomba and the Lockyer Valley.
The flooding in Queensland over the past month has been on an unimaginable scale, with two-thirds of the state being swamped by water. With towns, farmland and major cities all affected, the impact upon this great state has been devastating, not least because of the terrible loss of human life and the destruction of homes, businesses and prime agricultural land.
Sadly, the floods have also struck hard in the equestrian community, with many people not only losing their livelihoods but also their friends - many hundreds of horses are still unaccounted for.
In this video Hamish Cargill and David Cameron visit the heart of horse country in Queensland, an area which was struck by some of the most serious flooding. Nothing prepared them for what they would encounter, and while shocked by what they saw they were also in awe of some amazing Australians and their stories.
Related Links
Equestrian Australia and Equestrian Queensland Launches Equine Flood Emergency and Recovery Assistance Website
Australian Dressage Squads for 2011 Announced