2011 New Zealand Young Riders Championships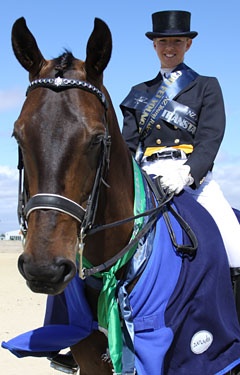 Cambridge rider Kate Welten has been crowned the New Zealand Young Rider Champion, after a closely fought tussle with fellow Waikato rider Kelly Van Dyk at the 2011 New Zealand Young Riders Championships held at Manfield Equestrian Centre in Fielding, New Zealand on 19-20 January 2011, where the 2011 Trans Tasman Young Riders Derby were als hosted.
While high winds bowled over the outside pipe arenas at the Young Rider Dressage Championships in Feilding on the first day of competition, riders kept their focus and made a strong start to the competition, despite the conditions. On her second Advanced start with her 10-year-old gelding Amajah (by Anamour), Cambridge's Kate Welten edged out main rival Putaruru's Kelly Van Dyk (Wolhkahn) by less than one percent in the Young Rider Individual CDIY test. Welten took first place with 61.93% while Van Dyk hovered narrowly behind on 61.09%. Also still in the running is Matangi's Anya Noble (Microchip) on 58.42%, with Van Dyk again narrowly missing out on her second mount Marceau on 58.37%.
Welten and Amajah maintained a winning streak in the second round, emerging victorious after winning the musical freestyle with 65.33%, with Van Dyk settled for second plance on 62.91%. The win was enough to give Welten a decisive victory in the prestigious Advanced level at the Pelorus Trust NZ Young Rider Championships, winning not only the national title but aso the Waldebago Trophy.
Welten pulled off two polished performances to take the national title and was thrilled at how Amajah coped with the atmosphere, after being
eliminated at last year's Young Rider Champs when her horse spooked at
the musical speakers and wouldn't enter the arena.
"Amajah felt really good over the competition, he loved getting all the attention after winning," Welten told Eurodressage. "He was really great to ride indoors and seemed to sense the importance of the competition and really rose to the occasion. The first test he was a bit tense so didn't get high marks, but the Musical really lifted him up and we got some very good scores."
It has been a rapid progression in the sport for 18-year-old Welten, who has progressed from Novice level to Advanced in just two years. Welten made the step up to Advanced just this season with trainer Janet Shaw.
This week has been a double victory for the talented young rider. Welten also gained her Silver Fern, representing New Zealand for the first time in an international Derby competition against Australia.
The Weltens bought Amajah from Sharlene Storey in April 2009. She trained the gelding up to advanced level. "Without her generosity I could never have got this far and I am so grateful, " Welten admitted. "My trainer Janet and her daughter Charlott Baylis are two people that need a huge thank you as without them I would never be the rider I am today. I have trained with them for four years now and they have been so amazing. Also a big thank you to my Mum and Dad who have put so much time and money into helping me achieve my goals and are always supportive.
Both Welten and Van Dyk will go head to head again as the season's biggest events loom: the North Island Championships, Bates National Championships and Horse of the Year Show.
While the pair were up against each other for the NZ Young Rider Title, they also worked well together as a team, representing New Zealand in an international Derby competition against two Australian riders: Elliot Patterson and Stephanie Spencer. Australia ultimately won the title but Welten and Van Dyke impressed with their ability to compete on a new horse with just 20 minutes to get to know their mount.
Text by Astrid Appels / Lisa Potter
Related Links
Team Australia Wins 2011 Trans Tasman Young Riders Derby
Van Dyk and Welten to Represent New Zealand at the 2011 Trans Tasman Young Riders Derby