Dutch Dressage News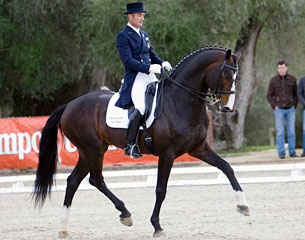 It ain't over until the fat lady sings. Anky van Grunsven has a new confirmed Grand Prix horse in her barn: Upido C-TL. The sale of this Spanish top horse to The Netherlands means that Anky will be back in the saddle again of a team candidate
for the 2011 European Championships and 2012 Olympic Games. 
A Freudian slip posted on Twitter on 12 December 2010 might have given away the plans that were being drawn for viewing and buying Carlos Torrell Jane's rising 11-year old Dutch warmblood stallion Upido C-TL (by Ferro x Amethist). "Buy Buy Barcelona. We had a good time," Van Grunsven twittered, mistaking Bye Bye for "Buy Buy." It took them until beginning of January to finalize the deal.

Torrell and Upido C-TL dominated the Spanish small tour scene in 2009, winning the Sunshine Tour CDI classes, and in 2010 they made the transition to Grand Prix. The pair was in the running for an individual medal at the 2010 Spanish Grand Prix Championships but a rider error in the Kur to Music sadly led to elimination. Nevertheless, Upido had shown off his star qualities at the highest level.
This potential attracted the interest of several buyers from Europe, but it was the Dutch couple who sealed the deal on the horse's move to Holland. Upido has been acquired by Jan Kelders,  Stallion Station van Uytert and Equestrian International BV (= Anky and Sjef), the same syndicate which owned Painted Black.
Rider Carlos Torrell told Spanish website Top Iberian that the scheduled departure of Upido saddens him. "Personally I have mixed feelings. I have family, a son and such a sale's opportunity certainly does not come every day. I am well aware that a horse like Úpido only happens once in a lifetime and I would have liked to join the Spanish national team of course."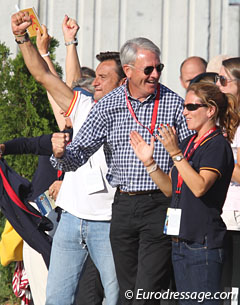 With the sale of Upido C-TL to Anky van Grunsven, Spain has lost one of its most talented upcoming GP horses. Spanish team trainer Jan Bemelmans told Eurodressage exclusively that "this is nice for The Netherlands but a pity for Spain."
"Upido is a super nice horse and I always expected him to be on the team one day, but this is something we can't do anything about," Jan explained. "Carlos did a super job. The horse has much talent for passage and piaffe."
The Spanish team trainer attested that Upido will be with Anky and Sjef in the future. When asked if he thought Anky and Upido could be a top combination on the international dressage scene, Bemelmans replied, "I hope so but you'll have to wait and see. With horses which are so well trained riders normally need a year to become a combination, but it will probably go quicker with them."
Torrell confirmed to Top Iberian that Upido C-TL is still in Spain but will make his move up north to The Netherlands soon.
Text © Eurodressage - No reproduction allowed
Photos © Top Iberian  - Eurodressage
Related Links
Carlos Torrell Jane and Upido C-TL, Spain's Shooting Stars
Beatriz Ferrer-Salat Recaptures National Title at 2010 Spanish Championships