2011 CDN Munster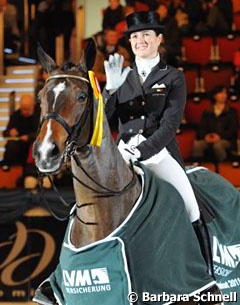 Belgian star combination Vicky Smits-Vanderhasselt and the Hanoverian mare Daianira van de Helle (by Dream of Glory x Ritual) reigned supreme at the 2011 CDN Munster, spearheading a field of 22 international competitors which included the former World Champion and former Olympic champion.
The 32-year old Smits-Vanderhasselt and Daianira made their come back to the international show ring at the World Cup Qualifier in Mechelen after both horse and rider recovered from injury in the spring of 2010. The kick-off in Mechelen was quite shaky, resulting in unusual low scores, but at the international invitational in Munster Smits-Vanderhasselt set the record straight and left no doubt about the quality  of her riding.
The dynamic duo scored 72.213 % beating Nadine Capellmann on her rising multi-million Grand Prix horse Girasol (by Gribaldi x Landioso). In the Grand Prix Special, Daianira outclassed all competition and with 73.500 % she stayed well ahead of the pack and left Isabell Werth on her upcoming GP horse Don Johnson (by Don Frederico x Warkant) right behind her.
Daianira van de Helle is owned by Paul Mais and Edith de Reijs of Stoeterij van de Helle in partnership with Smits and Van Kerckhoven.  Vicky Smits is married to Belgian show jumping rider Christoph Vanderhasselt and the couple is expecting their first baby in six months. Smits' riding is characterized by extreme lightness as she hardly has a contact with the bit throughout the test. The elegant Daianira moves with much lightfootedness and can build up much suspension in piaffe and passage.
Full scores of the 2011 CDN Munster
Check out Barbara Schnell's Photo Impressions in our Image Gallery below.
32 Photos are uploaded in groups of six, scroll the pages by clicking on the arrow below the thumbnails