Austrian Dressage News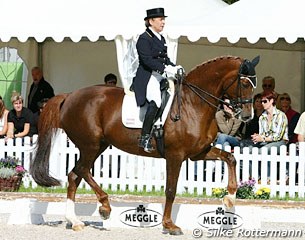 The Austrian dressage world is shocked by the sad and sudden passing of one of its most talented Grand Prix dressage horses: Donna Asana. Evelyn Haim-Swarovski's Danish warmblood mare died on 29 December 2010.
The 10-year old chestnut mare (by Don Schufro x Diamant) was being treated for a mild cold and reacted heavily to medicines, causing her to go into shock. The veterinarians were unable to save her.
"I'm very sad to have lost such a nice horse," said a bereaved Haim-Swarovski. "A horse is not just a tool for sport, but a partner and friend and such a thing hurts badly. My entire team and family is in shock."
Donna Asana made a rapid ascent to the Grand Prix top under her previous owner and trainer, Danish Lone Jorgensen. The mare, who was bred by Anna Marie Blicher Jacobsen, made an impressive break through at international Grand Prix level in 2008 and attracted the interest of Haim-Swarovski, who purchased the Danish Warmblood in 2009.
Source: Reitsportnews
Photo © Silke Rottermann
Related Links
Donna Asana Sold to Evelyn Haim-Swarovski
Donna Asana at the 2010 CDI Donaueschingen