What's Happening in the Dressage World?
The 2011 CDI Strassen will not take place. The organizers of the Luxembourg 3-star international dressage competition could no longer reach an agreement with the Kandel family, who provided the facilities for the CDI Strassen.
"The organizers want to thank the Kandel family to have given them the opportunity to use their property during 12 years to organize this international event," said Sophie Rossy. "Of course the organizers will look forward to find another place where they can continue the tradition of this 3* dressage event, knowing that in a small country as Luxembourg it will not be easy."
The Swedish Hastmagazinet reported that the Swedish breeding stallion Rolex TP (by Ron William x Inselfurst x Streppentraum) has been gelded because he was not popular enough with mare owners. "There is no justification for us to maintain a stallion who only gets ten mares," said the owners Team Piaff. Rolex TP will now be focused on his dressage career. To replace Rolex, Team Piaff will stand the Oldenburg bred Hot Shot (by Hotline x Donnerhall x Pik Bube).
Edward Gal and business partner Nicole Werner have invested in the 5-year old Dutch warmblood mare Ambria. The duo bought a share in the ownership of Wil and Isabel van Gisbergen-Sponselee's mare. Ambria is by OO Seven out of Umbria (who is out of Olympic team horse Barbria).
On 7 December former German Olympic team rider Martin Schaudt celebrated his 52nd birthday. Congratulations.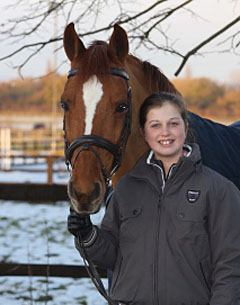 Great Britain's most successful FEI Dressage pony in recent years, Gigolo, has been sold to 12-year old Bethany-Rose Horobin. Gigolo was previously competed by Claire Gallimore and finished fifth in the Kur to Music at the 2010 European Pony Championships.
José Francisco Brito Eusébio has been elected new president of the Brazilian Association for the Purebred Lusitano.
Together with 26 other athletes including eventing riders Malin Larsson and Niklas Lindbäck, Swedish Grand Prix dressage rider Patrik Kittel got selected on the SOK Top and Talent Program of the Swedish Olympic Committee (SOK). The 27 athletes will receive support and training through the program as contenders for the 2012 and 2016 Olympic Games.
Because the German Equestrian Federation (FN) did not carry out the required number of doping checks in 2008 according to WADA regulations, the German Secretary of State ordered the FN to reimburse 17,100 euro support they got from the state. St. Georg reported that the FN refused this and went to court with it. The FN and State now settled and the FN has to pay back 7,600 euro. It is unknown whether the FN also has to refund the money for 2009.
Norwegian WEG team rider Cathrine Rasmussen is seriously investing in young dressage horses. After having purchased Stevie Wonder, the Danish based Rasmussen now also acquired the 2009 Bundeschampionate reserve champion ERA Wunderschone (by Sunny Boy x Donnerhall). Under Stefan Blanken, the mare achieved top scores in Warendorf. She was previously owned by Annette and Jesper Bugge-Nielsen.
U.S. double WEG bronze medallist Steffen Peters got a savoury present for Christmas from Ravel's owner Akiko Yamazaki: a tray of a dozen cup cakes with bronze "medal" cookies. Check out a photo here.
Bruno Nunes dos Santos, press officer at the Portuguese Dressage Academy in Arruda dos Vinhos, is saying goodbye to his job after two years and will move on to new challenges in life. Carlos Lopes and Joaquim Proença will replace Nunes dos Santos as press officer and accountant. "I would like to thank all who contributed to the success of this amazing experience," said Bruno gracefully.