Canadian Dressage News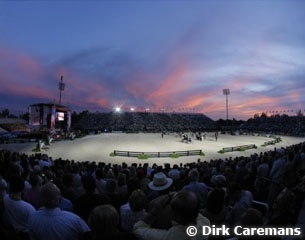 Horse-Canada reported that the Canadian city of Bromont has officially expressed their interest in hosting the 2018 World Equestrian Games  and requested that the FEI convey to the city the requirements and specifications related to such an endeavour.
Bromont's Mayor, Pauline Quinlan, hand delivered a letter addressed to FEI Secretary General Alexander McLin, in Lausanne Switzerland mid October 2010. 
It would not be the first time Bromont played host to competitions of this calibre as the equestrian events were held here during the 1976 Summer Olympic Games.  International level competitions continue to be held in Bromont every year and the Bromont Olympic Horse Park is the only former Olympic equine venue that has retained its vocation and that is still active more than 30 years later.
The mayor's letter included an information package describing recent upgrades to the facility, including improved drainage, electrical wiring, seating, water supply and state of the art footing.  These improvements were made in 2010 under the supervision of Leopoldo Palacios, the FEI's current technical director.  The package also included plans for a new 86,000 sq.ft. building with 145 stalls and a 130' X 330' indoor arena capable of hosting reining and vaulting competitions.
The Bromont Olympic Horse Park is operated by a non-profit association, the Société d'agriculture du comté de Shefford (SACS), that shares ownership of the park with the city of Bromont.  The park is located in the countryside and amid parklands that are protected through conservation easements.
Should the city find that the FEI's requirements are compatible with the city's vision and means, partners would be sought to help realize the event.  The province's Minister of Education, Recreation and Sports, Lyne Beauchamp, has already addressed a letter to Alexander McLin supporting the city in its quest.
Source: Horse-Canada
Photo © Dirk Caremans
Related Links
Eurodressage Coverage of the 2010 World Equestrian Games
Eurodressage Coverage of the 2006 World Equestrian Games
Eurodressage Coverage of the 2002 World Equestrian Games
Scores of the 1998 World Equestrian Games