KWPN Breeding News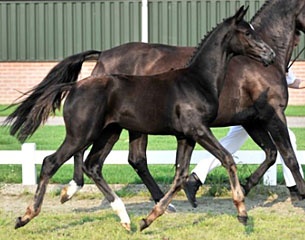 On the second dressage colt pre-inspection day for the 2011 KWPN Stallion Licensing, twenty young stallions were selected to move on to the second viewing round in their attempt to get licensed by the KWPN society in February 2011.
Sixty-seven colt were presented to the licensing committee on Wednesday 8 December 2010. The colts were inspected on hard surface and in freedom.
The accepted colts are:
Domingo (by Citango x Gribaldi x Pion)
Don Tango (by Contango x Jazz x Ulft)
D (by Democraat x Michelangelo x Formateur)
Dacapo (by Dreamcatcher x Montecristo x Clavecimbel)
Darius T (by Dreamcatcher x Indoctro x Ahorn)
Dance (by Florencio x Rohdiamant  x Rousseau)
Dancer M (by Hoftanz x Elcaro x Ferro)
Deniro VOD (by Hotline x Michelangelo x Farn)
Don Olymbrio (by Jazz x Ferro x Sultan)
Djive (by Jazz x Fruhling x Ubis)
Dark Jazz (by Jazz x Future x Ferro)
Don de Jeu (by Jazz x Jetset D x Rubinstein)
Deulius Xavgovia (by Johnson x Ulft x Akteur)
Don John (by Johnson x Goodtimes x Lucky Boy xx)
D'n Hop (by Krack C x Samber x Recruut)
Dorado (by Krack C x Rousseau x Donnerhall)
Dundee M (by Lord Leatherdale x Sandro Hit x Ferro)
Domingo (by Lord Loxley x Farmer x G Ramiro Z)
Dalinero (by Westpoint x Cabochon x Corleone)
Dante van het Trichelhof (by Zucchero x Negro x Focus)
The final dressage pre-inspection will be on Friday 10 December 2010.
Related Link
Pre-Selection for KWPN Stallion Licensing Begins
Stallions at Stud: Hoftanz