KWPN Breeding News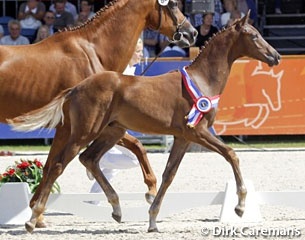 The pre-selection for the 2011 KWPN Stallion Licensing started with a group of show jumping colts at the KWPN head quarters in Ermelo On Monday 6 December 2010.
On Tuesday stallion selection committee members Arie Hamoen, Wim Ernes and Reijer van Woudenberg reviewed 59  colts on the dressage inspection day.
The first group of dressage colts were initially presented on hard surface and afterwards were seen moving in freedom. The committee selected 17 dressage colts for the second round in 's Hertogenbosch:
Davinci (by Valdez x Voltaire x Eros)
Delando (by Valdez x Krack C x Inspekteur)
Dude (by Vivaldi x Havidoff x Recruut)
Deejay (by Vivaldi x Farrington x Ulster)
Doi Doi Doi (by Vivaldi x Gribaldi x Cadmus xx)
Darkboy (by Vivaldi x Havidoff x Ferro)
Dream Boy (by Vivaldi x Ferro x Balzflug-
Donaldson (by Westpoint x Flemmingh x Cabochon)
Dream Theather (by Wynton x Ramiro x Pion)
Denver (by Wynton x Ferro x Calypso)
Damor (by Wynton x Krack C x Rechter)
Dance Royal (by Wynton x Flemmingh x Cabochon)
Da Vinci (by Zhivago x San Remo x Wanderbusch II)
Diebrecht (by Zizi Top x Kennedy x Astronaut)
Dee Jay (by Ziesto x Goodtimes x Pericles xx)
Danci (by Ziesto x OScar x Erato)
De Best TK (by Wynton x Metall x Legaat)
Tomorrow a second group of dressage colts will be reviewed, starting at 8 AM. These colts are sired by Briar, Citango, Contango, Dayano, Democraat, Don Romantic, Don Schufro, Dramatic, Dreamcatcher, Fidertanz, Flemmingh, Florencio, Furst Romancier, Gribaldi, Hofrat, Hoftanz, Hotline, Jazz, Johnson, Krack C, Laudabilis, Lauries Crusador xx, Leonardo da Vinci, Londonderry, Lord Leatherdale, and Zucchero.
The third dressage group will appear on 10 December 2010.
Related Links
Bon Bravour, Astrix and Zhivago Win First Leg of 2010-2011 KWPN Stallion Competition
Andretti, Zhivago and Wynton Win 2009-2010 KWPN Stallion Competition