Eurodressage F.O.C.U.S.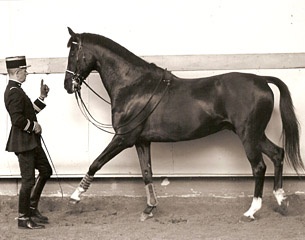 In the autumn of 2010 Eurodressage's chief editor Astrid Appels asked the readers of Eurodressage to send suggestions for a topic they would like to read an article on. Colonel Christian Carde was one of the proposals and as Eurodressage reporter Silke Rottermann was going to spend a week in Paris at the beginning of November she was kindly asked to meet one of France's greatest horsemen of the past decades. Luckily the Colonel was just back on time from his US clinics and offered to meet Silke in Saumur, giving her the opportunity to watch his work and to talk with him about his life and visions.
Captious Critic

There are very few people in today's equestrian world who have the experience, the courage and the position to assess a situation frankly and also to speak out the uncomfortable truth.
In dressage an increasing number of participating countries at international championships as well as growing numbers of spectators, record-scoring horses and high prize money might give the impression that dressage has developed in exactly the right way over the past decades. People, who raise a finger, are considered incurable and called captious critics.
Where there is light there are also shadows in a sport which once was a friendly competition between members of military teams. They presented horses on which they had to rely with their lives in war time. The sport's aim was to show the obedience and beauty of a well trained horse that was controllable in every situation.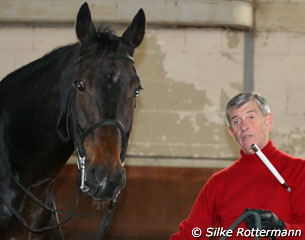 In fact that past decade the news of success has been overshadowed by the discussions about training methods like rollkur and photos of horses with painful eyes and blue tongues.
So we experience a time in which dressage seems to need critical minds that stand up for the welfare of the horse so that the public will demand more than just spectacular acrobatic movements between A and C.
There are still too few professionals who are courageous enough to raise a voice against some methods practised by their colleagues, even though their message is authentic due to the fact they have been or still are highly respected dressage competitors, trainers or judges.
Colonel Christian Carde is exactly one of these lonely voices in the wilderness which do not fear the consequences even though he writes very critically talking about dressage today. This is only one of many reasons to focus on a remarkable equestrian personality.
Carde's Early Career in the Saddle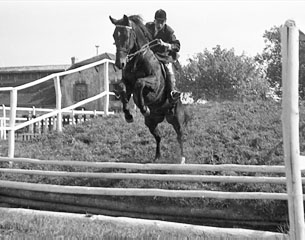 One must not necessarily come from a horsey family to become a great horseman devoting one's life to the military, horses and the art of classical dressage. However, it undeniably helps to light the fire to have a nurtured passion for the most beautiful of animals.
Christian Carde comes from such a family, although he only started riding as a 13-year old boy in the well-known French town of Bordeaux where he was born in 1939.
Carde's father had been a reserve cavalry officer and taught his son the first lessons in the saddle of family owned horses. During those times  French competition riding was, like almost everywhere in Europe, still dominated by the military, though civilians were now allowed to take part too. André Jousseaume managed to win three Olympic dressage medals on the Anglo Arab Harpagnon, but he was easily outshone by the successes the great stylist D'Oriola enjoyed by winning two Olympic gold medals in jumping within 12 years.
No wonder the young Christian Carde started to compete in the obviously more attractive disciplines of jumping and eventing at the age of just 15. "As a teenager and young man I competed in jumping and eventing classes. It gave me the first idea of a forward going and well balanced horse."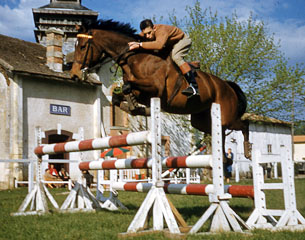 After school Carde spent two years preparing for an entrance exam at the French Military Academy of Saint-Cyr. Founded by Napoleon at the beginning of the 19th century, Saint-Cyr still is France's foremost military cadet academy, where the infantry and cavalry officers are trained. Carde made it to Saint-Cyr and stayed there from 1960 to 1962 to become a cavalry officer. He spent one year in Saumur to specialise in the armoured corp. During this time he was scouted by the écuyer-en-chef, Colonel de Saint André.
After his graduation Carde joined the world famous Cadre Noir in 1965 rather accidentally. Whereas the French cavalry had dismounted already after World War I, the Cadre Noir was maintained as a French national treasure and was still part of the French military in the 1960s . "I had intended to go to the military equestrian detachment in Fontainebleau to prepare to compete in eventing, but my instructor died in a car accident and the ecuyer-en-chef, who knew me from my year at Saumur, offered me to stay," Carde told Eurodressage.
Nobody could foresee then that the young squire named Christian Carde would become their leader 30 years later. It was there that his love and passion for dressage was sparked. Carde trained under the supervision of former Olympic dressage rider Colonel de Saint-André, but again rather accidentally he got involved in dressage.
"At the Cadre Noir we had to ride in all three Olympic disciplines and so I got involved with more serious dressage. All riders of the Cadre Noir had to start in competitions back then. One day the écuyer-en-chef approached me and told me he had selected me to start in an international Prix St. Georges competition. Till this date I don't really know why he had chosen exactly me, but I liked it very much. All in all it was a very good time for the Cadre Noir in the 1960s."
Solitaire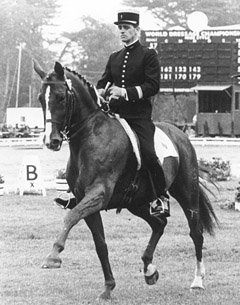 One may assume this was the beginning of a career as an international dressage rider, but his entire life Carde had to split his time between his military duties and his riding. In 1970 he was sent off with the French military to Berlin as squadron leader, where he continued riding dressage and found a talented 5-year old, Solitaire. Despite the horse's French name, this beautiful chestnut with bright mane and tail was bred in Russia. As he stood high in blood and was very sensitive to work with one can suppose he might have been a pure bred Budjonny, "but we never really found out as nobody could explain the papers written in Kyrill letters to me."
Carde started training the chestnut in dressage and took him home to Saumur in 1972 when his time in Berlin was over. This was something rather unusual because the French riders of the Cadre Noir only rode French bred horses at that time.
The mid 1970s were the start of a glorious time for the dressage riders of the Cadre Noir. In the pre-war and  post war times members of this French riding institution had been extraordinary successful in international dressage, having provided the 1932 Olympic gold medal winner Xavier Lesage (Taine) and in the 1950s and especially the 1960s the Cadre Noir was also internationally successful in the other Olympic discipline of three-day eventing.
However French dressage in the 1970s turned out to be dominated by Patrick Le Rolland and the highly elegant thoroughbred Cramique xx who gave the public the impression of elegance and beauty of the French school style. When Cramique retired in the mid 1970s, Carde had trained Solitaire up the levels and started competing him in 1975. Only three years later he was chosen to represent his country in the 1978 World Championships in Goodwood where he finished a very respectable fourth in the freestyle class.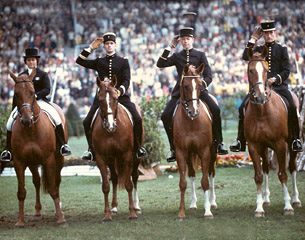 Carde's success continued. He won the French national championships in 1979 and went on to claim considerable success at the European Championships the same year in Aarhus and at the 1980 Alternative Olympic Games. Probably France's  greatest triumph was at the 1979 CDIO Aachen. Three members of the Cadre Noir -- Christian Carde, Dominique Flament and Patrick Le Rolland -- joined by Dominique d'Esmé, to finish second behind the then invincible German team in the dressage nations' cup. Three men of the same school, who would become the French national dressage coaches in succession,  brought back the unique French style to the international dressage arena. Their wonderful classical seat stood out.
Renaissance Man
For Carde competing was only one aim in his equestrian career, training horses and riders in classical dressage had been and still is another. At the beginning of the 1980s Carde followed another path and became an FEI rated judge. This function gave him the possibility to realise his visions of classical dressage in another way, but he stopped when he was chosen to become the national coach of France in 1985.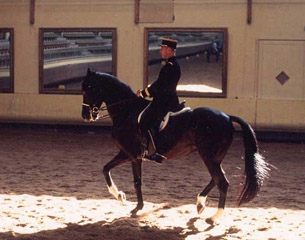 It was exactly the year when a certain horse named Corlandus joined the national team for the first time. Carde called his five years as the head of the French team as "The Margit years" and those were the most successful ones for French dressage with Margit Otto-Crépin winning the 1987 European Championships, Olympic silver at the 1988 Games in Seoul, and the 1989 World Cup Final.
After resigning from his position as national trainer Carde again joined his old love, the Cadre Noir, in 1991, this time as the ecuyer-en-chef,  their leader. Until his retirement in February 1999 Carde led France's most renowned riding group. During this time several appearances in Europe and overseas proved the high standard of the Cadre Noir which attracted an international public.
"I was fortunate because all my professional life I could serve in the army at military schools or regiments and also in the Cadre Noir," Carde looks back with gratitude.
After his retirement from the Cadre Noir he started judging again at CDI shows, but stopped soon after: "I never judged a lot because I prefer to be a trainer. Apart from this I couldn't do it anymore nowadays, a time in which horses are more and more slaves for glory."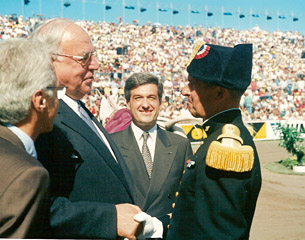 In 2000  the late Jean- Francois Marquis d'Orgeix, a 1948 Olympic jumping rider, approached Carde with the aim of founding a society to retain classical riding. So d'Orgeix, Carde and the dressage trainer Michel Henriquet founded a society named "Allege-Ideal" whose philosophy is similar to the one of the German Xenophon Classical Riding society founded some years later.
From Allege-Ideal's beginning to November 2009 Christian Carde acted as first presidentl, persevering his aim to realise article 401 of the FEI regularities. "If we do not want dressage to go down the chute, article 401 must be strictly realised. I resigned from Allege-Ideal in 2009 because I think it is time for others to become engaged. I am a man who always tries to change something for the better and I have really contributed my ideas and visions over the past decade," Carde pointed out.
Carde as Clinician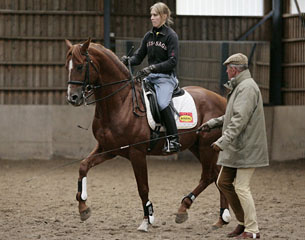 Being already over 70, Carde now dedicates his time to giving clinics, mainly in the USA, Canada, Sweden and Finland, where he has been a highly frequented clinician for years. Moreover for all interested who are not able to join him personally his training services are offered online on the website "Dressage training online" in English or on "competences-equestres" in French.
When asked about his best attribute, he replies that he is "a free man" and as such able to express his opinions frankly. Carde regularly writes articles for French and English speaking publications about classical dressage as well as wrong developments in competitive dressage riding.
His competence and approach of training are without question and rare in dressage today. There still are so many riders keen on learning the real art of classical dressage, which could be consoling. However for a mind like Carde there is never time to rest with so many things left to be made better!
Article by Silke Rottermann for Eurodressage.com

Photos courtesy: C. Carde, Silke Rottermann, Minna Tallberg
Continue this story: Colonel Christian Carde, Classical Dressage as Horsemanship - Part II
Related Links
Corlandus, Majestic Power
History of the European Championships