Eurodressage F.O.C.U.S.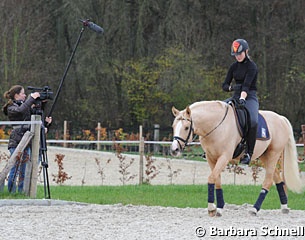 As German school government strives to meet up with the international standard of implementing final examinations and Bachelor courses (G8-concept), the pressure on school-going kids increases by the day.
What is promoted as an ideal educational concept causes plenty of problems in every day life. The increasing workload makes the students sweat, but what about teenagers who combine school with high performance sport. More than all the rest the latter category needs additional help to make it work. 
One of those students was Anna von Negri, who became double European Pony Champion in 2004 with Dornik B and again one year later with Deinhard B. She still rides today at the farm of her parents in Ubach-Palenberg, Germany. Anna is currently studying sport journalism in Cologne and as mid-term project she chose to film a documentary feature for a TV-show on the theme of "school and competition sport."
Her goal is to "enlighten politically the feasibility of the G8-concept. I need protagonists for that and we followed a 13-year old tennis player, who of course still goes to school," von Negri explained. "I didn't have to think long about our second example: at age 14 Jessica Krieg is the right age and she became European Pony Champion last summer."
Anna still has regular contact with her former pony trainer, Stefanie Meyer-Biss, who is now training Jessica, and so it came to be that she travelled to Kempen, Germany, to video a day in the life of the Heinberger based pony rider.
18 November 2010, 6h30: Anna and her fellow student Laren Müller, who jointly work on this project, arrive with their camera at the Krieg's home. In the kitchen they discuss the day and video the first scenes: breakfast at the kitchen table. Then they drive with Jessica and her mom to school and accompany her in class where they film a few minutes of her being taught.
While Jessica is in school, Anna drives home and sticks to her own theme: "In between jobs I quickly have to ride a horse, as I'm preparing for a show. At twelve I'll go back to Heinsberg to drive to school again with Mrs Krieg. We'll pick up Jessica and go to her barn. En route we filmed how Jessica changed clothes in the car. Nothing has changed in such a routine the past five years. I also made my homework in the car," said Von Negri.
At 13h30 Anna and Laren set up their camera at the Hulingshof in Kempen and video Jessica and her mom grooming and tacking Danilo. Teamwork is involved as Jessica is riding two ponies this afternoon and her trainer has two more students to teach that day. While Jessica is walking her palomino stallion, Anna asks her questions about her pony, the sport and her team. It is all very clear: Jessica wants to go to the top and she has fun in what she does. Otherwise such a workload would hardly be manageable.
Stefanie Meyer-Biss arrives and starts training Jessica. Time and time again she works on the basis, the seat, the aids. At the end of her one-hour lesson Jessica does some canter in two-point and laughs. While Jessica brings Danilo back to his stall, her mom had already saddled Ghost and she takes over Danilo. Meanwhile the trainer answers a few questions in front of the camera. She is also aware of the burden students and their family carry when they want to achieve something in sport.
"It's an interesting theme at the right moment," says Meyer-Biss. "On the one hand Anna knows what she's talking about, because back in the days she had to come from Übach-Palenberg to St. Tönis for training. On the other hand, the G8-examination causes confusion amongst schools which makes it hard for kids, even without the private initiative from parents, let alone when these kids do high performance sport."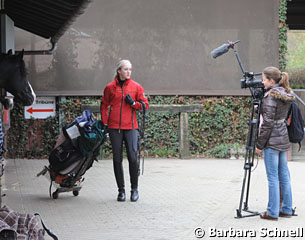 Also during her second ride aboard Ghost, Jessica stays focused to the maximum. Only when she's finished riding and untacking her pony she takes the time to cuddle him. However, the day has not yet come to and end. Accompanied by Anna and Laren they go back home, where homework awaits Jessica.
A few days later in an interview with Anna and Laren, the Minister of Education Sylvia Löhrmann says that this is " a rare example" and that she never was told that there are students who have problems to combine school with sport.
According to Anna, Michael Schar, the director of the Nordrhine-Westfalian Olympic Support Team, sees it quite differently. Trainers of athletes, like Stefanie Meyer-Biss, know from experience how much success all depends on individual schools as well as teachers; whether a young athlete will receive support from their school to pursue a high performance career, for instance, by being exempt from physical education so that these athletes can train or do homework.
The German youth riders could really profit from an improved and better-managed co-operation with schools, as a Totilas is not born every day in the country. When the sport wants to stay competitive internationally on the long term, we need to stimulate "home-grown" riders and this will only work hand-in-hand with the schools. Anna's documentary proves that action is required.
(Anna and Laren have to hand in their documentary on 28 January 2011. It is planned that the show will be broadcast on a regional WDR educational station, but both hope that it will also be featured in a regular WDR-sport programme.)
Text and Photos © Barbara Schnell
Related Links
Golden Day for Jessica Krieg at 2010 European Pony Championships
Photo Report: All the Action from the 2010 German Youth Riders Championships