Canadian Dressage News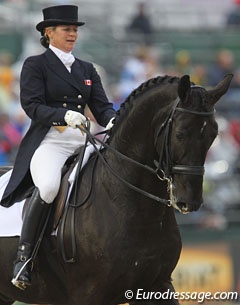 Cindy Ishoy of Lynden, ON, has been named the 2010 Dressage Canada Owner of the Year. Ishoy is the co-owner of Proton, a 16-year-old Baden-Wurttemburger gelding that represented Canada
at the 2010 World Equestrian Games with Ishoy's student, Victoria Winter of Toronto ON.
Ishoy has owned the Proton (Patriarch x Rosenkavalier), since 2001, and herself competed him on the Canadian Dressage Team at the 2004 Athens Olympics, where they were the top-placed Canadian entry, finishing in 31st spot.  Ishoy and Proton continued to be a formidable duo in the Grand Prix ring for the next several seasons.
Late in 2009, Ishoy handed over the ride to Winter, with the aim of having the pair qualify for the World Equestrian Games. Based on their top qualifying scores, Winter and Proton earned a spot on the team and scored 66.681% for an overall placing of 36th at the games. Winter's score also helped the Canadian Dressage Team finish in seventh with a total score of 206.09, which is the Canadian Dressage Team's best-ever finish at WEG.
"Cindy has been a long time supporter of our Canadian dressage teams. Just look through the history of Canada at major international dressage events and you will frequently find Cindy's name as a team member," said Dressage Canada 2010 Celebration of Dressage organizer, Lisa Hossack-Scott. "This year, Cindy provided the team with her long-time partner Proton for team member Victoria Winter. Cindy's support helped Canada achieve its best ever result at the World Equestrian Games."
"It is such an honour to win this award," said Ishoy, who was a member of Canada's bronze medal winning dressage team at the 1988 Seoul Olympics. "What a pleasure it was to work with Victoria and Proton in preparation for the 2010 World Equestrian Games. It was such a great experience."
Cindy Ishoy was recognized at the Dressage Canada reception held November 11th at The Royal Agricultural Winter Fair in Toronto, ON.
Past winners of the Dressage Canada Owner of the Year Award include Karen Soupcoff (2003), Deryol Andrews (2004), Evi Strasser (2005), Doug Leatherdale (2006), Faith Berghuis (2007), Ian and Moreen Nicoll (2008) and Robyn Eames (2009).
Photo © Astrid Appels
Related Links
Robyn Eames, Canadian Owner of the Year 2009
Ian and Moreen Nicoll Named 2008 Dressage Canada Owners of the Year