German Dressage News
German WEG team rider Matthias Alexander Rath officially presented his new ride, Totilas, to the media at a special press conference hosted at Paul Schockemohle's stallion station in Muhlen, Germany, Tuesday morning 30 November 2011.
The official presentation puts an end to weeks of speculation on who would become the new rider of Germany's most popular dressage stallion.
In full show gear the 26-year old Rath sat on Totilas' for the sixth time this morning and rode the Dutch warmblood stallion (by Gribaldi x Glendale) in Schockemohle's indoor arena to the music of Era's Ameno. After this brief session and a photo opportunity for the press, Paul Schockemohle, Ann Kathrin Linsenhoff, Klaus Martin Rath, Matthias Rath and Sönke Lauterbach (secretary general of the German Equestrian Federation) took a seat for a public statement and a question round.
A German Future for Totilas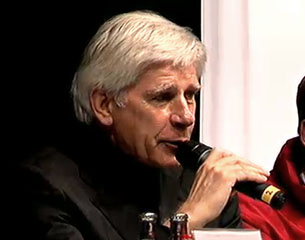 Schockemohle talked about his fascination for Totilas and how he first discussed the dream of buying Totilas in the kitchen with his wife Bettina. Reciting the anecdote, Paul confessed to his wife that he "wanted to have that horse" to which Betinna replied "go for it because it'll be of major significance for Germany."
"Internally it was known the horse was for sale after the World Equestrian Games," said Schockemohle. "I contacted Visser the first time in April. He told me he would sell after WEG. I'm a sportsman as well. I feel bad for Edward, but on the other hand I feel good because the horse is here and not in the U.S.A and Saudi Arabia."
As only few dressage families have the financial strength to own and support a world record breaking horse such as Totilas, the connection with the Linsenhoff family came quickly. Paul said that he had always liked Matthias' riding. "I'm convinced of his talent, how he works with horses. His personality impressed me," Schockemohle commented.  "I quickly conversed with Klaus and afterwards with Ann Kathrin. Then Matthias said, I'll try and they came to Muhlen."
The German horse dealer and stallion owner became teary-eyed when he saw the first try-out. "I was overwhelmed the first thirty minute," Paul admitted. "He had an incredible ride on this horse.  I'm convinced Totilas will make great performances with Rath.
Rath spoke about his first test-rides on Totilas: "Slowly we try to get used to one another," he said. "You just can't get on and ride. It has to fit. That's what we tried to accomplish the first two or three attempts. Then we started to ride some pirouettes. We rode the left pirouette. I'm not  really an emotional person but when I rode that first pirouette I had to laugh. The feeling is amazing. I'm happy and grateful that I can ride this horse."
Ann Kathrin Linsenhoff talked about the significance of having Totilas in Germany. "This horse is important for our breeding and for our sport. I'm proud that our son has been asked. We hope they will come to a harmony," she said. " It's a wonderful horse. With so much potential, such shoulder freedom, beauty, and presence. It's unbelievable. I'm sure you all will agree with me on that point."
The first try-out took place five weeks ago and Matthias rode Totilas five times in total. Today's presentation was his sixth ride aboard the phenomenal stallion.
Ann Kathrin Linsenhoff and Paul Schockemohle Co-Own Totilas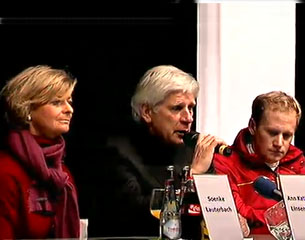 From emotion back to business. Schockemohle and Linsenhoff explained that they paid no such thing for riding or sports rights nor for breeding rights. The two-some decided on co-ownership even though it is not a fifty-fifty deal they disclosed.
"I'm happy that Paul agreed to create a partnership," said Linsenhoff. "It's a co-ownership. We divide everything including stud fees. Everything about the money we divide. We're together in one boat. That's why we created this co-ownership."
Schockemohle answered that "we hope neither of us will loose money on it and for me. I hope to make money."
Schockemohle added that "for me the sport was the main issue. When there wouldn't be a harmony with the rider, it wouldn't have happened. Gal did a great job and hopefully Matthias can continue that."
Schockemohle compares Totilas to Sandro Hit. "I believe there is a big return for Totilas as a breeding stallion," he said. "He'll win some ribbons and some prize money. He'll have marketing value. His progeny is very important.
I have a horse Sandro Hit. He made relatively a lot of money as a breeding stallion. Breeders were able to sell their foals here. His sons were always in front at the licensing. I sold 15 licensed stallions by him. You have to see it this way with Totilas. He's an outcross and that makes Totilas valuable for breeding.
Schockemohle, however, stressed that "sport comes first, and then breeding. When it's important I can share. I believe that in this case."
Linsenhoff expressed her gratitude towards Paul. "I'm glad he chose us as partner. Paul's very straight forward. This is for me also a new way of investing. I'm happy to have such a partner at my side."
When asked about the purchase price, Schockemohle used his standard phrase, "I forgot how expensive he was. I'm suppressing it." He did, however, confirm that "the horse is insured for the full purchase price. And that's it."
Schockemohle did not reveal the stud fee, but said that Totilas will stay in Muhlen for a few more months and fresh semen will be available briefly. The horse will then move to Kronberg to focus on dressage for the upcoming show season.
Dealing with Negative Criticism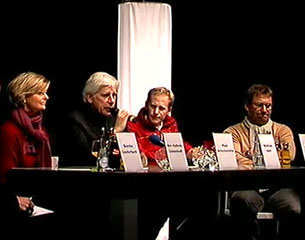 The sale of Holland's prize horse to arch rival Germany has caused much commotion in the dressage world. For years the training system of the Dutch has been under fire by the Germans but now Germany had to purchase the most expensive dressage horse in history in an attempt to boost the country back into a number one seat.
Fanatics and extremists have written hate mail to Matthias for accepting the ride on Totilas. "I read my guestbook regularly and now even daily," the young German said. "I'm interested what fans or dectractors write. At the beginning it was even, the positive and negative. Now it's more positive. We also keep the negative ones online. I think it's important that they can voice their opinion. I read them."
Schockemohle added that he also got very negative comments for acquiring the stallion.
The attitude at the table was very diplomatic and professional, avoiding to tackle the sensitive issue head on. Klaus Martin Rath explained that "in my opinion the performance Edward did with Totilas was never negative. For me his training, also in the warm up ring, was no issue. We've seen other issues and thought that it's not our way of working horses. But we didn't say this is right or wrong. The Dutch determined the dressage scene the past two years with Totilas and Parzival. For insiders there is a great respect for what the Dutch did."
Schockemohle voiced that "the training methods of the Germans and the Dutch are not so different."
The Pressure to Ride Totilas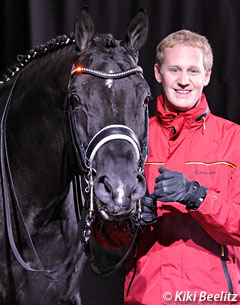 The plan is to show Totilas during the 2011 outdoor season. "I think we'll start with the outdoor season. The goal is to be in front and we'll work at that.
Rath seems to be handling well the pressure of riding Totilas. "I don't have fear to go to Rotterdam next year. If I qualify next year I would be very happy."
Sönke Lauterbach represented the opinion of the German Equestrian Federation. "We have more good upcoming riders with upcoming horses, but Rath and Totilas will become an elementary pair for the team. Despite his experience Totilas is still a young horse. I'm looking forward to the next championships."
Rath is honest in saying that he reflected well on the consequences of being Totilas' new rider. "We thought about the pressure when we rode the horse the first and second time," he explained. "Gal's achievements are incredible. We'll work hard at it to match those achievements. I don't expect to ride two new world records at the first show. I'll try to start where Edward ended."
Photos © Kiki Beelitz - NO REPRODUCTION ALLOWED!!!!
More Photos by Kiki Beelitz and Julia Rau
VIDEOS: Dutch television NOS - German television NDR
Related Links
Matthias Rath: Riding Totilas is "A Real Pleasure"
Totilas' New Rider Announced Next Tuesday