German Dressage News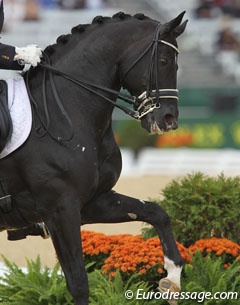 Three days before the official announcement, German WEG team rider Matthias Rath decided to come out and open up about riding Totilas. In an interview with the Swedish magazine Tidningen Ridsport, Rath admitted that riding Totilas is "a real pleasure."
Finally the news is official that Ann Kathrin Linsenhoff's stepson tried out the world record breaking stallion in an attempt to secure the future ride on the black stallion. 
"In general I am not an emotional rider but when I rode a pirouette I had to laugh out loud," Rath told Ridsport. During his test trial at Paul Schockemohle's barn in Mühlen, Germany, Rath experienced what Edward Gal has always called an "indescribable feeling."
"The feeling was incredible and I couldn't control myself. It was a real pleasure," Rath added. "I've been asked if I wanted to ride Totilas, but as far as I know Paul Schockemöhle asked several riders."
Rath's admittal to the test ride fuels speculation and reports that Totilas will be trained and competed in the future by Matthias Rath. Close sources report that Linsenhoff apparently came to an agreement with Schockemohle almost two weeks ago. 
Rath confirms his test ride to Ridsport:  "Of course I said yes. It's an amazing horse and what Edward did with him is fantastic. When it comes down to it, nobody would say no to riding today's most fantastic horse. It is an incredible opportunity."

Rath tried out Totilas in Mühlen together with his father and coach Klaus Martin Rath. Both were deeply impressed by the quality of the horse.
The news will be made official on Tuesday 30 November 2010 at Schockemohle's stable. "I've been asked to keep myself available early next week," Rath said.
A complete interview will be published in Tidningen Ridsport
Related Links
Totilas' New Rider Announced Next Tuesday
Totilas Arrives at Paul Schockemohle's Stable in Muhlen, Germany
Totilas Sold to Paul Schockemohle