Westfalian Breeding News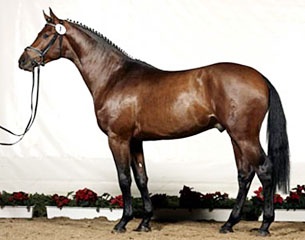 Foreign bred stallions dominated the 2010 Westfalian Stallion Licensing in Munster, Germany, where the bay colt A La Carte (by Abke x Lux x Polydor) was proclaimed champion stallion.
The quality of this year's colt collection was astonishing which was proven by the fact that at least 16 stallions were selected for the premium ring. 
The muscled and beautiful A La Carte became the champion, even though the bay was not truly a show-stopper in his movements. He had a nice walk and neat trot, but fortunately his good jump over the fences made up for that. The bay is bred by the Dutch Jenny Ekkel from Geesteren, The Netherlands, and was presented at the licensing by Heinrich Ramsbrock. He sold privately and will stand at stud in Warendorf.
Much more impressive was the reserve champion: a gorgeous Diamond Hit son out of Lia (by Lauries x Florestan) named Daily Deal. The delightful colt is bred by Heinrich Schulte-Ho?tte in Germany and presented by Jens Henning. He will stand at stud at Gestut Sprehe.
The third ranked stallion was the hyped sensation of the 2010 Westfalian licensing: the chestnut Dutch warmblood stallion by Jazz x Krack C x Damiro (now named Don Juan de Hus). His video of the licensing pre-selection was viewed more than 100,000 times and the horse was nicknamed on the internet "Parzival II". The ultra-modern looking colt excelled in his suppleness and well suspended trot. The mobility in the hocks and knees, however, looked a bit funky at times, especially when the colt was not going full speed in-hand. This lovely young stallion is bred by J. Koopman and was presented by Eugene Reesink. He became the price highligt at auction, selling for 220,000 euro to Xavier Marie's Haras de Hus in France.
The best show jumping colt was another foreign breeding product, this time from the country that statistically produced the best show jumpers at the 2010 World Equestrian Games: Belgium. The sweet bay colt by Cooper van de Heffinck out of a Clinton x Ramiro dam blew everyone away with his gigantic scope over the fences. The bay cleared all jumps with the greatest ease. The Cooper is bred by Danny Vermeulen from Hombeek, Belgium, and was presented by Heinrich Ramsbrock. He will stand at stud  at Gestut Ligges in Ascheberg, Germany.
The other 12 premium stallions are (alphabetically):
nn (by Belissimo M x Show Star x Damenstolz)
Belarus (by Beltoni x Riccione x Montmartre)
De Beers Diamond (by De Niro x Ex Librix x Panama)
nn (by Estobar x Florestan x Weinberg)
Franziskus (by Fidertanz x Alabaster x Rubinstein)
nn (by Godolphin x Cornet Obolensky x Piquet)
Jeraldo (by Johnson x Argentinus x Rubinstein)
Los Angeles (by Light On x Argentinus x Bariton)
Quanticus (by Quaterback x Sandro Hit x Ravallo)
Special Agent Amour (by San Amour x Polidiktus van de Helle  x Feo)
Spiderman (by Satisfaction x FAN Holland x Landadel)
Superio (by Sorento x Rheingau x Florestan)
Forty-nine stallions in total were licensed including the Dutch warmblood stallion Chinook (by Vivaldi x Havidoff), which won the VWF dressage cup a few weeks ago.
The auction of licensed and non-licensed stallions was a big success. The Jazz x Krack C was the price highlight and three more colts sold for more than 100,000 euro.  The Johnson x Argentinus achieved a knock down price of 190,000 euro and sold to Gehring's Westfalenhof in Steinhagen. The Beltino x Riccione sold for 100,000 euro. The Dutch bred show jumper by Quidam de Revel x Caretino sold for 100,000 euro to Xavier Maria in France and will be ridden by Gilles Botton. The Estobar x Florestan sold for 80,000 euro.
The most expensive non-licensed stallion was the San Amour x Akribori which switched owners for 42,000 euro. The average price for a licensed stallion was 60.565 euro and 15,536 euro for a non-licensed stallion.
Related Links
Silbermond, Champion of the 2009 Westfalian Stallion Licensing
Flanagan, Champion of the 2008 Westfalian Stallion Licensing
Coronas, Champion of the 2007 Westfalian Stallion Licensing