2010 Irish Dressage Championships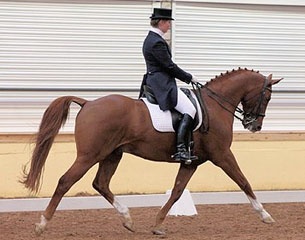 Sarah Mellor and her chestnut gelding Fabrenheit became the Grand Prix dressage champions at the 2010 Irish Dressage Championships held at the Cavan Equestrian Centre in Cavan, Ireland, 24 - 26 September 2010. Only three Grand Prix riders participated in the 2010 Irish Big Tour Championship and just two completed both rounds, the Intermediaire II and Grand Prix.
Aboard her 14-year old Hanoverian gelding Fahrenheit Sarah Mellor won the Intermediaire II with 62.719% and Grand Prix with 63.333% ending up with an average score of 63.026%. Mellor, née Cosgrove, is an Australian ex-patriot who has been living in County Meath with her Irish husband for the past 10 years. She discovered Fahrenheit, nicknamed 'Harry', as a green 5-year old and trained him up the levels herself. Fahrenheit is by the British owned sire Fulton, a Danish warmblood stallion by Froehling x Grandis x Alibi.
Fethard based Sue Smallman and her 15-year old chestnut Dutch warmblood gelding Oakengrove Ideal (by Hamilton x Akteur) became the Irish reserve Grand Prix champions with a score average of 61.300%.
The 2010 Irish Grand Prix Championships were contested in absence of some of Ireland's top GP riders: Yvette Truesdale, Anna Merveldt-Steffens, and Judy Reynolds. The latter two are based on the European continent.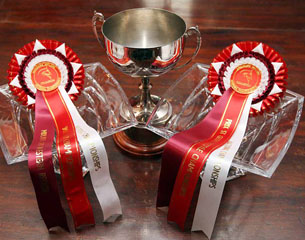 At small tour level Anne Marie Dunphy captured the small tour title as well as the PSG Freestyle champion's title. She rode three winning scores aboard Urbanus, a black KWPN bred gelding by Ronaldo x Ferro x Belisar. Dunphy trained for two days with Dutch Olympian Ellen Bontje in preparation of the nationals. "It was a good day at the office," Dunphy stated about her triple victory.
Dunphy's Urbanus has been selected by Horse Sport Ireland to the Dressage High Performance Development Squad. The aim of the High Performance Development Program is to assist selected horse/rider combinations with Olympic potential in their training towards London 2012.
Results
Small Tour - Round 1 - Prix St Georges
1. Charlotte Walshe - Four Socks II - 65.789
2. Anne Marie Dunphy - Urbanus - 65.614
3. Katy Price - Korenbloem Ulster - 63.772
4. Lucy Miller - Mango Winona - 59.912
5. Melanie Mackey - Michigan - 56.404
Small Tour - Round 2 - Intermediaire I

1. Anne Marie Dunphy - Urbanus - 66.140
2. Charlotte Walshe - Four Socks II -  64.649
3. Lucy Miller - Mango Winona - 60.789
4. Katy Price - Korenbloem Ulster - 60.175
Melanie Mackey - Michigan - withdrawn
2010 Irish Small Tour Championship - Final Result
1. Anne Marie Dunphy - Urbanus - 65.877
2. Charlotte Walshe -  Four Socks II - 65.219
3. Katy Price - Korenbloem Ulster -  61.974
4. Lucy Miller -  Mango Winona - 60.351
Melanie Mackey -  Michigan - 28.202
Prix St Georges - Kur to Music Championship
1. Anne Marie Dunphy - Urbanus - 67.500
Big Tour - Round 1 - Intermediaire II
1. Sarah Mellor - Fahrenheit -  62.719
2. Sue Smallman -  Oakengrove Ideal - 60.614
3. Lucy Adams - Ben Hymn - 59.298   
Big Tour - Round 2 - Grand Prix
1. Sarah Mellor - Fahrenheit -  63.333
2. Sue Smallman -  Oakengrove Ideal - 61.986
Lucy Adams - Ben Hymn - withdrawn
2010 Irish Grand Prix Championship - Final Result
1. Sarah Mellor - Fahrenheit -  63.026
2. Sue Smallman -  Oakengrove Ideal - 61.300
3. Lucy Adams - Ben Hymn - 29.649
Related Links
Truesdale Wins 2009 Irish Dressage Championships
Heike Holstein, 2007 Irish Dressage Champion