2010 Global Dressage Forum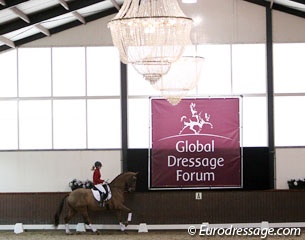 The second day of the 2010 Global Dressage Forum was one of the most thought-provoking and emotional in the 10-year history of this world famous dressage convention at Bartels' Academy in Hooge Mierde
, The Netherlands. The morning session, in which the IDTC and IDRC made fierce proposals to dramatically change the current judging system, stimulated discussion on the future of dressage. In the afternoon keynote speakers Edward Gal and Nicole Werner moved the crowds to tears with their farewell to Totilas and live demonstration on a new star.
"The System Stinks"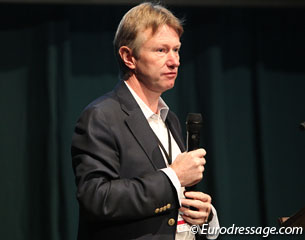 To a certain level the IDRC and IDTC had a surprise in store about their presentation at the Global Dressage Forum because they only announced the "headline" of their talk on the final agenda for the GDF organizers and FEI. This self-obtained "carte blanche" meant that the topics for the Forum would be revealed and discussed for the first time at the IDRC/IDTC general assembly on Monday behind close doors and the next day officially presented at the forum. Their session ended up being the highlight of the 2010 forum.
FEI governance is to give more importance to all stakeholders, including the International Dressage Riders Club (IDRC) and Trainers Club (IDTC). IDRC secretary-general Wayne Channon opened the session by announcing that he would be "soapboxing current concerns." The joint presentation was called "In the Firing Line" and directly referred to the judges. "Yesterday at the general assembly we discussed the big issues in dressage," said Channon, directing attention to the highly discussed judging system. "Judges do the best job a human can do in the system we have." The new judging solutions (JSP, etc.) which are being voted on at the FEI General Assembly in Taipei next week Channon calls "band aids" and not long-term solutions. "We maxed out the system," the Brit stated.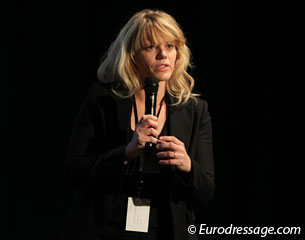 This introduction opened the door for a brilliant presentation on judging bias by the erudite German scholar Inga Wolframm. She began her talk by pointing out that one third of all I.O.C. sports have a judge involved and "performance judging is an inherent part of competitive sports." She showed three videos of "Visual Search Behaviour". A video-excerpt from a dressage test was shown to a rider, trainer and judge and a head set monitored the eye movement of the viewers. The red cross on the video showed to which areas these three persons were looking during a test. The rider mostly looked at the horse's hind legs and rider's position, the trainer looked more closely and longer on areas that may be important for training, whereas the judges revealed to have "rotating eye movement." They are meant to take in as much information as possible: hind legs, front legs, head, neck, nose position as well as the rider's seat. Wolframm explained that the amount of information a dressage judge has to process is too much. "They have lots of information to take in and have to make a quick decision," said Inga. "This exceeds the human information-processing capacity. So judges make short cuts because the human brain is not capable to process objectively." The hidden controversy is that even though judges try to be "fair" they have natural biases.
Wolframm distinguishes seven different types of bias in different sports. First and foremost she lists patriotic basis and reputation bias. Then she referred to halo bias which implies that some judges are awed by one element of a performance (like a spectacular front leg) which clouds the rest. "Comparisons go in one direction. Humans will overestimate novel features and with unique athletes all of them have novel features." Memory influenced bias refers to what you have just seen. Social comparison can affect assessment because a judge might be influenced by the colour of the tail coat or the looks of the rider. In many sports the order in which performances are seen has a great effect. This order bias explains why the first riders are not judged as generously as those coming last. "Scores tend to increase in serial position because there is a reluctance to give high marks at the beginning," said Wolframm.  Finally conformity bias ensures that judges try to fall in line by the end of the competition. She warned the audience that sanctions on judges, liked demotion, can lead to normative influencing, which is something the JSP should be aware of.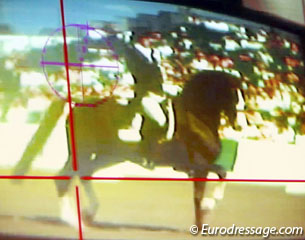 Wolframm went into more detail on a few types of bias. Concerning the memory-influenced bias she said that if judges see the warm up, in which a certain rider is doing a bad job, this could influence his score. Even a bad trot up around the ring before the test has effect. She also opposed to a running score board that is visual to the judges because "when judges can see each other's scores it increases conformity bias."
Inga presented four solutions. Firstly, raise awareness. "If you are aware of it, you should question if it influences your judgment." Secondly, make the judging task less complex. Thirdly, judges must be encouraged to rely on systematic judgments, "so they judge only the criteria and not the impression they got at the beginning," said Wolframm. Finally the grade of execution scoring may need to be revised towards a point-deduction system (like vaulting). In conclusion, Wolframm seemed to suggest that a new "system" should be instated as the current dressage system allows too much room for natural bias as it exceeds the information coping-capacity of the human brain.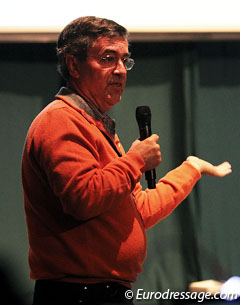 Physicist and mathematician David Stickland stepped to the microphone to back up Wolframm's ideas with statistics. Stickland was one of the speakers who sent a shock wave through the 2009 Global Dressage Forum by scientifically proving that biased and nationalistic judging takes place at the major dressage championships. His session at this year's forum presented very little new information and was a hurried recap of his old conclusions. On average dressage judges are able to judge with 1,6% consistency compared to one another. One in twenty riders will have score differences greater than 5%. Interestingly Stickland statistically computed that there is much disagreement between the judges in their assessment of the halt, reinback and collected walk. He also discovered that the position where the judge sits does not strongly influence large deviations in scores. "When a judge makes 'a mistake' in 90% of the time it does not matter to the overall score or ranking," he said. Consequently, Stickland concluded that in order to improve dressage judging the system has to change. At the moment judges are delivering top performances to their capabilities.
Wolframm and Stickland's talks were extremely interesting and it was a pity that Channon sat like watch dog at the panelist's table ensuring that these two speakers would not get behind schedule. Channon returned to the stage to talk about his brain child to improve the dressage sport: a code of points. He had reviewed the FEI Dressage Handbook: Guidelines for Judges in order to derive a code of points based on its descriptions per movement. He looked into the passage and came up with a diagram that looked more like an impossible labyrinth.  "The handbook is open to interpretation. It is not professional in a multi-million dollar industry," he said. "The judging system needs to be consistent and reliable."
The short term solutions for the improvement of the system are the judging supervisory panel, the half point system as well as making judges accountable for their job (promotion or demotion). All marks by movement should be published of all 3-star events and higher to get more transparency in the sport. The selection of the judges should be done by the FEI in order to remove pressure from the show organizer and allow all judges to get international experience. "We prefer to see the average by movement and not the running average," Channon added. Finally they want to promote a code of deductions for error, which should be instated as soon as possible and provide a basis for the long-term project.
As long-term actions, Channon listed a fundamental review of the system with an instatement of an anonymous judging system based on a code of points starting with a 10 and then with a code of deductions for error. To finish the session Wayne said that the IDRC and IDTC hope to work with the FEI on that in the next one to five years.
Constructive Debate about Sacred Topics Untouchable in the Past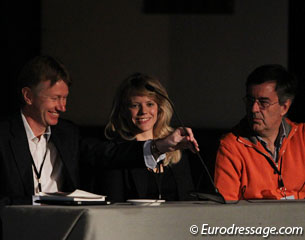 Moderator Davison asked an IDOC (International Dressage Officials Club) representative to step forward and comment on the IDRC/IDTC presentation, but regrettably none of them were there at the Global Dressage Forum. They were not the only persons missing-in-action: with the exception of Birgit Popp, Barbara Schnell, Johann Hinnemann and speaker Jonny Hilberath there were once again no German journalists (of the big German magazines), riders or trainers at the GDF hiding behind the excuse that the Forum is Dutch propaganda. British judge Jennie Loriston-Clarke admitted that judges are influenced. "We don't want to be biased, we want to be fair," she said. "We are under a lot of pressure of what happened before or what you have read."
One of the strongest conclusions that came forward out of Wolframm's presentation is that a totally random draw for the order of go is essential to secure fair judging for all. The current system enables starters' lists to be drawn by world ranking order with the best riders always getting the best opportunities and best judging as they are last to go. This modus operandi was created to service the needs of television, which require minimal shooting time by having the best riders start in same block. Of course this works to an advantage for the stronger dressage nations. Once again the commercialisation of the sport has dictated the rules of the game and enabled unfair competition and judging. Eurodressage pointed this out at the forum and Kyra Kyrklund concurred, "judging is not fair. I agree we need a random draw." World Cup creator Joep Bartels disagreed. "The riders deserve their place themselves in a sportive way," he said, but Kyrklund retaliated: "It's contradictory with the fairness of the system." Wolframm then added a few words: "we need to adapt the circumstances so we can avoid bias as much as possible."
French judge Bernard Maurel hesitantly said that he is happy with the current system and that in his opinion it works well. Channon countered that immediately by saying "the system stinks. We want every judge to stand out. Bernard, you are a product of the system. You like it." Dutch O-judge Wim Ernes tempered the emotions. "I'm glad we are at a point that we are discussing it in a positive way. We have to make changes to the system but we have to do it all together." Asmyr added, "it will take time to develop a new system to assure it will be better than what we have now."  Kyrklund and David Hunt ended the session on a positive note. "Every march starts with the first step and that step we took now," said Kyra. Hunt replied, "if we look at the major championship results we are not so far off, but we have to be open minded and look at the long-term future."
Dry Doping Update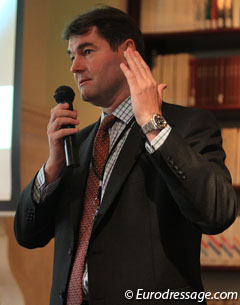 The IDRC-IDTC morning session stirred much positive commotion and it was a pity that the debate had to make way for the continuation of the forum with three "break-out session". These were shorter, compact talks on three topics. The audience was split into three groups which had to rotate from one session to the next. Eurodressage started with Graeme Cooke's veterinary update. The Brit is the FEI veterinary director since August 2009 and in his eloquent, soft voice he lullabied the audience with his dry update on the decisions the FEI has taken in the field of doping, NSAIDs and disease control.
Cooke started his speech by saying "in any part of life, if you have an unfair advantage it is a good thing, but in any part of sports, if you have an unfair advantage, the sport dies." The FEI wants the horse not to be subordinate to commercial interest. Last year the Federation faced fierce resistance when it tried to push through a progressive list allowing low levels of NSAIDs in horses in competition. Many countries resisted the proposal. "So now we do not allow permitted levels. There was a stop and rethink," Cooke said. After more discussion the List group came up with a clear list distinguishing two categories: prohibited substances and controlled medication. "Before there was confusion about the categories and what was allowed," Cooke said. "Now we have a clear list with 1200 active substances. It has been effective since 5 April 2010 and there will be an annual review of the list." The result is that  "the level of doping cases dropped substantially. We had none at WEG."
The NSAID conference in Lausanne in August brought together all the scientists in the field and they concluded that the research results are contradictory. Therefore the FEI put on hold to use of NSAIDs in competition. "The FEI has no system in place to monitor such a substantial change in the system," Cooke explained. "Also NSAIDs are prohibited by law in 9 European countries." The FEI has never interfered with the use of anti-inflammatory medication in between competitions. Phenylbutazone (PBZ) is one of the most used painkillers in horse sport and "nowadays a lower dosage is given than 12 years ago," Cooke said. "We want to give the tools to treat the horse right. The outcome is that we do not have enough evidence to make definitive conclusions looking into detection time."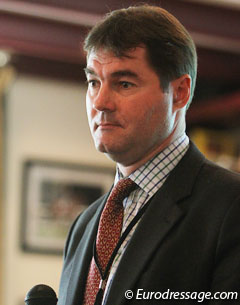 Cooke talked about the instatement of a logbook, in which all medication given to one horse is recorded, and the FEI established an integrity unit. "They have people who investigate reports of malpractice," said Cooke. FEI has created a hotline which you can call if you suspect doping or medication abuse. They have increased stable security with CCTV, "for the piece of mind of everyone."  Cooke also stressed that more communication is necessary "to bring everyone to the same standard." The FEI has launched an iPhone App with the doping and medication list, so you can check instantly whether a drug is allowed or not. "This will make the difference in the industry," even though Cooke himself was waving a Blackberry instead of an iPhone. "We have to provide tools to protect the sport's image."
Cooke highlighted that horse welfare is the standard of the FEI. "Welfare is seen by different people in different ways which makes it a difficult subject," Cooke said. "Hyperflexion is an example where there is a query, but I will not go into this." This was a pity, because his session would have become much more exciting session than Cooke merely enumerating the accomplishments of the FEI veterinary committee. "The FEI has to manage our sport. Aggressive riding does not go into it at all," Cooke added.
The audience was given a brief moment to ask questions and this was the more interesting part of Cooke's talk which finally gained some momentum. A few questions pertained to drug testing. Cooke said that random testing has proven to be more successful than testing the winners, who know they have to be careful as they are subject to more tests throughout the year. The FEI also carries out intelligence-based testing, "when someone has been close to the limit before, or because of previous patterns." Tests can be ordered based on what stewards and judges observe, Cooke added, but it should not be based on "vague suspicion." When a horse recovers miraculously overnight chances are big he'll get tested. Graeme finished the session with a poignant statement: "The threats dictate the challenge. Never compete a horse when it's not ready."
Ada Wouters Promotes the Flex Chair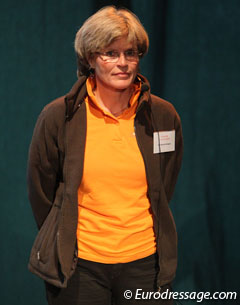 Over the years several seat experts have spoken at the Global Dressage Forum: Richard Weiss, Eckhard Meyners and this year Ada Wouters and her assistant Saskia Heijkants. They all advocate the same message: work on your seat by strengthening your muscles through physiotherapy. Last year Eckhard Meyners made the riders do ground exercises to improve their musculature and he gave them manual physio. Meyners also had a stool with a pivotal seat to increase the flexibility and strength of the pelvis. This year Ada Wouters pretty much showed the same, but her "flex chair" has two different 3-dimensional moving systems which are connected to a software program on which the rider can see the movements he's making while straddling the chair.
Wouters calls the flex chair "a wake up call for your intrinsic muscles" and by practising on it one can improve one's muscle motor control. "It makes the rider aware how the hips, pelvis, lumbar spine are working. You need a good mobility, co-ordination and stability for an effective way of moving," Wouters explained. "Otherwise you are compensating with your global muscles, which are the shock absorbers of the body."
Tineke Bartels' Dutch young riders' team rider Michelle van Lanen and her gorgeous liver chestnut gelding Urchin (by Jazz) were the guinea pigs for this session. Van Lanen showed a slight tendency to lean back in the saddle. She was asked to dismount and take a seat on the flex chair to correct her seat. The computer screen showed a bull's eye and a blue dot which indicated Van Lanen's centered seat. She had to do exercises moving her seat from A to B in a straight vertical line and in a horizontal line (the diagonal, circular and figure-8 rotations were not demonstrated in the session but are part of the flex chair training). Van Lanen was asked to "feel the saddle with her bottom" and do the required movements as relaxed as possible. One noticed on the screen that it was difficult for her to balance and sit straight in the saddle. 
Wouters explained that over the years many riders came to her practice with upper body pain, especially back and neck aches. "If you use your body the wrong way, you give your spine extra compression because of too much tension. If you use your small deep stabilizers you don't have that compression."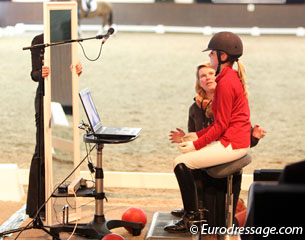 An American physio asked Wouters why the rider was not imitating a correct rider's seat on the flex chair by putting her feet under the hip to get a more vertical alignment. Wouters replied that they first start in a 100° angle on the chair. The American also suggested doing the same exercises on a Swiss ball instead of a high-tech flex chair. Wouters replied that the advantage of her chair is that "you can keep sitting above your bottom."
Tineke Bartels intervened by mentioning that riders have to be "able to sit in a neutral position and start giving aids from there. The horse has to do the job, not us." Ada mentioned "if you are aware of your seat you'll feel quicker that your horse is crooked." Van Lanen mounted her horse again and her seat was indeed straighter, especially at the beginning. After a while her muscles got tired and she started to slump a bit. Bartels said that, "she is an experienced rider and has to change her system. It will be difficult to find new balance. She is out of her comfort zone so she has to will it. I frustrate her a bit now but it helps her get in this position. She knows now how it has to feel."
Wouters disclosed that when she works with riders she asks for regular video footage so she can check if their seat in the saddle is improving or not. The flex chair system is currently only available in Holland, Belgium and Great Britain. "We are not educating colleagues in other countries," said Wouters. "We are trying to spread the knowledge."
Snippets of Wisdom from Rob Renirie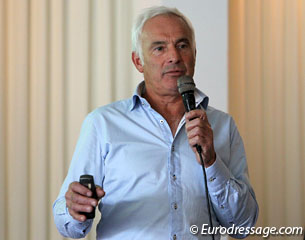 Rob Renirie is a highly acclaimed farrier and the official Dutch team farrier. Last year he amazed the crowds with his simple truths and by popular demand he returned this year for another session. Renirie started by stressing that a qualified farrier should look at your foals to prevent many problems once they get older. Even though it was hard to find a decent structure in his presentation,  Renirie simply stood out with his basic bits of wisdom.
Renirie briefly talked about his V.I.P. clients including Totilas ("he's a huge mover so there is a lot of pressure on his feet. Totilas likes a rolling toe so I lift the toe a bit"), Parzival and Salinero ("he has a flat shoe with two clips. That's the way he likes it."). "Don't shoe for looks, but make the horse as comfortable as possible." This is Renirie's motto. "You see rock 'n roll shoes on the market but they influence the movement. Soles, fillers, wedges: NO," he shouted. "Go back to basic."
The most difficult part of shoeing a horse is correct trimming. "This is where most problems start." Renirie showed photos of badly shod horses that came to his practice for corrective shoeing. One of them had a higher heel. "This horse tends to land on one side which is a joint problem," Renirie explained. "He will compromise and get problems in the hip or back." Another example was a horse with a totally cramped hoof: "straighten the coronet band, pull the heel backwards and clip the toe off," Renirie presented as solution. "All these farriers just rasp away the problem. I showed this same photo to some vets and they all suggested egg bars, while a simple trimming fixed the problem."
Renirie is a proponent of thin nails. "There are nice thin nails on the market, so why use big nails. The fixture is not better with bigger nails." He listed the types of horse shoes he likes and prefers the 25/8 model. "Keep the frog as big as possible and leave the bars in. Don't tighten the clips too much because they interfere with the normal function of the hoof," he explained. "Look at the old shoe and make the new one similar to it. Everybody loves walking in their old shoes because they fit well. It's the same with horses. Hammer the toes out like the old shoe." This is how he makes a comfortable, new shoe.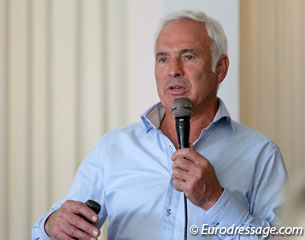 American farriers are influenced by the thoroughbred racing industry which prefers a longer toe and less heel, while dressage horses need more heel. Long toes can be properly fixed by taking X-rays of the hooves and trimming the hoof according to the bone structure. Most horses have a sugar problem which is bad for their weight and "which makes their feet less flexible," Renirie explained. "Most of the dressage horses are too fat."
Frequent shoeing is a good way of avoiding problems. Shoe every 5 to 6 weeks so there is less change to the feet and legs. It will prevent injuries and improve the quality of the feet. The stability of the shoeing will be better and the blood mechanism in the hoof will improve. "A good farrier who never shows up is worse than a lesser farrier who comes frequently," Rob stated.
Good shoeing starts with a preliminary examination: look how the horse moves on hard surface and under saddle. Precise trimming and a right choice of material will contribute to a balanced, well-shod hoof. The hooves shouldn't grind in the surface. "A dressage horse should be quick, on top of the surface. With pads a horse loses its grip."
The most interesting and truthful statement in his session came at the end when Renirie said, "what is best for the horse is barefoot. They have the most grip." Maybe next year Renirie should advocate this fact more at the 2010 Global Dressage Forum, explaining what the advantages are of keeping a horse barefoot and why so many dressage riders conservatively rely on shoe. He could put more effort and explanation into convincing horse owners to keep their horses on their natural feet.
Edward Gal and Nicole Werner Raw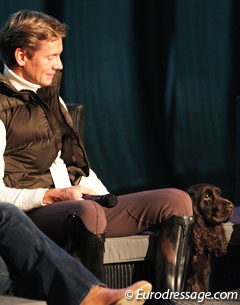 The past two years the keynote speaker of the Global Dressage Forum has been the rider who excelled the most at international competitions. In 2009 World Cup Finals' winner and Aachen Grand Champion Steffen Peters thrilled the spectators at the forum with his wonderful, gentle training of horses. This year there was no doubt that Edward Gal with Totilas was the star rider of the season and the invitee to speak. Unfortunately, Totilas sold to Germany and left for Paul Schockemohle's stable in Mühlen on Monday evening, only hours before Gal had to pack his lorry and drive to the Forum in Hooge Mierde.
Gal and his business partner Nicole Werner as well as life partner Hans Peter Minderhoud arrived at the forum emotionally battered. Moderator Davison normally sits down for an intimate talk with the speaker to reveal the man behind the rider, but Gal was not so much an open book as everyone hoped him to be. With the sale of his super horse still being an open flesh wound, Gal said, "it's shit. Let's not talk about that. Let's just talk about the good stuff." Gal had brought his two chocolate coloured cocker spaniels, which played at his feet, as if they were a safety blanket or something to hold on to literally during the interview.
Davison then asked Edward to talk about his first meeting with Totilas. "The first time I sat on him it felt like he would explode. I was just on him for one minute," he admitted. "I brought another rider the next time. He took off bucking really hard and then he never did that again. When you control it you have a super horse." Werner concurred in describing Totilas' specialty. "He can move in so many ways and that was his quality. A horse with that quality needs good training. You need to know what you are doing. His quality asked for it," she said.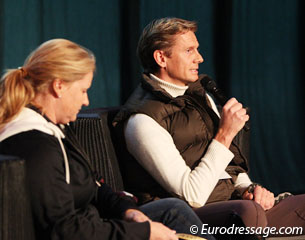 It was strange to hear Edward and Nicole talk in the paste tense almost as if the horse had died. Davison continued with his friendly cross-exam and wondered what the challenging areas in his training were. "At the beginning he was very hot and I couldn't touch him with my leg. It was difficult to give a good aid," Gal admitted. "At the start it was always too much. You only had to think it. The tempo control was the first thing to control. For instance in the pirouette he sat too much and didn't touch the ground with his front legs. Only the last half year we were really becoming a team." Edward praised the black stallion's work ethic. "He always wanted to work, work, work."
Davison loves to find out more about the private life of the rider and asked Edward where he lives. Together with partner Hans Peter, Edward lives in a small farm house with a small garden for the dogs two minutes from the stables. Off duty horses are not the topic of discussion. "We never talk about horses at home," Edward confessed. "You get mad if you only talk about horses." Gal is not really a party boy. He doesn't smoke or drink and goes to bed early. "I'm boring," he said. "I have fun with the horses, my dogs and Hans Peter." Nicole chaffed, "the partying stopped when he met me."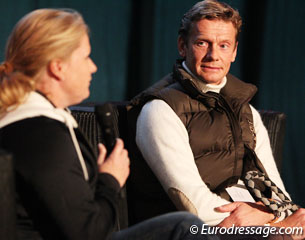 Werner met Gal when he was 22 years old. At the beginning of Nicole's professional career she rented stalls in Diedam and worked with Henk van Bergen. Gal ended up at her barn with his two horses when Nicole was the only dressage rider there. "We helped each other with riding." Werner can no longer be found in the saddle ("I was not a very good rider so I quit that and now I teach a lot") and she is now occupied with managing the stable, the training and Edward.
Gal's father died when he was six so it was just he and his brother growing up with his mom. His first riding pony was Lisanne. "She stood in the corner for half an hour and didn't move. I didn't mind because I was on a pony," he joked. His mom stimulated Edward to study and get working experience abroad, but Edward refused and decided upon a career in horses. She comes to the important shows but his brother is more reluctant to drive over and watch. "My brother had to drive me to shows so often when I was 16 and didn't have a driver's license. It took a while for him to come out of free will."
Gal came into the international spotlight with Lingh in the early 2000s and during that time he trained with Anky van Grunsven. Edward gave that up as soon as he got Totilas. "I do my own thing with Nicole and Hans Peter and it's working well," he said. "You all make your own way and do the way you think is best. We do it the three of us and it works." Though the training connection with Anky is no longer there, her techniques still resonate in Edward's riding style to a certain extent, as would be obvious during the demonstration.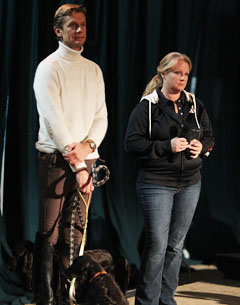 A bold Davison tackled the subject of the sale again before Edward left backstage. The Brit asked if the sale was a shock out of the blue. "We didn't know something was going on. We had an agreement until Kentucky and we're always told, "we'll see after Kentucky." They didn't try him out. It would have happened anyway," Edward admitted. "With Lingh people started trying him out. It's better this way."
A video of Edward's gold medal winning Grand Prix Special ride in Kentucky was shown and Nicole voiced her impressions on the ride. Werner was very well aware of the "weaker" points of the test and was not afraid to identify them herself. "With the extended trot we try to lengthen him but it's quite difficult. If you give him a bit of rein, he'll take off," she explained. "His quality is his sensibility, but it's also a difficulty." Werner also talked about Totilas' signature movements, the piaffe and passage. "They needed a lot of attention. It wasn't so easy. We trained him on connection and to move through the body. He was too loose and connection is the most important thing on this horse. For the passage we tried to keep every stride constant and keep him lazy. Totilas always wanted to sit in the transition and it's difficult because he wanted to come up with his front." The tempi changes every single stride were a challenge at the WEG. "The problem with the one time changes came in Kentucky. It's difficult if you have to handle it there. Edward has problems with the one tempi's. It started with Lingh. He gets nervous and it's easy to bring it onto the horse."
Edward Gal, Lord of the House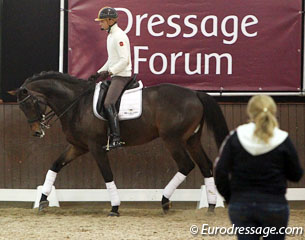 Though the Global Dressage Forum aimed to attract a larger audience by featuring the legendary Totilas, none of the spectators cancelled their ticket as soon as they knew Toto was not appearing. Which horse had Edward selected to ride at the Forum as replacement? It was not his second Grand Prix horse Sisther de Jeu, but the 10-year old Westfalian licensed stallion Lord of Loxley (by Lord Sinclair x Landadel) which is owned by Australian Clyde Wunderwald and meant to be Brett Parbery's ride. The bay stallion stays in The Netherlands for some extra training before he's turned over to Parbery as successor of Victory Salute.
The horse was originally trained by Heiner Schiergen in Germany before he sold. "We train him a bit differently," Edward said. "It is difficult for him to drop the neck and stay low and relaxed without him coming up and hollowing his back. We don't want that." Gal started with some slow posting trot and put Lord of Loxley in a low and round neck position but without putting the nose on the chest nor having a heavy contact. "The hind legs are not working that hard which is not so bad," said Werner. "We wait for the horse to find balance." Gal soon switched to a sitting trot even though the horse was not warmed up yet. "The sitting trot for me is easier to keep him down," said Edward but Werner immediately bantered, "that's because you're posting on the wrong lead all the time."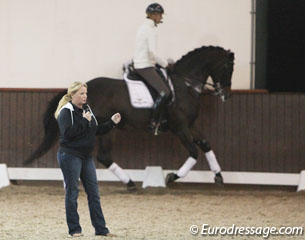 The trot work was always soft even when he asked for more energy and spurred the horse forward. "I want an easy and a big reaction to a small leg aid." Gal than continued bending the neck to the inside on the long track and he repeated that on several tracks maintaining that sideways flexing. He even rode tempo changes within that big bending, also on circles. However nothing appeared to be too hefty for the horse. Gal's warm up was strikingly much focused on getting suppleness and gymnasticizing the horse's neck with his hands, more so than engaging the horse's legs from behind and striving for self-carriage and balance which then automatically leads to lightness in the hand.
The horse got a short walk break but even in walk on the long rein, Edward worked on tempo control and control over the neck. "In the collected walk he goes unbalanced, so I pick up the neck a bit more to make it more comfortable for him," Edward explained. "You have to adapt to the horse and find the point where your horse feels best."
Gal made a transition to canter and demonstrated some pirouette training. "Sit is positive when you ride it yourself," Werner said. "Some horses can come back too much. Then sitting is not something positive." Lord of Loxley showed much eagerness to work with his rider and has a big ground covering canter. The horse has beautiful uphill flying changes but still loses his balance. "Because he has big changes, I try to make small changes so I can control it more," Edward explained. For the one tempi's, Edward rode three changes, then waited a while and then rode three more. "When they start swinging in the one's, they think backwards, so I ride more forward on purpose." Werner stressed punctuation: riding on the marker in the preparation and execution of a movement.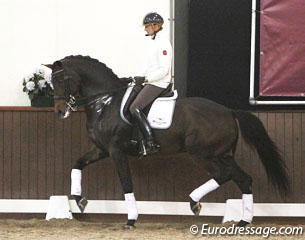 Edward finished his demonstration with some baby piaffe and passage work. The bay stallion still loses his balance and is not yet strong enough to keep up the collection for a long time. "At the beginning I got sea-sick," Edward kidded. Nicole explained that "we hardly train piaffe in hand. We want to sit on them, keep them forward and ride the piaffe. Otherwise it feels like they are doing their 'trick' and you're not able as a rider to control their forwardness." Edward normally never rides with a whip but for the passage work he asked for one. "This horse is a big mover. You need the whip to help a bit, to help get easier, smaller reactions," he explained. In passage Edward allowed the horse to take tiny strides forward, almost like jogging. Lord of Loxley got quite hot training these movements and started to lean on the hand. It was obvious that the green Grand Prix horse had done enough of a good job. Gal finished with some posting trot, dropping the neck again and allowing the stallion to relax over the back.  "Normally at home I never ride longer than 45 minutes," he said.
Thanked for the Legend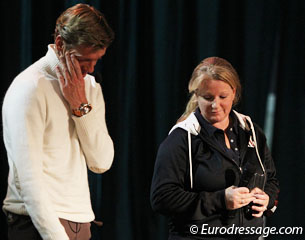 After the ride Werner and Gal stepped on the podium  and the crowds were invited to ask questions or make comments. British I-judge Jennie Loriston-Clarke said the ride was "very interesting. I saw long-low-and-deep for more than 10 minutes so the stewards might be after you," she joshed. "However it was long-light-and-deep. There was no strong pulling."
Arthur Kottas, the former chief trainer at the Spanish Riding School, the temple of classical dressage, was asked to react to Edward's riding and made a very diplomatic statement: "he has shown us harmony between horse and rider. (..) The horse was willing and understanding," he said but refrained from making a comment on the extensive flexion. German trainer Johann Hinnemann said "there is wrong and right riding. The horse has to be happy. There is no straight system."
Gal replied: "Every rider rides differently. You adapt to the horse and the horse has to adapt to you. He's not my horse and it will take quite some time." Werner echoed "we don't think there is one system. We adapt to the horse and find your way on every horse."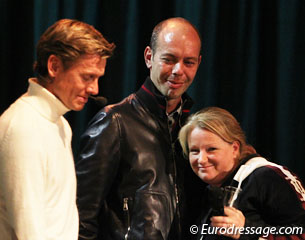 Cheeky Davison asked Hinnemann to comment on the sale of Totilas to Germany, putting the trainer in a difficult position. The German was only able to laugh and mumble a bit to that question. Dutch journalist Dirk Willem Rosie cared to say the following. "We saw a happy horse from his body language. They (Gal, Werner) abide by that law, work with the horse and optimize the horse. It's the best physics for the horse. They were not finished yet optimizing the body and mind of Totilas." This statement provoked some emotion amongst the crowd.
Davison ended the 2010 Global Dressage Forum thanking Edward for the legend he created with Totilas and what he had brought to the sport. The audience gave him a standing ovation and they clapped for several minutes. Gal, Werner and Minderhoud were all moved to tears because of this spontaneous public appreciation which ended the Forum with grandeur.
Text and Photos © Astrid - No Reproduction Allowed without written permission
Related Link
2010 Global Dressage Forum - DAY ONE: Making Progress