2010 Equine Elite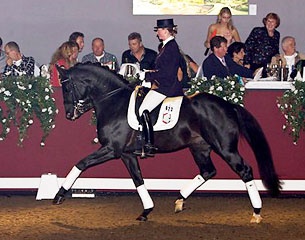 The 10-year old black stallion Santana became the price highlight of the 2010 Equine Elite Auction hosted at Stable Korenbloem in Weert, The Netherlands, on Saturday evening 23 October 2010. The Sandro Hit x Rohdiamant stallion sold for 160,000 euro to England.
The glamourous Equine Elite auction was in its sixth edition this year and produced an average sales price of 54,000 euro per horse. The collection included many young horses as well as experienced, upper level trained dressage horses.
The 2010 Equine Elite auction was once again an event not to be forgotten. In an absolutely packed accomodation the auction was opened by none other than the stars of the musical mama-mia followed by an explosive performance by the Stunt crew from Pirates of the Carribean. The atmosphere was phenomenal and the multinational audience seemd to love every minute of the 4-hour long auction which can only be described as an amazing theatre production with top quality horses as the stars
Dutch junior rider team horse Seigneur (by Le Vainqeur x Pablo) sold for 1450,000 euro. The massive bay Dutch warmblood competed on the Dutch team at the 2010 European Junior Riders Championships in Kronberg.
The KWPN mare Babyface (by UB40 x Gregor) sold for 68,000 euro to the U.K. based Natasha Mitchell. This black mare is in foal to Totilas.
"It was fantastic," said Equine Elite organizers Craig Rawlins and Kebie van der Heijden. "Thanks to everybody who made this happen. The atmosphere was unbelievable right from the beginning. Horses were great, people happy and the party was amazing! So great to see everybody again! We wish all the new owners the best off luck and happiness with their new horses... We are looking forward to the next edition."
Equine Elite's Diederik Wigmans commented that, "it was a fantastic night and an unbelievable auction. Our top prices were down compared to last year, but that is to be expected in this financial climate. However the auction still mantained its average sales price at a little over 52,000 euro, which is identical to last year. We are over the moon with the results and considering that the the party carried on until the early hours of Sunday morning i think it's safe to say that it was a fabulous evening for all!"
The Equine Elite auction is organized by Craig Rawlins and Diederik Wigmans with the major support of Floor Schoenmakers of EHS Communications.