Danish Dressage News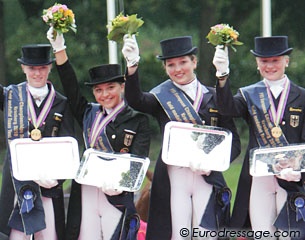 Tomorrow's young dressage stars will gather at Broholm Manor, Denmark, in July 2011 to compete in the 2011 European Junior and Young Riders Championships. The Danish young stars in dressage have been undergoing a massive development
in recent years and are counted amongst the world's best. A European Championship on Danish soil reflects this success. Show organized JBK Horse Shows, Broholm and the Danish Equestrian Federation stand together to host this major equestrian event.

JBK Horse Shows, Broholm and Danish Equestrian Federation open their doors for the 2011 European Junior and Young Riders Championships on  22 - 24 July 2011 in Gudme on the Fyn island. Fifteen to twenty nations and about 110 of Europe's best riders are expected to participate in the championships.
"We are proud to be host of the European Championships in dressage for juniors and young riders. The Championship is important to us so that we can continue this development which the Danish dressage sport underwent the past several years. There is no reason to stop now. On the contrary, it is important that we continue to stimulate the strong talents we have in Denmark. By having the European Championships here will give our riders the opportunity to show their best on home turf, "said Jens-Erik Majlund, general secretary of the Danish Equestrian Federation.
A strong team stands behind the organisation of the Championships. JBK Horse Shows, which has been organizing the World Cup Finals in Odense for many years, is the primary organizer behind the championships. The venue for the show is Broholm, which hosts the Danish Dressage Championships each year.
"We appreciate the fact that two such strong partners as JBK Horse Shows and Broholm have decided to join for this project. We have great confidence that together we can be a great host for the European Championships, worthy of our own and Europe's best riders. However, this could not happen without the support that we receive from Sport Event Denmark, Sport Event Fyn and Svendborg municipality, "said Majlund
Source: Rideforbund (edited by Eurodressage)
Related Link
Eurodressage Coverage of the 2010 European JR YR Championships