Eurodressage F.O.C.U.S.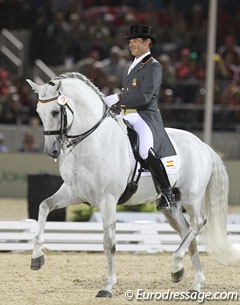 (by Katharina Braren for Eurodressage.com)--- I have been asked to write about Juan Manuel Muñoz, the rider of the Pure Bred Spanish horse "Fuego XII" from the PRE stud Yeguada Cardenas. The first image that comes to my mind is the silhouette of "tio pepe", which you can find all over the Andalusian landscape: it is a huge black silhouette of a rider, wearing the traditional outfit, called "traje corto". This mascot seems to be the guardian of the toasted landscape between olive fields and vineyards, in the South of Spain.
Juan Manuel does have something of this silent image in his personality. He is a man of few words, calm, loyal to his friends, lover of the sun and aiming for the joy, which typical for the Andalusians. As a son of the "Ecijan" region, in-between Córdoba and Seville, he understands life in the particular "southern way." He makes friends, because in Spain life is to live and to have a good time, to be calm;  there is none of the restless haste of our times. You have the glance of the eye lying on the countryside and the crops.
"I couldn't ask my father to buy me a Grand Prix horse, although he could have done it. In the countryside you should not do those things. You  never know what the upcoming season will bring and we are 5 brothers and sisters," Juan Manuel told this 15 years ago to his best friend when they were dreaming of competing in Dressage, just like Dr.Reiner Klimke did. He knew he had to find a horse and prepare it himself. Nobody would do that for him, so it was an almost impossible mission because there were very few Grand Prix horses in Spain almost two decades ago.
Juan Manuel Muñoz Díaz and his P.R.E. "Fuego XII", owned by Yeguada Cardenas,  have been able to lift the spectators from their seats during these last World Equestrian Games in Kentucky. People were clapping and cheering along with the exercises. The combination delivered memorable moments to the North American spectators.
The Man Behind the Rider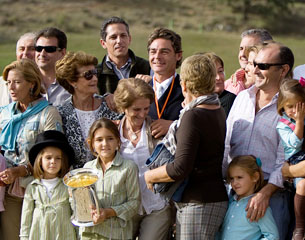 But who is Juan Manuel Muñoz Díaz? Juan Manuel is 40 years old and he was the rider at Cardenas studfarm, one of the oldest and most traditional P.R.E. studs in Spain, owned by Miguel Angel de Cardenas. He started his job shortly before "Fuego XII" showed up in his life. Juan Manuel found "Fuego" already as a foal and convinced the breeder to pay attention to this colt at SICAB, the biggest horse show of the breed.
He was born in a traditional southern family, a very close family, from Écija. His father was a friend, cousin, uncle and nephew of many of the breeders in the area. He used to pick up Juan Manuel and put him on a horse's back before he could walk. Those days in the countryside with his farther are unforgettable for Munoz Diaz. Spain is a country with a great equestrian culture, which traditionally had nothing to do with the actual world of the sport horse. It is the world of bullfighting on a horseback, the High School, the Spanish Doma Vaquera, a kind of national cowboy riding, tradition, emotion, you give your word, religion. The horse has been mankind's useful companion, inseparable from the Andalusian on a day to day basis until 30 years ago.
Juan is an example of what we could call the "first generation" of professional riders dedicated to riding as a sport and particularly to dressage in Spain. Together with many other riders from his generation like Nuria Vila, Lucas and Augustí Elias, Joaquín Legarre, Diana Ostariz, Berna Pujals, etc., Juan Manuel did his "apprenticeship" in Llavaneras, Barcelona, the school of Luis Lucio. ??At an early age Juan Muñoz or Juanma, nicknamed by his friends, started riding with Luis Lucio, who was also an Olympic rider at the very beginning of dressage  in Spain.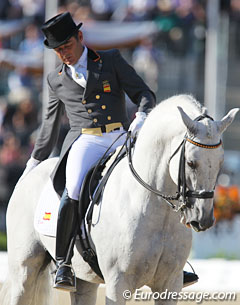 Lucio was a visionary because of his clear bet on the national breed P.R.E. -- the Pure Bred Spanish horse -- in the world of competition. The riders who stayed with him at his barn learnt not only how to ride a horse, but also discipline, persistence, commitment, professionalism and anything that would be important to lead an equestrian centre and to teach horses and riders about dressage. Juan Manuel Muñoz stayed with him for 4 years in Barcelona, far away from home Écija.
Juan Muñoz is a rider with temperament who had to learn more than any other how to avoid his emotions in the competition arena; just allowing concentration to be a source of calmness and absolute seriousness. We all saw him in his fantastic performances in Kentucky, not showing his emotion until the last second, where he exploded in front of the exhilarated crowds, throwing his hat in the air, showing his happiness and his gratefulness to the audience. This is how Juan Manuel is: how he is as a rider and how he rides.
Everything is Possible with Fuego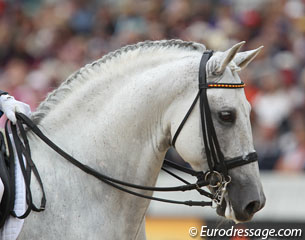 "Nothing would be possible without "Fuego XII", this extraordinary horse and neither without the work of our trainer Jan Bemelmans, who knew how to take risk and how to improve and then there was a breeder, Miguel Angel de Cardenas who was so focused on his aim, trusting that his horse could be successful in the international sport and who has put any necessary effort into this project," said Juan Manuel when he left the arena after his freestyle at the WEG where the north American press was awaiting him.
So far Fuego XII has been the project of his life and at the WEG in Kentucky Juan was rewarded for his dedication and hard work of taking this horse to the very top. Anyone who rides knows the hours of daily work and commitment that lies behind such a victory. They know that there is not much space for accidental luck. To rise and be actually number 11 on the world ranking cannot be improvised.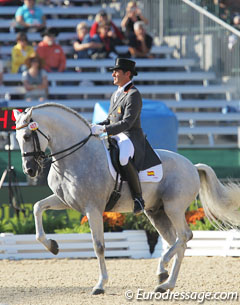 "Finally the union with the horse is like a marriage, even more in these horses which are so sensitive and high in blood," said Juan Manuel. "You do not ask a PRE twice for anything and that's not always easy to understand. I still can't believe the success we had in Kentucky. I am riding this horse now for 9 years, he came to me when he was 4 years old and I have dedicated many hours of my life. I still remember the moment when I rode him for the very first time and I thought I had never before ridden a horse like him. But I couldn't imagine then that we would get so far."
"I am very proud to have reached this success with a Pure Bred Spanish Horse," Juan Manuel admitted. "It is not easy for our breed to be accepted at those levels, it has a price. There was a first group of riders that came out internationally and was very successful. Now I believe we are there again, since 2007 I have been part of the National team and we could maintain our performances thanks to work and discipline, gymnastics and a structured programme, which is necessary for our horses more then for any others."
Love and Dedication, Do in Life What you Like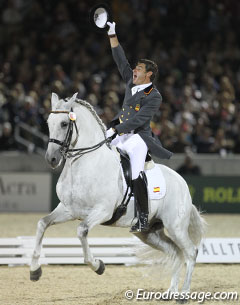 Juan is a very friendly, open person, he is always there, I have always seen him  during these 9 years handling Fuego XII. He is a rider who dedicated his time and all his personal effort to take care of the grey stallion, without a groom, except his friend Maria who knows Fuego XII and Juan better than anybody.
Once I asked him why he was always walking Fuego himself, letting him graze, preparing the stallion himself, Juan Manuel answered that he couldn't let anybody else do it. Fuego would not understand these changes and it would take a couple of days afterwards until he would feel a bond with Juan Manuel again. Fuego has a good temperament, but strong and typical of horses with a lot of nerves and eagerness. Walks, care, nutrition, riding, recovering, pleasure and work; Juan Manuel has been living for this because of his horse and now this wonderful reward came at the WEG.
Juan Manuel has also give reason to reflect on the state of a sport rider. He is, as we said, passionate, intuitive, emotional -- an image far away from the disciplined and self-controled way of northern countries. However, according to him "dressage is preciseness, correctness, the exact moment and the precise instant, all this is something I have learned with Jan Bemelmans, somebody who is neither from the very north but from Belgium a country where cultures and languages come together. I had to learn a lot technically and mentally although I have to say it wasn't always difficult for me, at the end in life things are alike, and you have to love what you do. Or I can put it the other way round: you try to do in life what you like, and so everything comes easier. Personally I have had the great luck to find an extraordinary horse in my life. He just can't talk and there are no words to express my gratitude to him and to everybody involved in this project." ??
Juan Muñoz is until now the rider of one horse. An Andalusian from the heart, he can not speak these words but with a twinkle in his eye.
by Katharina Braren © Eurodressage.com - No Reproduction without permission
Related Links?
All That Glitters: Totilas Wins Kur Gold at the 2010 World Equestrian Games?
Totilas in Total Control in Grand Prix Special at 2010 World Equestrian Games
Eurodressage Photo Database: Juan Manuel Munoz Diaz - Fuego