2010 VWF Dressage Cup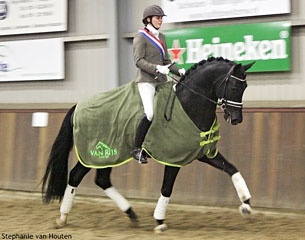 Chinook became the winner of the 2010 VWF Dressage Cup for 3-year olds, held at Stable De Prinsenstad. Under Emmelie Scholtens the black stallion (by Vivaldi x Havidoff) scored 126 points in the first round and 40 in the finals, which were judged by Marlies van Baalen and Judith Ribbels. With 166 points Chinook outclassed the competition at this regional breed show in Delft, The Netherlands.
The VWF Dressage Cup is one of several "3-year old championships" held in The Netherlands (similar to VSN trophy) to promote the training and competition of talented young dressage horses. VWF is a breeder's society located in South-Holland West.
One breeder/owner/horse dealer, Tim Coomans, took almost his entire 3-year old crop to the show and ended up with six horses in the top ten. The reserve champion was TC Cruise Control, a Ravel x John U to Berry stallion ridden by Geert Jan Raateland. This horse scored a total of 149 points. Coomans' TC Celanique (by Ravel x Cabochon) placed third under Sjanin van der Jagt with 145 points. The Belgian Veronique Swagemaekers rode the German bred Sir Donovan (by Sir Donnerhall x Weltmeyer) to a fourth place with 137 points.
Photo © Stephanie van Houten
Results (top 10 only)

1 Chinook -    Emmelie Scholtens - 126 - 40 --- 166
2. TC Cruise Control - Geert Jan Raateland - 114 - 35  --- 149
3. TC Celanique-   Sjanine van der Jagt - 115 - 30 --- 145
4. Sir Donovan- Veronique Swagemakers - 112 - 25 --- 137
5. TC Lexus-  Simone Both - 112 - 20 --- 132
6. TC Ciclair - Jessica Buying - 111          
7. Cooper - Patrick van der Meer - 111          
8. TC Catrouche - Manon Smit - 110          
9. Casanova - Marion Koeman - 107          
10. TC Cheatodon -  Charles van Belle  - 107
Related Links
Vanquir Becomes the 2005 VWF Prinsenstad Dressage Champion
Bretton Woods, Winner of the 2010 VSN Trophy Finals