Dutch Dressage News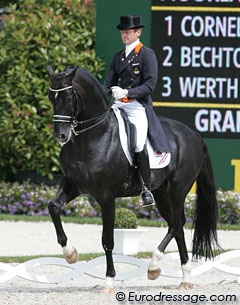 The sale of Totilas has sent a shock wave through the dressage world of unknown magnitude. Media publications world wide reported on the sudden sale of Holland's star horse to Germany and the news caused an online webquake.
"I'm absolutely devastated," Edward Gal told Horses.nl. "It's like I'm struck by lightning." Totilas' steady rider is currently in Oslo for the international dressage competition, while his star horse is still at home in Harskamp.
"Schockemohle has said that he's looking for a partner as co-owner," said Gal's business partner Nicole Werner. "Maybe this man or woman does not want to separate the combination Gal and Totilas? We hope that because this really hurts." Werner also wrote, "life sucks at this moment."

Cees Visser's press agent Semira Norman told Horses.nl that the sale of Totilas accelerated after Kentucky. "The past two years everything concerning Totilas went well. The risks are greeted and that's why one has to be realistic. Furthermore it concerned a huge amount of money. I don't know the exact purchase price but it deals between ten and fifteen million euro."

Another Dutch publication mentioned that Visser said the amount stays undisclosed for "security reasons".

Schockemohle was the one igniting the rumour of the sale by talking to German journalist Dieter Ludwig on Wednesday 13 October. "There have been talks. But a horse is only sold when he has passed the vet check and a horse belongs to me when he's standing in one of my stalls."  Ludwig mentions a speculated sale price of 10 million euro.

Schockemohle indicates that his motivation for purchase is the following: "Totilas will be good for our breeding and sport." Ludwig wrote that due to Schockemohle's ownership Totilas will probably ridden by "a German rider".

Totilas' first year standing at stud produced a revenue of 1,4 million euro.

Horsetelex.nl published that Totilas will be vet checked today (clinically and X-rays). Norman told Horses.nl that the "deal has not been finalized yet. We're waiting for the blood results which will take up a few days."

Norman confirmed to Eurodressage that, "we don't know to whom Schockemohle will sell. Rumours talk about Blue Hors, Emma Hindle and Sissy Max-Theurer. I expect that Schockemohle will announce this himself once the deal is done."
The latter two parties have already denied their involvement. Current speculation suggests Matthias Rath or Andreas Helgstrand as potential riders.
The news of Totilas' sale has been so shocking that the Eurodressage website crashed due to an overload of visitors on the site at once. More info coming the next few hours.
Related Link
Totilas Sold to Paul Schockemohle