2010 French Foal Championship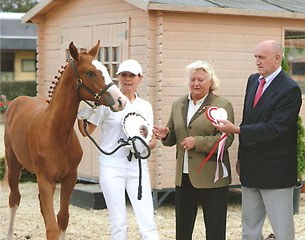 At the 2010 French Foal Championships the colt Erasme de Voulx and filly Fantasy Boderes won the national Foal Champion's title. The Championships was held during the Grande Semaine de Saumur
 - the dressage breed and competition days at the National Equestrian Centre Saumur on 23 September 2010.
Judges for the 2010 French Breeding Championships were Dr. Senckenberg (director of Gestut Schwaiganger), M. Verkerk (KWPN inspector), M. Meessens (Belgian stallion keeper and breed show organizer) as well as French judge Dr. Collard. The colts were judged by Collard, Senckenberg and Meessens. The fillies by Collard, Senckenberg and Verkerk. 37 colts were selected for the final round in which one was eliminated and one did not start. 31 fillies made it to the finals, but one was withdrawn.
In the colt category Anne Josee Varroud Vial's Erasme de Voulx (by San Amour x Livingstone) scored the highest points with his 84.333 total. Judges Collard and Senckenberg both ranked this colt as first, but Meessens saw him in fourth place. Sire San Amour (by Sandro Hit x Plaisir d'Amour) scored well in France as Catherine Wiart's Amore de Mesille (San Amour x Havidoff) claimed the reserve champion's sash with 83.00 points. Meessens considered this colt the champion, Senckenberg had him second and Collard fifth.
In the filly category Ilona Le Perru's Fantasy Boderes (by Fiorano x Wolkenstein II x Pik König) topped the leader board with 86.333 points. Collard and Senckenberg both gave this filly the most points (almost 90) and Dutch Jacques Verkerk put her second. Sylvie van Duynen's Eau de Vie de Fayard (by Zhivago x Royal Diamond) was the runner up with 84.667%. There was quite some disagreement about the fourth placed filly Sonatine d'Arion (by Sir Donnerhall x Phantom). Though she ended up with 82.333 on average, judge Verkerk had her first with 87 points, while Senckenberg only gave her 78.000 (12th place). Collard was right in the middle with 82 points (6th).
Results
2010 Born Colts (top 10 only)
1. Anne Josee Varroud Vial - Erasme de Voulx (San Amour x Livingstone) - 84.333 points
2. Catherine Wiart - Amore de Mesille (San Amour x Havidoff) - 83.000
3. Anne Royal/Haras du LH - Quaterboy LH (Quaterback x De Niro) - 81.667%
4. Chritine/Haras du LH - Hawaï LH (Hotline x Cadiz) - 81.333
5. Dirk Langle - Futur du Payrol (Furst Romancier x De Niro) - 80.667
6. Rutger Seinen - Fujin (Sandreo x Zeoliet) - 79.333
7. Marie Groux - Amadeus de l'Ydille (Sarkozy x Ragazzo) - 78.333
7. Monique Botcazou - Attilas de Rulan (Gribaldi x Solos Landtinus) - 78.333
9. Jean Marie Martin - Sertorius de Rima Z (Sandro Hit x Voltaire) - 77.667
10. Benoit Burban - Aukland du Feuillard (Cockpit x Voltaire) - 77.000
2010 Born Fillies (top 10 only)
1. Ilona Le Perru - Fantasy Boderes (Fiorano x Wolkenstein II) - 86.333
2. Sylvie van Duynen - Eau de Vie du Fayard (Zhivago x Royal Diamond) - 84.667
3. Marie Catherine Gascon/Haras de Hus - Star de Hus (Soliman x Diamond Hit) - 83.000
4. Sylvie van Duynen - Elara du Fayard (Zhivago x Silvio) - 82.333
4. Isabelle Furlanetto - Sonatine d'Arion (Sir Donnerhall x Phantom) - 82.333
4. Scea Limousin - Aida Star (Joeris x Jazz) - 82.333
7. Jean Michel Roudier - Aubade de l'Ocean (Sinhus x Londonderry) - 82.000
7. Isabelle Furlanetto - Solaria d'Arion (Sarkozy x Dormello) - 82.000
9. Cedrne Chouviat - Starlight d'Hanovre (Sir Donnerhall x Don Frederico) - 80.667
10. Christelle Marie - Athena (Soliman x Gribaldi) - 80.000
10. Laurence Albert - Angelina Fleuri (Sandro Hit x Depardieu) - 80.000
View Full Results Here
Related Links
Shenandoah and Sambejah Win 2006 French Foal Championship
Karenina d'Es Wins 2010 Belgian Warmblood Dressage Foal Championship