What's Happening in the Dressage World?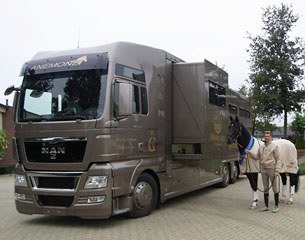 The Grand Prix stallion Sancisco OLD has moved to the stables of Carrie and Bernd Schopf near Hamburg, Germany. Under the diligent supervision of Hartwig Burfeind, Carrie will continue to develop this exceptionally talented horse
 that has already shown his Grand Prix talent. " I'm really looking forward to learning how to ride and compete him and the fun of riding such a special horse. I consider myself very very lucky," Schopf told Eurodressage.
Edward Gal and Nicole Werner celebrated the arrival of their brand new, gold coloured lorry. "I'm so proud of it," Werner rejoiced!
Italian Grand Prix rider Silvia Rizzo is extremely disgruntled about the unstraightforward, ever-changing Italian WEG selection criteria which put several of the already few Italian Grand Prix riders out of WEG contention. According to Rizzo it was initially promised that a team would be sent to Kentucky but in the end only two individuals made it as the selection score was raised at the eleventh hour. Rizzo published a "tell-it-all" open letter God Save Italian Dressage on Dothorse.it (english version at the bottom), in which she blames the dressage manager of the Italian Equestrian Federation for ruining her WEG dream. As you might remember, Valentina Truppa and Eremo del Castegno didn't go to WEG either because of FISE issues.
On a brighter note, Rizzo recently received sponsorship from Italian companies Reynolds' Stables and GPA Italia.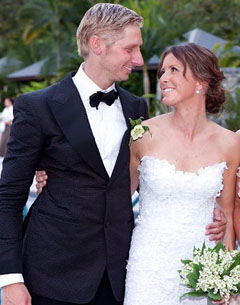 WEG team riders Patrik Kittel (Sweden) and Lyndal Oatley (Australia) got married last weekend on Hamilton Island in the Great Barrier Reef. Lyndal wrote the following about her wedding weekend: "What a weekend! Happily married to my skittle- great company and alot of fun...not without drama as I was a running bride down the isle to catch a sick Patrik who had turned green and fainted after 24 hours of being really sick!!! Patrik recovered throughout the night and we all where able to enjoy the night! Thanks Chum for everything, Henri (Ruoste) for being a great best man, and everyone for making the day what it was!" Kittel was also on cloud nine: "it has been the most amazing time perfectly organized. Thanks Nicky and thanks Henry you been a great best man, we all had a super time....And above all thanks Lyndal my loving wife." Congratulations!!
For our fashionista readers: Lyndal wore an Oscar de la Rente dress with Vera Wang shoes, while Patrik wore a Tom Ford suit with bow tie. (click here to see the dress in detail). Read more about this celebrity rider wedding on Cyberhorse
At the WBFSH General Assembly 2010 in Devon, Pennsylvania, Danish Jan Pedersen, who has been WBFSH president since 1999, was re-elected as chair with acclamation. This means that  the secretary's office will remain with Mrs. Karina Christiansen in Vilhelmsborg, Denmark.
Thamar Zweistra's Grand Prix horse Hexagons Ortello (by Karthago) has been sold to the British Vicky Peace. Trainer by Beverly Brightman, Peace is a former show jumping rider gone dressage.
The World Exhaust Games (WEG) are over but not everyone survived unscathed. Chris Stafford of the Dressage Radio Show fell off the road on cross country day and sustained a broken ankle, torn ligament, and a "stinking" cold. "But otherwise I'm fine," she told Eurodressage. Canadian journalist Karen Robinson wrote that she's "Allteched out". Read her blog to find out what she means by that.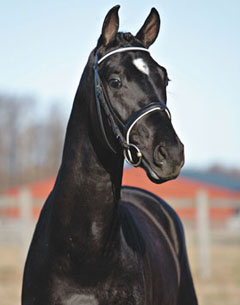 Belgian QC stables invested in some quality material. Patrick D'Eer acquired the 18-year old licensed Danish warmblood stallion Robin (by Rambo x Ibikus). The bay stallion, who sired for instance Thorsos Ravel (1998 Danish Foal Champion) as well as the FEI Dressage ponies Centrum and Extrem, will be used as a Grand Prix schoolmaster at QC stables in St. Niklaas, Belgium. The 7-year old Oldenburg bred and former Swedish warmblood licensed stallion First Wish (by Furst Heinrich x Welton) has also been relocated to QC stables. The black beauty, who won the 2006 Swedish Young Horse Championships as a 3-year old under Jan Brink, is the new partner for a Belgian junior/young rider. First Wish was gelded in Sweden. His full sister First Love is the 2009 Swedish Warmblood Mare Champion.
Two renowned Trakehner licensed stallions have passed away recently. Trakehners-international.com reported that Beg xx, the first and so far only thoroughbred stallion approved for Trakehner breeding, passed away at age 28 after a colic attack. Born in Estonia, the bay stallion had an international career iin show jumping and also evented at advanced levels before he was sold to Germany. His entire career in Germany, he was at home at Gestüt Hörstein in Bavaria. Beg xx produced a number of premium mares for the stud book and is the sire of 5 approved sons, of which Sky Dancer and Prokofiev competed at FEI levels (show jumping and dressage, respectively). Beg xx sired a number of successful competition horses for all disciplines, and was one of the most valuable, proven and best-liked TB stallions in the younger Trakehner breed. Our condolences to Gestüt Hörstein and the Diehm family. Heops (by Herson - Pawitsch) had to be put down after a colic attack laston July 8th. With rider Isabell Heckmann, the tall dark bay stallion had a successful career as a show jumper at international levels and was approved by the German Trakehner Verband based on his success in competition. He also enjoyed approval status with other German registries, including Oldenburg, Rhineland and Westfalia. Heops was bred by the Majstrenko Stud in Russia and was last owned by the Sportpferde Heckmann GmbH and stationed at Gestüt Böckmann in Oldenburg. Heops was one of the busiest Trakehner stallions in Germany, covering over 100 mares in his very first year at stud.
We discovered the video in top right corner of this page by accident but thoroughly enjoyed watching it!! It's Australian eventing rider Peter Atkins riding the WEG cross country course wearing a helmet cam! Experience the course as if you were sitting on the horse yourself!