Eurodressage F.O.C.U.S.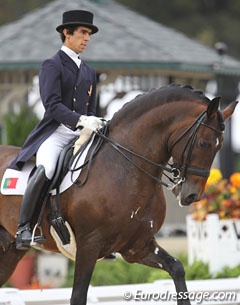 by Sarah Warne --- After just one season of international competition, Rubi Alter Real, has confirmed his status as the best Lusitano approved stallion in dressage competition worldwide.
Rubi's rider, Gonçalo Carvalho Conchinhas, is determined to take this exceptional Lusitano to the Olympics and considering his success, after only a short time competing at international Grand Prix level, it certainly looks as though his dream will become a reality. 
Currently ranked number one in Portugal, Gonçalo scored an outstanding 70% in Grand Prix to take out the CDI competition in Vidauban France and went on to score a tidy 66.766% at the recent World Equestrian Games in Kentucky. Galloping towards the 2012 London Olympics, Gonçalo Carvalho Conchinhas is currently ranked number one in Portugal and now his horse Rubi has taken to the thrown as well.
Gonçalo's dream is to also give back to the equestrian world and establish himself as an international dressage trainer and from what I have experienced this dream is also well within reach.
As an aspiring young dressage rider I was blown away by Gonçalo riding ability. Never in my life have a seen a rider sit so comfortably in the saddle. It was no wonder his grandfather was Nuno Oliveria's "wing man" and that Gonçalo himself was hand-picked to become the youngest ever member of the 14-man elite Portuguese Riding squad.
Gonçalo says his training method is simple. He wants to ensure every horse is relaxed, in the rein and over the back. Adopting the principles of the great Nuno while adjusting to achieve his goal of success at top level dressage, Gonçalo spends every day training Lusitanos at his stud outside Sintra, Portugal
"I train every horse differently, because every horse is different and no one way works for all. But my objective is to find the best way to work the horse to ensure they can relax and move freely and easily," he said.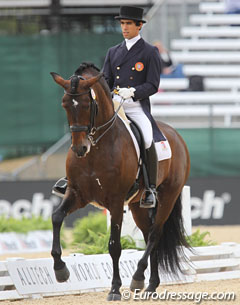 Gonçalo says he would love the opportunity to teach others and help improve the international dressage world, but he also knows that at the end of the day riding is about hard work.
"You need to have a very disciplined mind, one that can work hard, and be both dedicated and sensitive. You must also be aware of what it takes, as an example, the day after my son was born I was leaving for a competition in Luxembourg a rider's life is not easy! And a good rider must have feeling, they must be aware of when the horse is relaxed and happy."
Gonçalo can not recall the best piece of advice he has ever been given but says that his advice is to not waste time with people who think they know better. "It's better to ask for help from those people who have proven that they know."
After watching Gonçalo training his horses I just had to get a lesson and I was amazed at how well he could express his techniques to me and how quickly my riding improved
The 28 year-old rider from Cascais has picked the perfect time to reach the first peak of his lifelong horse-riding career at the 2010 World Equestrian Games in Kentucky.
Beginning at just five months of age, Gonçalo grew up with a love of horses but it wasn't until he was 17 that his ambition to reach the top set in.
"To be honest I started doing dressage only because I found a horse that had the necessary skills. I hadn't thought about taking up this discipline before that, but today I think I made the right choice."
Gonçalo's horse Rubi, owned by rider and lusitano enthusiast Christine Jacoberger, was bred by The Portuguese Riding School and hand-picked by Gonçalo as a horse with a greater purpose.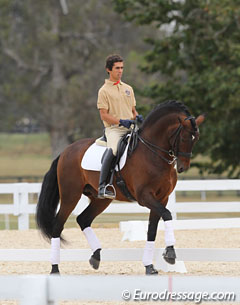 He pulled Rubi from the school, believing that this exquisite Lusitano stallion had the talent to compete at an international level. He was right. Not only did Rubi go on to compete but he is winning and has made Gonçalo the leader of the Portuguese competition dressage world.
But the Portuguese Riding School has done more for Gonçalo than just grant him his dream horse and Gonçalo says that his background at the school definitely makes him a unique rider.
"The Portuguese riding school fosters the best riders in Portugal and maintains a reputation as an elite equestrian training school. But it is a shame that the Portuguese riding school hasn't improved working conditions as this would ensure it prospers into the future."
Gonçalo spends his days at the stables from dawn until dusk. While ensuring Rubi is kept in peak athletic condition, Gonçalo devotes the rest of his time to training horses for those knowledgeable clients who want their Lusitanos trained by the very best. When asked how he became so successful, Gonçalo says that any success in life is the fruit of hard work and dedication.
"I work hard because I still have the belief that one day I'll reach perfection, even though I know it is impossible. This is what gives me the strength to get up every day for another day of work."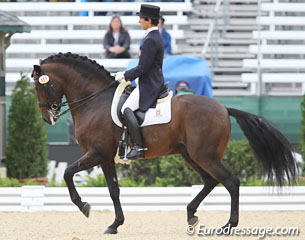 Inspired to become a rider by his hero and grandfather Abel Carvalho, a professional rider himself, Gonçalo says he has one major ambition, outside the dressage arena.
"One day I hope to be the hero of my son."
And with London less than two years away Gonçalo's son will surely be very proud of his dad, with the likely chance that he will soon become an Olympian.
by Sarah Warne for Eurodressage.com
Photos © Astrid Appels
Related Links
Portuguese Team Selected for 2010 World Equestrian Games
Scores 2010 CDI Vidauban