2010 World Equestrian Games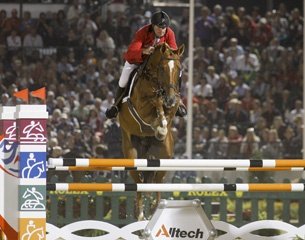 Belgium's Philippe Le Jeune won the thrilling Rolex Final Four to claim the Jumping World title at the 2010 World Equestrian Games™ in Kentucky, USA tonight.  The 50 year old rider was not the favourite going into the competition.  He would have to see off the efforts of the reigning individual Olympic gold medallist Eric Lamaze from Canada
, former World and Olympic champion Rodrigo Pessoa from Brazil and the exciting new talent of Abdullah Al Sharbatly from the Kingdom of Saudi Arabia who, despite his relative inexperience, scooped silver tonight ahead of Lamaze who took bronze.

But in the end the quiet horsemanship skills of a man whose life is totally devoted to his horses won the day.  It has been said that the best thing you can do on a strange horse is as little as possible, and his ability to allow four of the greatest jumpers in the world to do what they do best, with minimal interference, clinched the supreme accolade.  "I had no difficult moments with any of them" he said afterwards reflecting on the rides on his rival's mounts - "I decided to go their way and not to try and make them go my way, and it paid off".

SURPRISE
Al Sharbatly's presence in the individual medal-decider took many by surprise, but his short six-week partnership with the fabulous former Italian team horse Seldana di Campalto has instantly blossomed and the mare never put a foot wrong prior to today's final test.  First into the ring tonight however as the riders kicked off on their own horses, the 27 year old rider gave her what seemed a nervous ride and the final two elements of the last fence on the track, the triple combination, hit the floor for eight faults.  There was a gasp of surprise when Pessoa's Rebozzo hit the vertical at fence three in an otherwise perfect tour of the eight-fence course, but both Le Jeune and his big, handsome stallion Vigo d'Arsouilles and Lamaze with his Olympic ride Hickstead, kept a clean sheet in this first phase.

The Final Four challenge however is about taking on a course of fences with a horse you've never ridden, and it was Pessoa who was tested first.  Seldana di Campalto was extremely unimpressed by having to remain in the warm-up area while the class was ongoing, and her marish qualities became ever more apparent when she started lashing out as the Brazilian rider's saddle was fitted.   Pessoa was unperturbed however, and, once aboard, produced a lovely clear to get right back in the game.  Le Jeune and Rebozo and Lamaze and Vigo d'Arsouilles then both left all the fences intact, but Al Sharbatly's three-minute warm-up with Hickstead had the spectators glued to their seats, the Saudi rider apparently struggling with both his steering and the horse's balance.  But once in the ring the discord disappeared, and although Hickstead's speed was near full tilt, they arrived home with nothing to add.

DOWN TO THE WIRE
Le Jeune was clear again, this time with Al Sharbatly's mare, but Rebozo lowered the middle element of the combination for Lamaze and when the Saudi rider went clear with Vigo and Pessoa cruised home with Hickstead it was getting down to the wire.  Le Jeune was firmly in the lead on a zero score as the last rotation began and only a disaster now stood between him and that shining gold medal.   And when Lamaze and Seldana hit the first element of the triple, Al Sharbatly stayed clear with Rebozo and Pessoa, surprisingly, left two on the floor with Vigo d'Arsouilles the stoic Belgian set off, last to go with Hickstead and with the World title well within his sights.  And he didn't need any luck.  The true horseman that he is, he just sat quietly and let Lamaze's stallion show just what a great horse he is, still full of running after nine tough jumping rounds and happy to be part of another page of jumping history.

Le Jeune talked about his life and the things that are important to him.  "When I was young my father taught us to love animals and I love them more than people.  I have two sons and they are my flesh and blood and I love them greatly - they are the most important to me other than my horses.  I feel for them, I love them and I always do my best for my horses.  If they weren't so big they would be living in my house!" he said with a big smile on his face.

UPS AND DOWNS
Talking about his career he said he competed in his first big international show in Rome in 1980 and that he has had "many ups and downs" as horses he produced were sold on for others to ride.  And he talked about his indebtedness to the owner of his gentlemanly stallion Vigo d'Arsouilles who had the opportunity to sell the horse for a lot of money but who kept him for Le Jeune to ride - "I owe a lot to him and his family" Le Jeune pointed out.  The Belgian rider is intensely proud that Vigo is a son of the great breeding stallion Nabab de Reve with which the rider won world championship team bronze in Jerez, Spain eight years ago. 

Al Sharbatly said "it is a great moment for me and my country to win the silver medal.  It is the first time in history that a rider from the Middle East has reached the top four in a World Championship".  In an extraordinary co-incidence, all four horses competing tonight are stabled within a 50-kilometre radius of each other in Belgium, Lamaze's stallion sharing his time between Europe in the summer months and Florida, USA in the winter.

The rider who did the best job of them all in the Rolex Final Four tonight however was the unassuming Le Jeune whose many years of hard work and dedication to his equine allies were rewarded with the biggest crown of all - the title of FEI World Jumping Champion.

Facts and Figures
The triple combination, last fence on tonight's eight-fence track, was the bogey fence of the competition.
Eric Lamaze's stallion, Hickstead, took the award for Best Horse after producing four clear rounds.
The horses competing tonight completed nine rounds of jumping during the Jumping Championships at the Alltech FEI World Equestrian Games™

Quotes
Eric Lamaze, talking about Hickstead receiving the award for Best Horse - "I already knew he was the best horse before today - now all three other riders know it for themselves!"
Rodrigo Pessoa talking about Seldana di Campalto "she was tense at the beginning but she got better and better every time she jumped.  She is a mare with a lot of blood and earlier on she didn't understand what was going on".
Philippe Le Jeune, new World Champion "I had a lot of fun riding the other three horses - I was quite relaxed about it" 
Back to the 2010 WEG index