2010 Spanish Young Horse Championships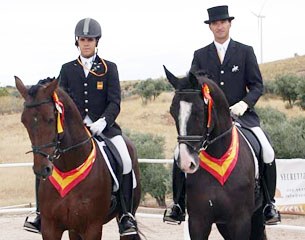 The Dutch warmbloods Bently and Artouche and the Hanoverian branded Delmonte won the 2010 Spanish Young Horse Championships held at Julia Hernandez Damian's Yeguada San Jose 1 - 3 October 2010.  With more than 160 entries at this event, the Spanish championships were a well attended event.
The 4-year old dressage horse division was won by Alfonso Parra Rubio aboard the Dutch warmblood Bently (by Scandic). The smoothness and consistency of the pair led them to the national title, even though they experienced much competition from Juan Antonio Vazquez Rico on the Hanoverian mare Havanna (by His Highness) who won the first round, but dropped to an overall fourth place after a mediocre second round in which the horse had some problems with the canter work.
Jose Raga Perales and the liver chestnut Dutch warmblood Artouche (by United) bested the field in the 5-year old division. The combination won the first two rounds but were beaten in the third round by Angel Dorado on the PRE Leviton (by Panameno IV). The overall 5-year old champion's title, however, went to Raga with 346,400% points in total.
Jose Daniel Martin Dockx and his Hanoverian Delmonte were the champions in the 6-year old age category. The black with white stockings and blaze improved with each round and scored a total of 350,800% to refer Juan Manuel Acosta Ponce on the 2008 Verden auction horse  Der Ebbinger to the reserve champion's place (343,000% pts).
More info and Photos at www.ecuestreonline.com
Results
4-year old dressage horses
1. Alfonso Parra Rubio - Bently (KWPN, Scandic) - 75,400% - 75,000%  --- 263,100%
2. Angel Dorado Martinez - Manchego (PRE, Gumiel) - 70,800% - 72,600%   --- 251,400%
3. Juan Francisco Fernandez Munoz - Quantico (Hann, Fighting Fit) - 69,200%  - 73,000%  --- 49,800%
4. Juan Antonio Vazquez Rico - Havanna (Hann, His Highness) - 78,600% - 64,400%  --- 246,700%
5. Juan Francisco Fernandez Munoz - Ferga Belha (Hann, Buddenbrock) - 71,000%  - 70,000%    --- 246,500%
6. Judith Seques Spahni - Break Even Contendro (KWPN, )- 68,000%- 71,400%    --- 244,800%
7. Laura Yubero Prieto - Castellano (Old, Cafe au Lait) - 70,000%   - 69,400%  --- 243,800%
8. Carolina Serne Alvaro - Sea Dragon (Old, Sandro Hit) - 68,800% - 69,000%   --- 241,200%
9. Dimas Saiz Rios - Sharon (Rhinel, Sandro Classic) - 68,600% - 69,000%    --- 240,900%
10. Emilio Ordonez Redondo - Postinero XXI (PRE, Calmoso) - 70,600%  - 67,400%  --- 240,700%
5-year old dressage horses
1. Jose Raga Perales - Artouche (KWPN, by United) - 79,000% - 78,000%  - 75,200%  --- 346,400%
2. Angel Dorado Martinez - Leviton (PRE, Panameno IV) - 71,800% - 73,400%  -  76,400% --- 334,700%
3. Antonio Segui Sintes - Amstrong d-Alo (Hann, Alabaster) - 73,200% - 72,400% - 71,800% --- 325,400%
4. Tomas F. Caudet Prats - Andes (KWPN, ) - 73,400% - 71,800%  -  70,400% --- 321,900%
5. Ariana Pfaff Ganduxer - Walero (Hann, Weltregent) - 70,600% - 71,400% - 70,200%  --- 318,100%
6. Juan de Dios Ramirez Garcia - Julepe Erre (PRE, Decano Erre) - 69,200% - 70,600% - 69,200% --- 313,500%
7. M. Valvanera Palacios Ortuno - Welserin (Hann, Welser) - 69,000% - 69,200%   - 69,200% --- 311,200%
8. Borja Carrascosa - Hirto II (PRE, Digital) - 66,400% - 68,600% -  70,800%  --- 310,900%
9. Luisa Quero Goodwin - Lac Leman (Hann, Londonderry) - 70,200% - 67,600% - 69,400% ---    310,400%
10. Enrique Serrano Moro - Ali Baba (PRE, Clasico Man) - 67,200% - 69,400% - 69,000% ---309,300%
6-year old dressage horses
1. Jose Daniel Martin Dockx - Delmonte (Hann,) - 73,800% -  77,200% - 80,600% --- 350,800%
2. Juan Manuel Acosta Ponce - Der Ebbinger (Hann,) - 81,000%  -  76,800% - 73,400% --- 343,000%
3. Antonio Mena Bernal - Don Rafael (Old, ) - 76,600% -  74,000% - 73,000% --- 333,600%
4. Maria Teresa Ortiz - CEA Zorro (KWPN, ) - 72,400% -  72,200%  - 76,000%  --- 332,700%
5. Angel Bermejo Sanchez - Preciosa (Old, Pik Noir) - 70,800% -  72,800% - 73,000% --- 326,000%
6. Carlos Torrel Jane - Deborah No Limits (Hann, Depardieu) - 73,000% -  72,600% - 72,000%  --- 325,900%
7. Ainhoa Prada Ortiz - San Marco (Hann, Sandro Hit) - 67,600% -  72,600%  - 74,200% --- 324,900%
8. Ivan Pozas Gomez - Naomy (Hann, Hofrat) - 68,400% -  74,200% - 72,600%  --- 324,900%
9. Jose Raga Perales - Laredo (West, Lacock) -71,400% -  71,400% - 72,400% --- 323,300%
10. Antonio Jose Diaz Porras - Don Boyenstein (West, Don Bedo) - 68,200% -  70,200% - 72,200%  --- 17,900%
Related Link
Zanzibar, Donna Clara and Finja Win 2008 Spanish Young Horse Championships