KWPN Breeding News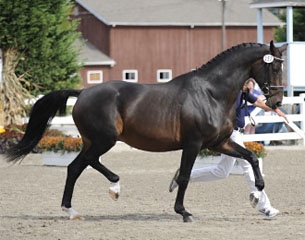 The Grand Championship at Dressage at Devon is always a nail biter, but this year's group of champions really impressed with incredible movement, type and conformation as they competed for this big award.
To the thrill of the crowd, two beautiful mares trotted away with the show's most coveted ribbons during the breed division. Wearing the championship neck sash once again was Iron Spring Farm's Rabiola, the gorgeous KWPN mare who has won more than ten championships at the show over the years. Finishing with the Reserve Grand Championship was Dazzle, a two-year-old mare by Jazz, who also has quality gaits and charisma.
 
Rabiola kicked off her day by winning the Four-Year-Old and Older Broodmares class. She then trotted to the Mare and Mature Horse Championships before clinching the title of Grand Champion. The mare, by Metall out of Fabiola by Zadok, is not only frequently a big winner at DAD, she's also a mom of several Dressage at Devon winners. "She's the Queen," said a very happy Mary Alice Malone, owner of Rabiola. "This was really amazing. I'm really lucky to own her."
 
Dazzle, bred by Victoria Lamas Wanner and owned by Taylor Minnucci, is now also a multiple Dressage at Devon champion. The two-year-old filly won yesterday's Filly Championship and the Reserve Young Horse Championship, along with today's Reserve Grand Championship. It was especially sweet for Wanner. "I've been showing at Dressage at Devon since 1992," she said. "I thought the competition this year was really strong. In the Championship today it was thrilling to see such good horses with such good bloodlines. It was everything you could possibly hope for!" Wanner praised the judges, who included Hilda Gurney, Janine Malone, Dr. Jürgen Miller and Debbie Riehl-Rodriguez, for rewarding horses with talent for performance careers. Wanner continued, "We are all looking for future Grand Prix horses. I love to see judges who are looking down the road." Dazzle also received the Born in the USA Breeders Award for
Two Year Old Fillies.
 
Another Born in the USA winner was the Reserve Champion Mare, Conturri. The Contucci daughter, bred and owned by Hilltop Farm, won the Four-Year-Old and Older Maiden and Yeld Mares class with an 82.150%.
 
The Born in the USA Breeders Awards were developed in 2003 to recognize and reward the achievements of American sport horse breeders. Only horses that were conceived and foaled in the U.S.A. are eligible. More than $54,000 has been awarded since the program began.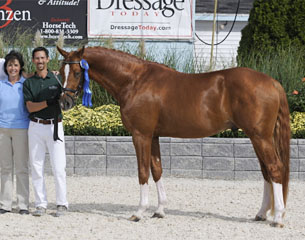 Taking home the overall Champion Born in the USA Breeder's Award was De Feiner Star, a 2006 AHS stallion by De Laurentis out of Feiner Dance by Feiner Stern. The flashy chestnut with four white socks had a busy day, also winning the Stallions class and the 4-and 5-Year-Old Stallions Materiale class before claiming the Stallion Championship. Owner Greg Strait, along with co-owner Melinda Brown, selected De Feiner Star as a weanling after seeing a photo on the Internet. "I basically bought him sight unseen," Strait recalls. "He's got a great mind and is very smart. He's very easy to deal with." Although they are both in California, Strait and Brown decided to keep De Feiner Star on the East Coast and have nothing but praise for breeder Meg Sherman, rider Christopher Schruefer and Trevelyan Farm who brought the talented horse along very slowly. "It's been great. We've given him a lot of time to grow up," Strait said.
 
While Rabiola, Dazzle, Conturri and De Feiner Star are likely choices for champions at Dressage at Devon, the Reserve Champion Stallion is unexpected. Padré is a 10-year-old Bureau of Land Management (BLM) Mustang that was born wild in the Palomino Valley, NV herd. Rounded up and then adopted by Dr. Rick Redden as a yearling, Padré spent time at the International Equine Podiatry Center in Versailles, KY before becoming Patti Gruber's partner as a seven-year-old.  The Vernon Hills, IL resident had met Padré as a two-year-old and thought he had naturally beautiful gaits. The duo quickly developed a bond and is now schooling third level. Patti hopes to ride down centerline at Dressage at Devon next year.
Related Link
Rabiola Scores Hattrick at 2009 Devon Breed Show