2010 Dressage at Devon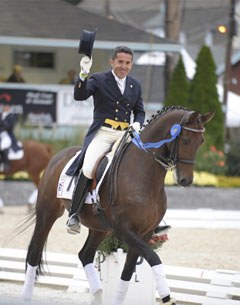 Cesar Parra often leads the victory gallop at Dressage at Devon and this year was no exception. After finishing third in the Prix St. Georges and Intermediaire I classes, he rode for the win and succeeded, receiving a 73.50% and the blue ribbon in the Intermediaire Freestyle. The class featured a roster of Pan American Games contenders and was the grand finale of the six-day show.

 
"I wanted to go full power," Parra said of his pre-ride plan. He felt he had ridden conservatively on Friday and wanted the last day of the show to reflect his horse Olympia's potential. The 14-year-old gelding by Jazz does his best work when he is able to go with more power, explained Parra. "He likes that tempo. He likes when...he can just go." For Parra, the freestyle is one of his favorite classes. "I hear the music and I just get excited," he said of his Earth, Wind and Fire music.
 
Kassie Barteau finished second to Parra with a score of 72.80%. She was pleased with the efforts of her 10-year-old gelding Toscano, who is also by Jazz. "I was really proud of him and his attention span," she said. During her ride, Barteau's stock tie came loose, but she didn't let that impact her efforts. The pirouettes were a highlight, but Kassie was also extremely pleased with her walk work. She rode to a selection of music that included tunes from the animated movies Madagascar and Shrek, along with Driving Miss Daisy. Rounding out the top three was David Marcus with Don Kontes who received a 72.10%.
 
In the Young Rider division, Meagan Davis scored a Dressage at Devon hat trick when she won the Freestyle, after also claiming first position in the Team and Individual tests. Jessica Zoskey finished second, with Nicole DelGiorno in third in the Freestyle.
 
On the last day of the Junior division, Julia Burtt returned to the winner's circle in the Freestyle with a 65.30%. Kaitlin Blythe was second with a 65.100%.
 
The Junior Individual Test on Saturday was won by Dominique Cassavetis.  The Whitehouse Station, NJ resident rode a lovely program on Charming Princess, a 12-year-old mare by Plarido and received a 64.737%.
 
Adult amateur rider Alice Tarjan with her horse Somer Hit were the inaugural winners of the Dressage at Devon Young Horse Championship. "I'm very proud of him," Tarjan said of her elegant Hanoverian stallion by Sandro Hit. The pair, who train with Chris Hickey and Silke Rembacz, won the USEF Test for 4-Year-Olds on Friday with an 82.20% and finished second in the same class on Saturday with an 80.60%. Somer Hit was bred in the U.S. by Rolling Stone Farm in Slatington, PA.
 
Another young stallion also gave his backers a week to remember. De Feiner Star, a four-year-old Oldenburg stallion by De Laurentis, started off the show as Stallion Champion and Reserve Mature Horse Champion, and finished the week with the Reserve Young Horse Championship.
 
While Dressage at Devon is recognized worldwide for its international competition and breed show, there is another side to the event-community service. Thorncroft Therapeutic Horseback Riding Inc., the nation's largest and oldest therapeutic riding program, has been the show's beneficiary since 1986. Their mission is to help build the physical, emotional and mental well-being of all people, particularly those with special needs, through establishing an atmosphere of cooperation, respect and love in an equestrian environment.
 
As part of their community outreach, the organization is represented by the Thorncroft Mainstreamers. This ten-member team consists of riders with and without disabilities, ranging in age from ten to fifteen. They work and ride together, encouraging proficient performances and mutual understanding. When this team comes together and performs their musical drill on horseback you can feel the magic in the air. To the delight of the Dressage at Devon crowd, the Mainstreamers gave beautiful demonstrations during the competition and showcased what horses and humans can do when they truly connect.
Related Links
Scores 2010 Dressage at Devon
Haddad and Harding Repeat Their Victory at 2010 Dressage at Devon