2010 World Equestrian Games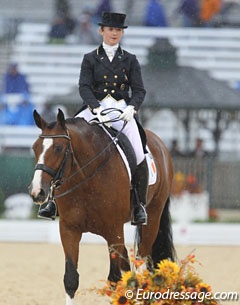 The 2010 World Equestrian Games have kicked off and from one day to the next I had to switch gears from second to sixth. The peaceful relaxing time in fine weather on Sunday -- watching the jog, observing the training sessions in five different rings
, browsing the show grounds, catching up with fellow journalists -- jump started into hard core business when the competition began on Monday morning 27 September.
The first Grand Prix day was action packed but unfortunately set in the worst weather imaginable for photographers. We experienced weather "British style." It was freezing cold and by the afternoon my fingers were congealed into a trigger-finger position while all types of rain came down on us that day. Like eskimos have twenty words to describe the state of snow, so did we experience twenty different ways of rain on Monday. The weather developed from cold moist fog to a drizzle, to rain drops, to buckets of hard rain round noon, to normal rain in the afternoon, back to some more drizzle and then it stopped thank god! For some reason I always ended up shooting some riders in the worst weather conditions. At the 2009 European Championships Maria Caetano got soaked while riding Diamant; here at WEG Irish Judy Reynolds and Remember were drenched by the rain when they left the ring.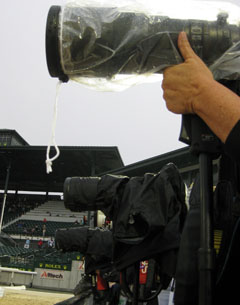 The level of riding was great and Imke Schellekens-Bartels took the provisional lead with a lovely ride with two mistakes. At the press conference following the class Hans Peter Minderhoud and Imke were seated and introduced as the temporary number two and one of the Grand Prix. Weird because where was Christoph Koschel who actually finished second in the Grand Prix so far, while Minderhoud was standing third. I worked a bit on the computer in the press centre but Mary wanted to leave the building and go to Spindletop Hall for dinner. 
A cosy restaurant with a buffet is set up in the basement of Spindletop. We met Laura and Jodie Kelly there and had a lovely dinner. I drank a Cosmopolitan and one glass of Kendall Jackson chardonnay, while I ate a salad with mussels and then some yummy chicken and black seared salmon. When we got back at the camper I organized my photos but fell asleep before I could write an article.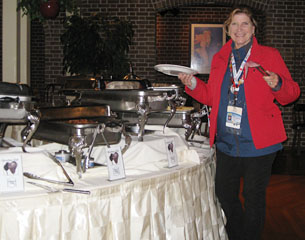 On Tuesday morning we parked the car at Spindletop, had breakfast there, and took the golf cart over to the show grounds. We drove the cart in the grassy part besides the road but at some points it got steep and it almost felt like the cart was tipping over. The weather seemed more promising that day (meaning it staying dry) but it was still freezing and it made me wonder why The Weather Channel has the guts to post a such big lie on their website when they state that it would be 75° (24° C). I think the temperature approached around 12° C tops and only in the afternoon it started to heat up and you could take one jacket off of the two you were wearing, with three more layers underneath it. Go figure I packed all those summer clothes and hauled them all the way to Kentucky for nothing..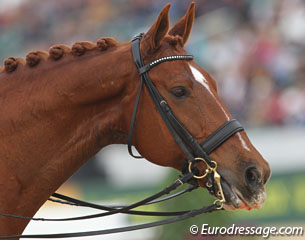 The day promised to be a really exciting one with the team competition reaching an apex as all the best riders were to go. The morning started out dramatically with Adelinde Cornelissen getting eliminated because blood was coming from Parzival's mouth. The horse looked amazing when he entered the ring, but during the warm up Adelinde was spotted tucking in Parzival's tongue because he stuck it out. In the test he looked fine but in the first extended trot he was tilting his head to the left. The half passes which followed were great but it must have happened either in the left half pass, or during the halt and reinback when the blood started coming out. it was not pinkish but red and it still showed when Parzival was leaving the ring, despite what some spindoctors claim. There were about a hundred photographers round the arena and they all got the same pictures. Nonetheless, it is tragic that Adelinde got eliminated as she certainly is one of the strongest riders at the show and she was a clear individual medal candidate. The World Equestrian Games would have been even more exciting and thrilling if she was in competition.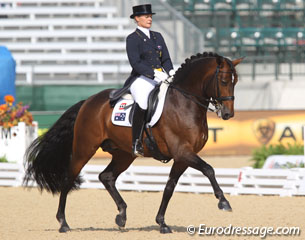 The opera took another turn when Australian Hayley Beresford was excused from the test as her bay Lusitano stallion Relampago do Retiro became unlevel in the extended trot. How sad to come all this way to complete only four movements of a test. But you see, at international championships anything can happen and this makes such shows so incredibly unpredictable. It ain't over until the fat lady sings!
Even before the WEG started I was wondering if there would be a revelation of the show like four years ago where Bernadette Pujals and Vincent became rising stars of WEG in Aachen. For sure in Kentucky it is Spanish rider Juan Manuel Munoz Diaz who reached unprecedented heights with his Andalusian Fuego XII. The horse is such an amazing mover and though his mechanism is a bit quicker and more hectic than other top horses, his suspension, scope and ability to collect are phenomenal.
To some Laura Bechtolsheimer exceeded all expectations, but in my opinion this is far from true. Laura and Mistral are finally getting the scores they have been deserving for more than a year and if the judges would have their finger stuck on the 10 button the same way as they do with Totilas (and Parzival), than Mistral Hojris and Totilas would be true equals and the gap between them wouldn't be so unrealistically big. Maybe Laura has to wait a bit longer to get this acknowledgement in the show ring. I'm not saying Totilas should get less points, not at all. My point is that there are more combinations out there who should get higher points!
And here ends my sermon. Or not?! When the class was over and the award ceremony done, a press conference took place and I felt this itch to ask judge at C, Stephen Clarke, why Mistral Hojris is not getting the same 9s and 10s for his piaffe and passage, even though they are the same quality if not better than Totilas'. Clarke said he hadn't looked at all the points just yet but confirmed that he had given 9s and 10s for Mistral at the end of his test. And this is true. But Mistral was piaffing and passaging like a star already at the beginning of the ride, but he only got 8s across the board. Where's the generosity for Mistral, which Totilas and Parzival get without a blink?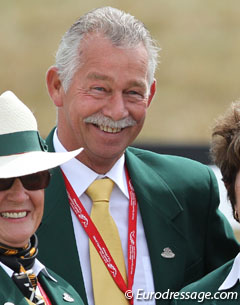 Furthermore Clarke was incredibly professional in replying to questions about some major disparities in the judging. It was the first time that a judge did not go in denial or in a defense mode when they received criticism on some unacceptable judging. It was applaudable that he admitted some work had to be done. "We don't try to hide from that," said Clarke. "We look at those differences and find out what happened. We have to try to draw a clearer conclusion. We work hard to try to do this and we need to thrash those differences out." Thank You!
Anyway after the conference I stayed at the press centre for another two hours while Mary and JJ went to Spindletop to take Mary's cousin out to dinner. I finally was able to get some articles written and photos posted in the centre. There  I can stay focused and get the job done without any distractions from parties, social events, etc etc. It's also fun to hang out at the press centre and see all your colleagues at work. The atmosphere is amicable and it's nice to exchange views and opinions on the rides. 
I bought a wrap at the media centre food court, which charges ridiculous prices for a bite to eat. 9$ for a salad, 7$ for a wrap, 2,5$ for a bottle of water and already with a 20% discount from the prices at the other food stands on the show grounds! You must have set a lot of money aside if you want to attend and enjoy the World Equestrian Games in the U.S.A.
Mary's personal assistent and working student Stefanie Jones arrived in the evening and my friend and former "Phelpette" (girl who worked for Mary) Leah Trunzo-Studd flew in from Florida to hang out for the next few days. In the evening we sat in the camper and chatted. By 12 AM everybody went to bed, except me. I worked for another two hours to write a story and upload photos. You got to keep cracking the whip otherwise nothing gets done. 
On Wednesday morning the weather finally looked nice and it promised to be sunny all day. The Grand Prix Special took place and with the sun out I got the most amazing photos! I stood near K to get pictures from a different angle and they turned out to be brilliant. Anabel Balkenhol truly kicked some butt today when she came in the ring and rode a wonderful test. I hope she'll get control over her spooky horse in the freestyle and get to display the world class potential he has.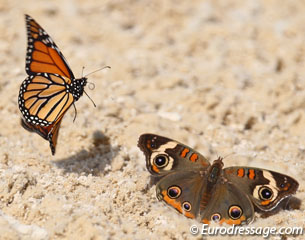 For lunch I sat together with Britt Carlsen from Ridehesten and ate a cold pasta that was soaked in olive oil. I don't even put that much water in my bath tub compared to the amount of oil that was in the plastic container. The pasta was so greased you had to wipe your mouth with each bite you took. It cost 8 $ and I felt bloated all afternoon. The afternoon competition was amazing with Steffen Peters and Ravel looked even better than in the Grand Prix. Laura's Mistral seemed a bit more strong in the hand but he was still phenomenal and Totilas improved as well being less tense in the piaffe and passage compared to the Grand Prix.
By the time we left the show grounds it was getting dark and JJ, Mary and I drove the golf cart back to Spindletop and almost got run over by a car because we don't have any lights on the golf cart. It's an exciting trip each time, for sure. We had dinner from the buffet again and Lynndee Kemmet joined us at the table for a talk. U.S reining team gold medallist Graig Schmerzal came in to have dinner with his wife and parents. Schmerzal is cute. He looks like a slim version of Vin Diesel. JJ and Graig chatted for a while and agreed on doing a trade hunt. 
We went to the camper round 10 PM and I organized my photos but then decided to go to bed and write my stories in the morning.
Back to the 2010 WEG index