2010 World Equestrian Games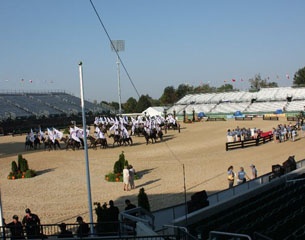 With just a few hours to go until the opening ceremony of the 2010 World Equestrian Games in the Kentucky Horse Park in Lexington, KY, riders are slowly putting their war helmets on for the competition to start on Monday. Today WEG began with the reining team competition, while the dressage riders had one of their final moments to practise.
On Sunday the dressage riders will get their first opportunity to train in the main arena with the ring all set up for dressage. The vet inspection starts at 11 AM. "It's time to put the suit on, slim the hair and put on a big US smile," said Swedish Patrik Kittel.
Kittel also mentioned that the training sessions were more challenging today. "It was a bit difficult to train," he said. "We had only one arena per country so we had to train on that time. I have to say Scandic is feeling really nice and we are getting more and more in to the training. If i could now just do the right corner then it would be perfect."
Australian Hayley Beresford is getting worried that she's not yet getting nervous. "Training getting more intensive but it all still just feels fun, she admitted. "Should I be getting nervous yet? Or nervous that I am not nervous?" Hayley disclosed that the Australian team practised the trot-up today. "Reli and I lightened the mood with our antics. Let's not take ourselves too seriously now," she joked.
British Carl Hester is in a philosophical mood: "American proverb of the day: 'First deserve it then Desire it'," he wrote. "I thought it would be other way round.
Time flies when you are having fun. Norwegian team rider Cathrine Rasmussen admitted that the day goes by so amazingly quickly, although there is only one horse to ride every day!"
German Matthias Rath reported that for the first time he rode the Grand Prix movements in a show ring. "The last few days we always practised in a big arena without ring," he said. The weather in Lexington has changed slightly with rain showers hosing everyone down. "This afternoon during our walk session it was the first time we all really got wet. It rained buckets but the rain was good for everyone," said Rath.
Former Dutch team rider Anky van Grunsven is also in Kentucky but no longer part of the dressage competition. Two kilometers away from the dressage arena the triple-Olympian-gone cowboy is riding on the Dutch reining team. Aboard the cute palomino Quarter Horse Whizashiningwalla BB she rode today in the reining team competition and achieved a personal best score of 211 points. Anky looked extremely serious and concentrated when she entered the ring, but had a smile from ear to ear after her run. "Yeeha," she shouted on Twitter. The Chronicle of the Horse interviewed here and quoted her as following: "Yesterday I thought, 'Should I have a safe round or just go?' And my coach said, 'Just go. Who cares? You're not going to win anyways. It's either going to be good or it's going to be shit. Just take the risk.' So I thought, 'OK, let's give it a try.' I know it'll be much better than this but, for me, I'm very happy that I was here and did the Equestrian Games in reining. It's a new challenge," she added. 
By the way, Anky looked GREAT on her Quarter in her cute orange and dark blue/black Western outfit. We've said it before when she gave that reining clinic at the CDI Lingen, and we'll say it again: we've never seen Anky have so much fun on a horse! You Go Girl! 
With photographers from all over the world in place at the Kentucky Horse Park, a wide variety of images is being uploaded into their photo databes. Belgian Dirk Caremans took some fun shots of all the golf carts racing by as well as from the stable areas. Dutch Arnd Bronkhorst recently installed a "share" feature to his database so all his photos can be linked in Facebook. Cool!
German photographer Julia Rau, who has a hypersensitive commitment to animal welfare, shot a disturbing serious of training photos in the dressage ring. Makes one wonder if the FEI steward was taking a nap at that time, because Rau captured some head-neck positions which are not allowed as depicted by to the three diagrams for FEI stewards.  German mutinous website ST. GEORG published these photos. Judge for yourself!
Eurodressage's Astrid Appels is currently in Chicago killing time during her 6 hour lay-over. She'll arrive in Lexingon tonight at will start bringing Eurodressage's typical "on the scene" coverage as of tomorrow!!
MAKE SURE YOU FOLLOW US also on Twitter and Facebook!!
Back to the 2010 WEG index