2010 World Equestrian Games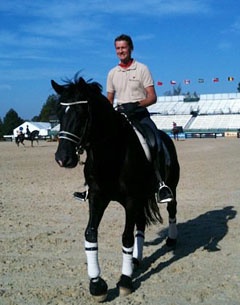 The dressage riders were allowed to train in the main arena for the first time at the 2010 World Equestrian Games in Lexington, Ky, in the morning of Friday 24 September 2010. With a big stage set up in the middle of the ring for the opening ceremony on Saturday, riders had limited space to move about. Nevertheless it was a great opportunity for the horses to get acquainted with the show arena.
British Fiona Bigwood reported, "Horses were allowed in the main arena this morning. They all seemed fine in there, but it was so busy with horses everywhere. Sadly the show has limited how often we can go into the arena due to the huge stage for the opening ceremony being in there, so we take every opportunity to go in. We are all fine tuning our horses without doing too much, an easy mistake to make. Alf (Mistral Hojris)looked in top form so fingers crossed."
Fiona's team mate Carl Hester always provides some comic relief: it's "been 95 degrees all week all horses rearing or is it raring to go." Fellow Brit Laura Bechtolsheimer is panting due to the weather: "Laura is melting in Kentucky," she wrote.
Adelinde Cornelissen reported that her trip into the main arena went well. "This morning also rode a couple of rounds in the main arena," she said. "Parzival was very relaxed." Edward Gal and Totilas use the main arena as location for the cool down. "Totilas went really well today," Gal wrote. "After training we walked a little in the main arena."
Nicole Werner is craving for some "real" coffee in the U.S.A. "I want Starbucks!!" Hans Peter Minderhoud spent another afternoon at the pool. "What else can you do with this wheater," he asked. 
Canadian team trainer Robert Dover looks forward to the start of WEG: "One more day 'till it all lets loose here in Lexington, KY! Can't wait!"
Australian journalist Chris Hector (of the Horse Magazine) gives his own view on what went wrong with Megan Jones' Irish Jester, the Australian WEG eventing team horse which had to be withdrawn after getting a high fever from the long journey from Sydney to L.A.. Read Hector's opinion on who is to blame!
Eurodressage's Astrid Appels is flying to Kentucky today (Saturday 25 September). Be sure to tune into Eurodressage often for blogs, articles, results, show reports and hundreds of photos to come from the 2010 World Equestrian Games!!
Photo © Nicole Werner
Back to the 2010 WEG index