2010 World Equestrian Games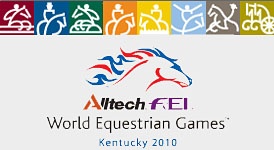 FEI press release - History will be made when the 2010 World Equestrian Games opens on Saturday 25 September in the Kentucky Horse Park, Lexington, one of the world's most evocative permanent equestrian centres
 located in the heart of the USA's famed 'Blue Grass Horse Country'.
It is the sixth occasion that the competitive disciplines have come together to take part in the world's greatest equestrian extravaganza, but the first time that the Games have been held outside Europe and the first time they have had a title sponsor - the animal nutrition company Alltech.
When the nominated entries were received last month, over 900 athletes and 1,300 horses were listed, and while this number will reduce as selections are finalised over the next few days the scale of the event is enormous.
COMPREHENSIVE
These are the most comprehensive Games yet, with the Para-Equestrian movement joining the fold to make a total of eight disciplines: Endurance, Reining, Dressage, Eventing, Jumping, Carriage-Driving, Para-Dressage and Vaulting.
"For anyone who enjoys the combination of horses and thrilling sport, the unique occasion of the Alltech FEI World Equestrian Games is a must," says FEI President, Princess Haya. "We look forward to outstanding horsemanship, the exchange of skills and knowledge, worthy champions and, above all, a great gathering of the worldwide equestrian 'family'."
Dressage (27 September – 1 October)

Reigning WEG champions: Germany (team), Isabell Werth/Satchmo/GER (Individual Grand Prix Special), Anky Van Grunsven/Salinero/NED (Individual Freestyle)
The burning question will be whether the mighty Dressage nation of Germany can regain supremacy from the Netherlands, current European Champions, but yet to win a World team title.
The supreme artist Isabell Werth is back in action, following the birth of her child last year, but the Dutch, in the form of Edward Gal and the record-breaking stallion Totilas and Adelinde Cornellissen on the breathtaking Parcival, now have the bit between their teeth and may be hard to beat.
The host nation, too, is expected to produce a competitive showing, especially from the 2009 World Cup winners Stefan Peters and Ravel, while Laura Bechtolsheimer and Mistral Hojris have been making waves for Great Britain.
Not to be missed
All in all the Alltech FEI World Equestrian Games™ adds up to 16 days of incredible competition – a feast for the senses and one not to be missed!
Back to the 2010 WEG index