2010 World Equestrian Games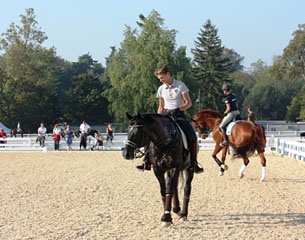 As the Kentucky Horse Park is filling up with horses and riders of various disciplines arriving at the show grounds, the dressage riders are organizing their days with riding in the morning, an excursion round noon and another training session (or walking) in the early evening. For the first time riders were allowed in the two 10-minute rings which are the last stop before entering the major arena for the competition.
Imke Schellekens-Bartels wrote that those two rings, "are really nice. There aren't that many people in there as you have to ride across the race track to get there. This is not so safe because the endurance horses are being trained there and they come galloping by regularly." The Dutch team rider is impressed by the facilities at the Horse Park. "It's a beautiful surrounding. The racetrack is gigantic and on the same field you have jumps for eventers and four-in-hand drivers. Everything is relatively close together, so we get to see pretty much of the other disciplines."
Adelinde Cornelissen, Hans Peter Minderhoud and Imke decided to bike from the show grounds to the hotel for the first time. "It took more than half an hour and was pretty dangerous with cars and trucks flying by and no cycling paths available," said Imke. "But it felt good. It's very warm here, about 32° C. The forecast is that it will storm on the weekend and then cool down a bit. This is good because it's too hot to be riding at noon."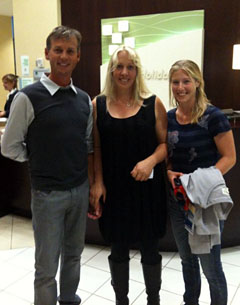 Hayley Beresford posted that the "Kentucky Horse Park is amazing. Been great catching up with the team, all horses doing great. Now we slowly build up towards next week!"
Fiona Bigwood went out for dinner last night with team mates Carl Hester and Laura Bechtolsheimer. She had a stressful time in the airport due to visa problems. "I nearly missed my plane as there was a problem with the visa and then the computers all shut down," she said. "I have never run so fast to get a plane." Bigwood brought along her two children Mette and Morten. "The kids were fantastic on the flight and even Carl coped sitting in front of them." The British horses are all doing great at the Kentucky Horse Park. "The horses are all fresh and have loved hacking around the park." 
Australian Lyndal Oatley and her horse Potifar are both settling in comfortably at their first World Equestrian Games in their career. "Starting more normal training tomorrow," she said. "Great atmosphere behind the scenes and having alot of fun." Potifar had been quite stressed getting loaded on the airplane and he sustained a few cuts on his head. "Pots head looks like he attacked it with a potato peeler so will hopefully be hiding away his battle wounds from the flight with a ear bonnet. I am lucky it is only that!," Oatley wrote. 
Oatley's fiance Patrik Kittel is dealing with a super fresh Scandic. "He almost bucked me off today," Kittel admitted. "We have to ride over a big steeple chase course, a real adventure. Maybe we can enter for a race soon," Kittel joked. "Tomorrow we start the training and I can't wait. All horses look really good and the quality is amazing here."
Edward Gal's business partner Nicole Werner wrote that "it's good to see Ravel and Nartan. It is still very relaxed here. Tomorrow we will train in the morning and we will have a tour in the afternoon in Kentucky. Visiting some studs and stables here."
While most German horses have been clipped due to the high temperatures in KY, Anabel Balkenhol's Dablino has not. The chestnut Hanoverian is quite high strung and clipping him is too stressful for him. "It's unbelievably hot here and I'm sweating a lot, but Belli gave me a choice: sweating or clipping and I chose sweating," Balkenhol wrote anthropomorphizing the thoughts of her horse. Dablino is being trained early in the morning. Yesterday the gelding schooled well and in the afternoon he was taken on the race track where he got scared by racing Endurance riders who flew back in gallop. 
Matthias Rath reported that the Horse Park is filling up with people and horses now. "You have to start watching where you go," Rath wrote. "Also the training rings are not as empty as at the first day so you have the arrange when you can ride best."
The German team made a trip together with the endurance and western riders to the "Daniel Boone National Forest". "It is nice to do something together with the riders of the other disciplines," said Rath. "Otherwise you don't really get to know them at all at shows like these."
The Canadian dressage horses will be shipped to the KY Horse Park on Saturday. They are currently at Kathy Priest's Woodspring Farm not so farm from the show grounds.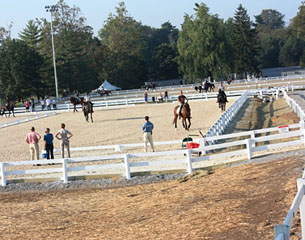 American Catherine Haddad is the U.S. reserve rider and she's on hold at Reese Koffler's barn 10 miles from the Horse Park. Haddad and her chestnut gelding Winyamaro, who is nicknamed "W", are having a great time in the U.S.A. (they are normally based in Germany). "W is in fine form, and I have no doubt that he will be ready to step up to the plate if we are called up to service before next weekend," Haddad wrote in her blog for the Chronicle of the Horse. Check out a video Haddad made of her at Koffler's beautiful farm. 
Sadly, Australian team eventing rider Megan Jones had to withdraw from WEG participation. Her horse didn't travel well from Sydney to Los Angeles and got a high fever in quarantine in LA. Jones decided not to add additional stress to her horse Kirby Park Irish Jester by putting him on another 5-hour flight from LA to Indianapolis and then another 5 hour truck drive to Lexington. The horse was shipped to an equine hospital in Chino Hills, CA, where he'll recover. (read the whole story here). U.S. based Australian eventer Peter Atkins will replace them.
Check out this great video of how the Australian horses flew from AUS to KY
Photos © Schellekens-Bartels, Beresford, Dahl, Rath
MAKE SURE YOU FOLLOW US also on Twitter and Facebook!!
Back to the 2010 WEG Index