A Walk on the Premises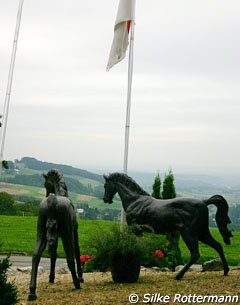 While driving from my good friend's home near Berne, Switzerland, to Birgit and Christian Pläge's Green& Gold Stables, I begin to ask myself if the GPS is working properly. Leaving the motorway near Solothurn I am guided deeper and deeper into the Swiss "outback": green hills and idyllic little villages pass by quickly until the GPS tells me I have arrived at my destination.
??On a beautiful spot where one can look panoramically in all directions Green&Gold Stables lies at the outskirts of a very small village called Balm.
As Christian Pläge told me earlier on the mobile his property isn't that big so I could get lost. Unfortunately the weather is rather awful this day, cold, windy and cloudy with rain now and then.? I come in through the entrance of the indoor arena complex which also includes toilets and showers, an exclusive little club room and beautifully decorated sitting accommodations for visitors.
Mr. Pläge welcomes me and offers me a cup of coffee which I gratefully accept early in the morning.?We immediately start discussing the state of dressage and afterwards the lord of the mansion takes his time showing me his horses in the stables while the indoor arena is bustling with action.? Mr. Pläge's wife and business partner, former Swiss junior champion and now Grand Prix rider Birgit Wientzek-Pläge, is teaching a woman who has travelled from the French speaking part of the country for lessons Pläge's team of all-female riders is also busy working the first horses.
A Walk on the Premises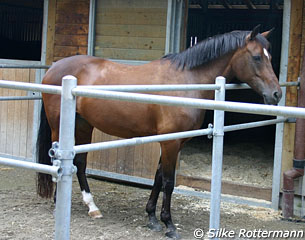 We leave the indoor arena and just opposite is the stable complex with 20 boxes. On our way Pläge explains that he and his wife have built the property some years ago and have designed it according to their specifications. All the big airy boxes have a paddock in front which are only fenced by one iron bar.
"It's a simple construction, but it allows my horses to communicate and prevents any injuries by them hanging their legs into the fence ", Pläge explains. He opens the door of Lambadero's box and the 12-year old Holsteiner who is Regent's successor at Grand Prix level not really cares about us, eating his morning hay. Pläge tells me that he has been training him for 7 years now and in all this time Lambadero hasn't stopped squealing and bucking during the first minutes of riding every morning. ?Regent, Pläge's most reliable and successful international horse ever, recently retired from sport at age 18. He turns around and welcomes us, looking for a lump of sugar. I stall in front of him, caught by his wonderful big innocent eyes expressing happiness and contentment.
During our walk through the stables Pläge introduces me to his young hopefuls and divulging on their pedigree and level of training before we arrive at a kind of open byre opposite the indoor arena and stable complex. Here not only 5 guest boxes are installed, but also an exercise pen. Two curious faces observe us from there.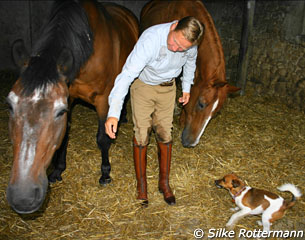 "These are Necko and Wunibald, our retired oldies. Necko is 30 and Wuni 27, but they are still lively and in a good state of health", Pläge tells me and cuddles them while explaining how the chestnut, Wunibald, is a good herd leader.? The bay Hessian bred Necko was sired by Pläge's former mount Nektar who was competed by Karin Rehbein in the 1988 Olympic trials. Necko himself had been a reliable Grand Prix horse and earned international GP placings. Wunibald had been Birgit's junior horse with whom she won medals at Swiss Junior Championships. At that time she trained with Georg Wahl.? A look into the eyes of these two oldies shows that they still feel part of the family and Pläge adds: "If you have an old horse and can afford it, never leave it alone in an oldies field. Of course we cannot keep all horses, but they are our dearest and they appreciate it."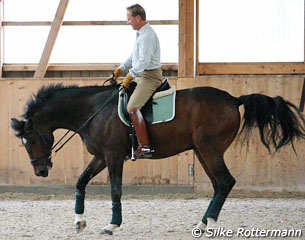 Back in the indoor arena Pläge shows me the long row of framed photographs at the walls and introduces me to well known faces: Nektar, Silvano and Heuriger, both international medal winners with Ellen Bontje, the Trakehner stallions Maizauber and Showmaster and his wife's fantastic Hessian gelding Sappalot (by Silvano) among many others which Pläge schooled the past decades. ?I unpack my camera and Pläge mounts Lambadero who is going to compete at the Swiss Championships three days later. And true to his word an amazing game starts: Lambadero squeals, shakes his head and puts in small playful bucks every minute. It is not resistance at all, just joie-de-vivre.
Pläge laughs and talks to his horse all the time. It all looks very much like a morning chat between two trusted friends.? Finally Lambadero has done enough of playing around and starts working. ??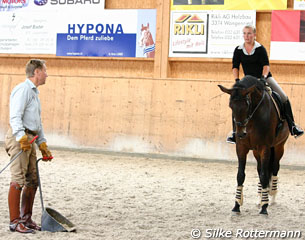 The whole day Christian, his wife Birgit, their five riders (four Bereiter and one apprentice) and pupils share the indoor arena because the outdoor arena is flooded after extensive rain the days before. The Pläges are much asked for trainers.
"I cannot take all riders who request my service. Some pupils I only see every 14 days because I just haven't more time," Christian admits.  ?Having more than 20 horses in training means a strict day schedule and the necessity of having a good reliable team behind you. "I cannot work all the horses daily. I tell this to owners bringing a horse for training. I sit on the horses every week and on the other days my wife or my staffers train them while I observe it."
A Well Oiled Machine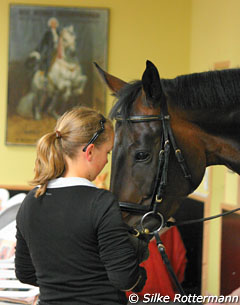 The Pläge couple's team of girls seems outstanding to me. These young women work smoothly and efficiently the whole day. They don't need strict commands. Everybody knows their task, prepares the horses, trains them independently with Pläge only interfering when necessary. All girls ride with a very good seat and feeling for the different types of horses.
"I am not the type of person who likes giving commands all the time. It isn't good either. My girls have to learn to ride independently so they can make usage of their knowledge later when riding on their own. Also we leave it to them how they manage the stable work. Giving responsibility to them creates motivation and that's what I need. Denise, for example, voluntarily checks the horses at 10 in the evening. I haven't told her. She just feels responsible for them," Pläge reports.
Talk about motivation: The girls are even allowed to start the horses they train regularly in competition because Mr. Pläge cannot compete them all. "We have made arrangements with the horse owners about this."? Very obviously this system works well. The staffers don't appear in extreme stress, everybody acts efficiently and takes her time. This way of working is reflected on the horses.? Not one of those I see on that day is stressed, disobedient or nervous. They wait patiently and with interest in the corridor and stand still next to the mounting block. And after the training they do the same chewing on a lump of sugar while their riders clean the hooves.
The Essence of Training Horses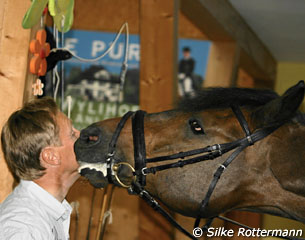 Of course the work of horses differs with the level of training, the age and type of horse. One thing stays in common though: To the Pläges it is paramount the horses are working over the back and are light in the hand. "All the current discussion is about the head and the neck of a dressage horse. Media publications only see this issue: Horses are too tight, they are hyperflexed etc. This doesn't lead to anything, because the opposite examples are missing, the positive examples which show the public what correct is. One says horses have to be hyperflexed, the next says horses have to be very up and ight and ridden with a high hand and so on. We have to talk about the work of the hindlegs again, we need to go back to the basics. If horses are working properly with their hindlegs, honestly stepping under and using their backs the elevation of the horse often comes automatically," Pläge comments on the obviously never ending discussion about hyperflexion.
At Green&Gold Stables there are quite some talented youngsters by well known sires which are trained with reason. They never have to work in a higher frame for too long and are always allowed to stretch onto the bit and go deeper in between. All the horses, no matter which level of training they are, are asked to perform some exercises and if all goes well are allowed to walk, stretch and are praised immediately. "It is just useless to train middle trot with youngsters. Why? If they have a good trot it isn't necessary and if not you cannot improve it by hurrying them in a fast trot. It all strains the legs and that's what we do not want," Pläge explains.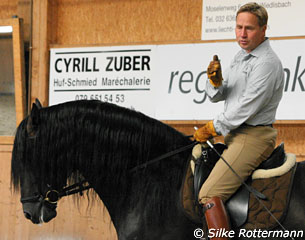 At Pläge's stable horses come in all breeds and sizes. There are many well bred German horses, but also a Lusitano and an Andalusian, both extremely beautiful horses with great presence. There is also a cute German Riding Pony called Nice Lilly (by Night Star III – Domingo) which will compete at the Swiss Championships the following weekend with her 16-year old owner Mirjam Gasser. First Pläge's wife Birgit mounts the liver chestnut and starts working it.? My eyes are in danger popping out when this pony starts to passage like a World Champion! Birgit Pläge laughs and comments: "This is going to be the first Grand Prix pony in Switzerland!" For sure Nice Lilly has the potential, but her owner's little sister is waiting to take her over while Mirjam Gasser herself has Der Tempelstar, an experienced Danish horse, to make her transition to the Juniors.?
Meanwhile Christian Pläge sits on the most beautiful dark bay Lusitano stallion ("Amazingly he can do everything so far, except passage and piaffe!") and tries to teach him the beginning of a piaffe. Though the horses are first taught piaffe in hand and on both hands they have to learn it again under the saddle.? I have the opportunity observing Pläge teaching several horses to piaffe and it all looks the same: Rather a game than strict work. There is no pressure behind, just gentle asking of some half steps or steps of piaffe. No pulling at the reins, no pressing of the calfs, no fight at all. The horses stay calm and as soon as there is an action from the horse there's a praising reaction by Pläge.
Denise Jäger, one of Pläges' talented girls, rides a bay Grand Prix gelding which arrived a year ago from a very renowned German dressage stable, totally stressed and frightened. "It took us a year of patient and quiet work, but now he is regaining confidence and is much more relaxed," Pläge says and asks Denise to halt and give the horse the long reins. The bay stands like a statue and then rubs his head on the forelegs. ?"All horses must halt obediently and as long as requested. It's no witch work to teach it ." Pläge agrees that an obedient standstill is also dependent on the inner state of a horse.? Mentally unbalanced horses just have trouble standing still.
Regal Regent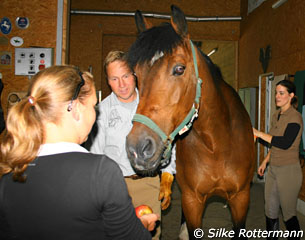 A horse, whose hallmark became his relaxed halt, is Regent, the secret star in the stable. At age 18 he was intended to finish his great career at the WEG in Kentucky, which would have been his 3rd WEG. Regent, who is affectionally called "Reggie", looks absolutely brilliant. Clear strong legs, well muscled and eyes to melt for. Nobody would consider him to be 18 and having spent 11 years of it in the sport at the highest level. But after disappointing scores at the CDI Wiesbaden in May Pläge decided to call it quits and retired the Danish gelding. ?I ask him how he feels about this decision and if it was forced by the judges' low markings: "I don't regret my decision at all. If Regent only got 64% after such a Grand Prix Special in Wiesbaden it makes no sense anymore. I am not flying such a horse to Kentucky to get 61% there. I am happy having retired Regent. He hasn't deserved being marked like this."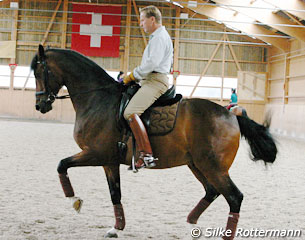 Regent, who is owned by Pläge's longtime supporter Mr. Didier, is going to remain in  Pläge's stable to enjoy his retirement in his trusted surroundings. The girls are allowed to learn some exercises on him, but because of my visit Pläge makes an exception and mounts the gelding himself to show me the horse's wellbeing in all Grand Prix movements. I stand there and almost forget to take pics because I am so fascinated about Regent's fitness and his still wonderfully classical piaffe.? He isn't only a great dressage horse, but also a professional photo model. He knows when to prick the ears, very unlike many horses which flatten the ears as soon as they hear the click of the camera.? I ask an unpopular question: how would Christian rate Regent among all his former Grand Prix mounts. "Regent was the greatest fighter I had. He was always sound, always fit and always wanted to make it right. At the beginning of our career, actually until 2006, Regent was so clever and willing to please he would do all the exercises without me coming to demand them properly. Only since 2006 he allowed me to actually "ride" him."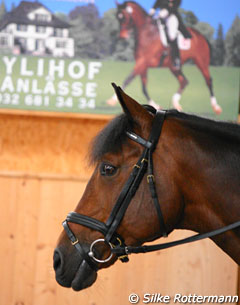 Regent was the horse that allowed Pläge to fulfil his Olympic dream in 2004, but Pläge adds: "Dream...I wouldn't say I had an Olympic dream. It was great to be there, to experience it, but in the end it wasn't anything more than an important show like many others. I fulfilled a dream by having this property on my own, having built a new nice house next to it and living together with my wife. This is the most beautiful place on earth. You have to be here when the weather is good, then you can look around for endless miles, seeing the famous mountains Eiger, Mönch and Jungfrau in the Berne mountain region." Pläge's stable is located on the property of Birgit's uncle Rene Flück, a former farmer who is responsible for the hay production. On 16 hecatres of land he produces fine quality hay which lasts a good part of the year to feed all horses.?
A New Career as Trainer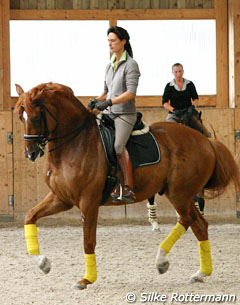 After a long career which spanned more than 35 years and which started in three-day- eventing Pläge is looking forward to compete less and train more, especially his talented wife Birgit. "This is a hard job and I feel my body ache every day and during every ride. Not that long ago I suffered from a slipped disc," Pläge discloses.
?Birgit Wientzek- Pläge experienced competition life on the international dressage scene some years ago with the highly talented Hessian (then) stallion Sappalot (by Silvano x Romadour II), who now (gelded) lives with some mares at a friend's place.  Now they Birgit is allowed to start a very special horse at the highest level: Aragon, an 8-year old impressively talented Rhinelander chestnut by Alabaster. ?This horse enters the indoor arena and one cannot help but be impressed. The chestnut has the quality to become an internationally successful Grand Prix horse. It's all there: Wonderful piaffe and passage, athletic half passes and extensions. What it needs more is experience and a bit of  fine tuning to have him more constantly in front of the vertical in these exercises. This is only a matter of time. After spending a long morning with the Pläges I regularly witnesssed them paying much attention to the horses being light and in front. The most used request of the day was: "Not that tight!" The only time in all the hours I heard Birgit become a bit loud was when a rider pulled the reins during a trot extension: "Don't pull all the time, stop it. It is no good."?
A Final Moment of Reflection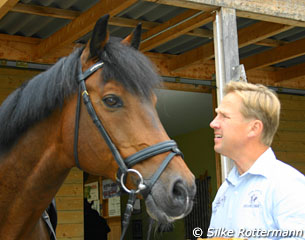 At 2 pm the work is almost done and Denise starts riding the last horse when Mr. Pläge and I sit together in the club room for a chat. I am interested in his opinion on how the dressage sport has changed over the past decades. Pläge does not want to limit it  to dressage: "We have another spirit of time today. In the past one did A to L competitions in jumping and dressage with the same horse. Today we have a much earlier specialisation in one discipline. And what I noticed is that so many aim to ride S-level as early as possible and by all costs. But not everybody can do it properly and there is nothing wrong about riding at L and M- level. This centrepiece is missing today," Christian said.
"Another change today is that the horse is regarded as a subject and not just an object like some decades ago. Well, sometimes it's overdone when people regard horses as human beings, but in general it is good to treat horses like a subject. For example in the past almost all stables had a "Stehtag" (a mandatory day of rest in the box), usually on Mondays. It was no good for the horses at all standing in the boxes for 24 hours. Today we still have a "Stehtag" here in our yard to give the girls a day off, but we send all the horses into the fields instead of keeping them in the stable," Christian explained.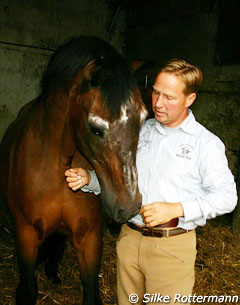 "For dressage the biggest luck we've had is the improvement of the quality of the horses. But the horses are trained to extremes. Submissiveness and beauty which had been so important in the past get lost. If you ride a nice, relaxed test you get no points for it nowadays", Pläge regrets.
??After almost eight hours at Green&Gold Stables I finish my visit by going to the two oldies again so that I can take some pictures. ?Both push their heads against Pläge in affection. Being that old they still love to be around and look so well. They are the best proof of the value Pläge's training has and how correct dressage training keeps horses fit up to a biblical age.??
Text and Photos © Silke Rottermann for Eurodressage.com - No Reproduction without permission
Related Links
Christian Pläge's Regent Officially Retired from Competition
Corinth Did It Again at the 2010 Swiss Dressage Championships