2010 World Equestrian Games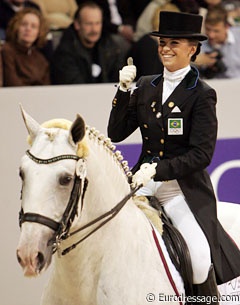 For the first time ever a Brazilian dressage team will be competing at a World Equestrian Games. Three riders with three Lusitano horses have been selected to represent Brazil at the 2010 World Equestrian Games in Lexington, KY, USA, 27 September - 1 October 2010.
The Brazilian team includes:
Rogerio Clementino - Portugal
Marcelo Alexandre da Silva - Singho dos Pinhais
Luiza Tavares de Almeida - Samba
The Brazilian team trainer is Belgian Johan Zagers.
Photo © Astrid Appels
Back to the 2010 WEG index