2010 World Equestrian Games
Quite a few riders have been blogging, tweeting and facebooking live from the scene at the 2010 World Equestrian Games in Lexington, Kentucky. As the event has not officially started yet (the kick off is Saturday 25 September 2010) most riders have plenty of time to fill their days with some R&R. With only one horse to ride each day instead of six-seven-eight-ten or twelve, riders from all camps unite and have some fun.
The "Pre-WEG king of dressage" is Edward Gal who has already comfortable installed himself on his throne in front of the Dutch stalls. As the show grounds are huge, Gal and his partner Hans Peter Minderhoud brought along their freeway and they travel the distances in style.
The German team rejoiced in the fact that Christoph Koschel's groom was clever enough to bring clippers. With temperatures soaring to 35° centigrade, the German horses were clipped today to make them feel more comfortable in these summer temperatures. They also installed  extra fans in front of the horses' boxes to cool them down more.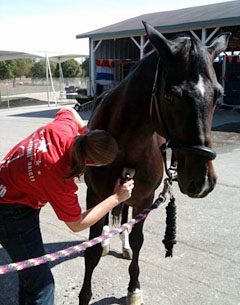 Matthias Rath is very pleased about the way Sterntaler is going. "He's really willing to work and I have a great feeling when I'm riding him," Rath wrote. In the evening the young rider took Sterntaler out on the racetrack for some walk.
Danish team rider Anne van Olst had an eventful journey travelling from her home base in The Netherlands to Kentucky. Her trip took 33 hours in total. It started with "a KLM plane on which one engine broke just before take off," Van Olst complained. "Eight hours of delay, then 4 hours of bad turbulence and then missing the connecting flights." Van Olst summarized that she felt "half dead" upon arrival. Fortunately her first ride on Mr Clearwater went much better. "He feels very fit and happy," she said.
Canadian team trainer Robert Dover reported that his Canadian team is having a great time at their training camp at Kathy Priest's Woodspring Farm not so far from the Kentucky Horse Park. "Afternoons are being spent setting up the stables and tack rooms at the show so that we can ship over and simply walk our horses into their new home on the 25th," said Dover. "No fuss, no muss!"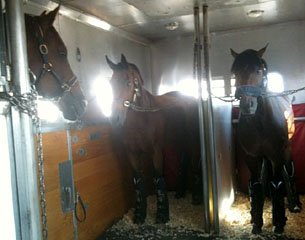 The American team horses have left the training camp in Gladstone and are currently in Kentucky. Today Katherine Bateson and Steffen Peters trained Nartan and Ravel at the same time as the Dutch were in the warm up ring, which is a 10-minute walk from the stable block.
Australian Hayley Beresford wrote that she's happy to have left the quarantine centre in Cincinnati today. "Out of the bubble and on the road to Lexington," she rejoiced. The Australian and Swedish team horses flew on the second shipment to The States.
Photos (c) Koschel - Werner - Beresford
More WEG photos on Edward Gal's site and Christoph Koschel's blog
Back to the 2010 WEG index